Peter Maiden - Interview
INTERVIEW WITH PETER MAIDEN TIMBA PHOTOGRAPHER, 2003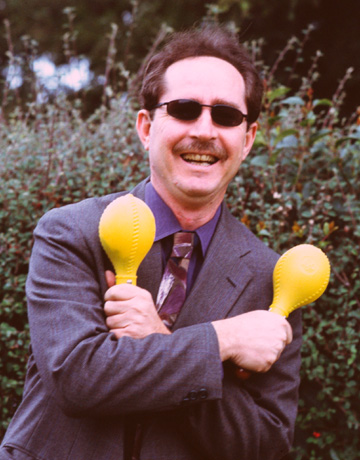 photo by Charles Slay
TIMBA.COM: Where are you from, and how did you get into Latin Music?
Peter Maiden: I was raised in the Bay Area and I live now in San Jose. I was a rock and roll fan as a kid, but got turned on to reggae in the early 70s and then turned on to Salsa. I worked the summer of 1976 for Cesar Chavez' United Farmworkers Union, registering voters in the Mission District in San Francisco. I remember one day I heard a really great song coming out of someone's tape deck in a parking lot, and I went up and asked what it was. It was Larry Harlow's "El Dolorcito de mi China" which I still think is one of the greatest Salsa songs ever, from the El Judio Maravilloso album. I went out and got the record. I identified with Harlow being Jewish. It was about then that I became a die hard Salsa fan.
TIMBA.COM: How did you get into Timba?
I got turned on to Timba watching Bamboleo in an outdoors San Francisco concert. I thought it was just extremely hip Salsa. But when I began to understand something more about Timba was when I checked out the La Charanga Habanera tour in 2000. I saw them in San Jose, Berkeley and Santa Cruz and I was spellbound. The Cuban young people have such great musical educations, whatever background they come from, and they are expressing themselves so beautifully. Timba is exciting on many levels-in terms of its thick percussion, inventive montunos, and tight horn lines. And in the way it mixes with hip-hop.
TIMBA.COM: How did your photography of Latin Music get started?
PM: I have a Master's Degree in Latin American Studies from UC Berkeley, and I focused my studies on mass media. I went to Nicaragua in 1984 and interviewed media workers for my thesis, which was on Nicaraguan newspapers in the Revolution. I might have gone into teaching mass media studies, but I wanted to make media instead. I knew that I loved photography, I wanted to serve the Latino community, and I loved Salsa. So I got started in Latin Music photography. When I started out I did a lot of trial and error (I'm mostly self-taught). By the mid-90s I had gotten pretty good, I had a show, and after a while I went with my portfolio to Latin Beat Magazine and they took me on. I've had fun working for salsasf.com, for which I've covered the San Francisco Jazz Festival and other concerts for years. I've also been published on guaguancoproductions.com and salsaroots.com. And of course I enjoy shooting for Timba.com.
TIMBA.COM: What kind of equipment do you use for concert photography?
PM: I use Minolta autofocus equipment, the Maxxum 9 camera. Minolta is used a lot less in the business than Nikon and Canon, but I have had Minolta cameras since I was 13 and find them to be top quality. How do I deal with lousy stage lighting? Fast lenses and fast film. I use a 35mm 1.4, an 85mm 1.4., and for big halls a 300mm f/2.8 on a monopod. Getting a correct exposure is a challenge, and as smart as the cameras are they are often wrong. I depend on experience and a Minolta spotmeter. I use a lot of T-Max 3200 film, which I tweak a bit and it comes out great. For color I use fast tungsten film, which is balanced for stage lights, and gives either a natural skin tone or a color the same as the gels on the lights. I scan my photos with a Kodak film scanner on a Mac. Last year I got up to speed on the computer by taking a class in photoshop at a local college.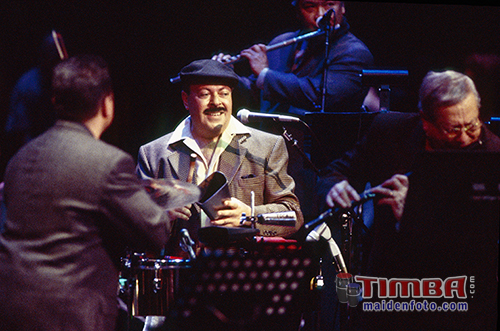 photo by Peter Maiden
TIMBA.COM: How do you capture the action of a concert?
PM: At a concert I will typically shoot five rolls of film per performer. I usually frame up a shot and then work it for several exposures, trying to get good expression on the part of the performers. I often like to include more than one player in a shot, which requires a lot of glancing about while I'm taking the pictures. The hardest thing is the concerts where I'm only allowed two or three songs to shoot, sometimes from the back of a hall. I prefer a dance in a club where I can stand up next to the stage and shoot the whole set.
TIMBA.COM: How can people access your work?
PM: My work is around the Timba.com site, and I have an archive that's easily viewable at Maidenfoto.com . Sometimes I'll do a show. I try to make my work accessible.
Thursday, 08 August 2013, 02:00 PM