Indice - Table of contents
New Stuff
[hide]
Photos of the Day
[hide]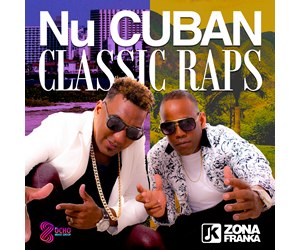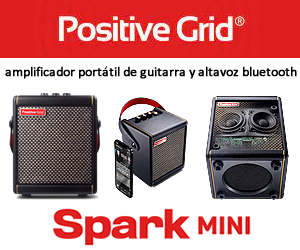 SpanishEnglishEntrevistas - Juntos somos mucho, separados somos poco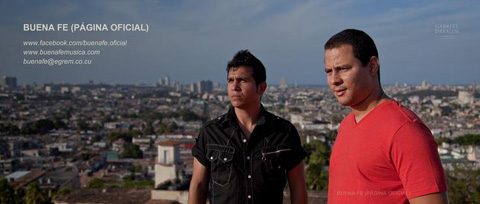 Photo by Gabriel Dávalos , courtesy of Buena Fe (Página Oficial)
"Dial" is the first "Concept album" that Buena Fe has recorded. We know that it is for the 90th anniversary of Cuban Radio and previously you have talked about the special conditions in Guantanamo with all the mix of Cuban and Caribbean music as well as the radio from the naval base, but how did the idea arise to do a concept album for the radio?
"I don't think that it is the first Concept Album by Buena fe, since each of the CDs has tried to be exactly that, a conceptual album in which the society in which we live is reflected, with the lights and shadows typical of any other. The thing with Dial is that this concept is better achieved thanks to the compatibility of the CD format (which is material intended for the sense of hearing) and the radio, which has the same objective. We looked for ways of linking each song, or at least the fundamental themes, using the resources of Cuban Radio, which is also the oldest in Latin America and the highest quality means of diffusion in our country. I think we succeeded because our audience recognizes this concept from the beginning and I therein lies one of the virtues of the material in question. Internationally, we try to be attractive through the topics and because manifestly it is a window to the aural environment that exists in the ether that prevails in our culture."
You are saying that this CD is the beginning of a new epoch for Buena Fe. What has happened, that is, what drove you to make this change now?
"At least in art, which is an eternal adventure of searching and a communication with the infinite, whoever does not reinvent themselves, is not renewed, does not break the ties that bind them to "safe territory", whoever does not venture into the unknown, simply is doomed to repeat themselves, to stagnate, and almost always, to disappear. The CD Dial opens a new creative cycle; it tries to experiment and I think it manages to be different without being uncharacteristic of Buena fe. We see it as an evolution, a journey into other creative areas."
After so much success, were you nervous that a change could alienate some fans?
"Our concept of success is not marked by the canons of the market. If so, we would already have left Cuba to settle on the other side of the economic Blockade and thus try to be more visible to the big merchants of music. Our notion of success is that every song achieves having the tools of locomotion necessary in order lodge in the soul of those who need it; be they many, few or even a single person. Our songs are not made with double entendre -as claimed by some who have tried to embrace our work in the narrow sense- but they have hundreds of meanings; all that each person can imagine, can feel. So our concern is to be able to communicate and we feel that this album was expressly very extroverted. No. There was no fear of change."
You have always said that the music of Buena Fe is eclectic and now we are talking about the changes in "Dial" but then what is the hallmark of Buena Fe?
"The style of Buena fe is essentially the advocacy of the singer-songwriter. The thing is that usually this is done by identifying the songwriter as a troubadour with his guitar, or a piano man. In our case it is about the song supported by many hands. Although the authorship of the songs is under my charge, the arrangements, the subjects are suggested by and have broad participation from the rest of the guys who play with us. We've always said that Buena fe, rather than a duo or a band, is a project that is open to other musicians that can be introduced occasionally and even other practitioners of various forms (dance, visual arts, cinema, theater) as required by the song. That's why the eclecticism is not inorganic in our case, but part and parcel of the musical design."
Being so popular carries the risk of people assuming that they know you simply from their interpretations of the lyrics of your songs, that is, there is a danger in being "the voice of a generation". Recent events such as the interview on CNN exactly one month ago and the trip to Venezuela last week with the reactions of some people make me think of two songs from "Dial": "Buena hembra, mala sangre" and "Papel en blanco". Can you tell us a little about the origins of these two songs?
"To live, create and participate actively in the Cuban reality is, like it or not, to be involved in all the benevolent mystique or biased and incomplete prism with which my country is seen beyond its borders. For some, we live in a model society of affection and humanity outside the extreme consumerist lifestyle of northern hemisphere, and for others; we are victims of a terrible dictatorship which cripples any notion of freedom. And we are neither one thing nor the other. Such realities of the media will always haunt us. So it's not worth going around hiding. We take on the intricacy of politics, but make it clear that we are no more than musicians trying to make art from this corner of the world where, despite all the difficulties, it is so good. Our position is to demand respect for the sovereignty of my country, rejection of foreign interference in our internal affairs and full support for Latin American integration. After that, it is clear our commitment to a society that requires improvement and our songs try to put ideas in circulation in order to grow in all that can make us better as Cubans."
What do you want your listeners to walk away with after listening to "Dial"?
"What they are capable of imagining and feeling. To paraphrase José Martí: the one who writes is as much a poet as the one who draws beauty from what is read, in our case, what is heard."
Buena Fe's CDs are always lovely works of visual art as well. The cover of "Dial" is very beautiful. How does it work? Do you and Yoel take a lot of control in this or do you leave it to the artists/designers to propose something?
"Since the album Arsenal, we realized that it was not necessary to take our image as a reference point to advocate our work. Rather, the summation of contributions of art could better encapsulate the content of each production. Since then it has become a tradition that a Cuban visual artist is responsible for everything related to the visuality of each medium. We leave it to the artist to create freely. So far the work of each one has always been excellent. On Dial, Jesus Lara took charge and the result is exquisite."
Even if it seems strange, I have to ask about the inverted spade that is the symbol of Buena Fe. Why and when did you begin to use this symbol?
"The logo of Buena fe came almost by accident. In 2001, after recording our first CD "Déjame entrar", the designer Thomas Miña devised a cover we liked in concept but, on the other hand, it opened room for misinterpretation of the relationship of brotherhood established by Yoel and I. It was then that the idea of inverted spade came up, and when looking, the meanings could not be better. It is both a sword to fight against the demons, and a heart that hangs by a thread. The truth is that it's worked very well for us for over the years. "
And so that our readers can get to know you a little better, tell us about three principle events in your lives that have made you into the persons you are today.
"In my case (Israel), being born to parents such as I have; good, noble, workers and eternally loving but strict in the face of disobedience. Later, having studied in the university at a military academy which polished up my internal disorder, turned me into a follower of Marti, and endowed me with patience, perseverance and a perfectionist spirit of excelling. Lastly having met Yoel and continuing more friends than before, more brothers than ever."
"In my case (Yoel), coming from a large family of extensive musical tradition, my dad, my uncles. For me learning the guitar was inseparable from my life as a child. Studying at Guantanamo School of the Arts through high school and then continuing my training between academic (in the classical) and self-taught (in the popular) and finally my life colliding with Israel's. Together we are much, separate we are little."
Tuesday, 06 January 2015, 12:43 PM