Lo Nuevo
[hide]
Fotos Del Día
[hide]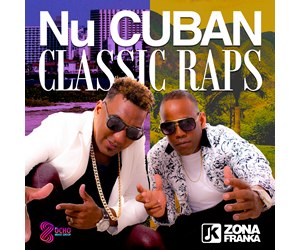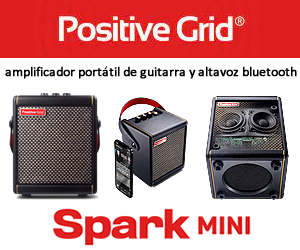 News
Wednesday, December 2, 2009:
TIEMPO LIBRE RECEIVES
BEST TROPICAL LATIN ALBUM GRAMMY NOMINATION
FOR LATEST ALBUM BACH IN HAVANA
ON SONY MASTERWORKS
The Cuban music group TIEMPO LIBRE has received a Grammy Award nomination in the category of Best Tropical Latin Album for its latest CD BACH IN HAVANA on Sony Masterworks. Bach in Havana has enjoyed 18 weeks in the Top 20 on Billboard's "Classical Crossover" chart. In October, Tiempo Libre brought Cuban music to the national stage by performing on "The Tonight Show With Conan O'Brien" with violinist Joshua Bell; and on ABC's "Dancing With The Stars" performing the Bach in Havana single "Tu Conga Bach." It's the group's third consecutive Grammy nomination, the musicians were previously were nominated for the timba albums Arroz Con MangoLo Que Esperabas. and
Bach in Havana includes guest performances by the Cuban legend Paquito D'Rivera and the Cuban born sax player Yosvany Terry. The CD is produced by multi-Grammy winner Steve Epstein (Yo-Yo Ma, Wynton Marsalis, Placido Domingo) who is also nominated this year for a Grammy in the Best Producer, Classical category. Jorge Gomez is the co-producer.
On Bach in Havana, Tiempo Libre takes the classical compositions of Johann Sebastian Bach as a starting point from which to explore Cuban music and rhythms. The album is a true reflection of the two worlds of Tiempo Libre's Cuban musical upbringing: its seven members led "double" lives studying classical music at Cuba's premiere Russian-style conservatory La ENA by day and by night meeting up to play timba, Latin jazz as well as the rumba and in tambores (the rituals of the Santeria religion) – music forbidden at La ENA because of its Afro-Cuban roots. In Bach, Tiempo Libre found a kindred spirit: a composer who wrote music in both the secular and the spiritual traditions. It was only natural that they would be interested in weaving their classical roots into a new musical tapestry
"Some of my most indelible memories of Cuba are of coming home from a rumba or tambor, with those rhythms in my head and then drifting off to sleep as my father [one of Cuba's most prominent classical pianists] played Bach downstairs. I suppose that it was inevitable that the two would eventually merge creatively," explains Jorge Gomez, Tiempo Libre's musical director and pianist.
Of the Grammy nomination, Alex Miller, General Manager of Sony Masterworks says, "Tiempo Libre created an album that is unique in sound and spirit. They deserve this nomination and I am proud of them both personally and professionally."
After growing up during the "Special Period" in Cuba, Tiempo Libre's members left everyone and everything behind to flee to the land of opportunity. In Miami they came together to play music whenever they had free time (hence the name Tiempo Libre) from working with legendary artists like Albita, Cachao, Arturo Sandoval and Roberto Torres. Against predictions that a broad international audience would not embrace the timba music native to their homeland, they formed their group in 2001. Equally at home in concert halls, jazz clubs and dance venues, the Miami-based band has become known worldwide for its incendiary, joyful performances of timba – an irresistible, dance-inducing mix of high-voltage Latin jazz and the seductive rhythms of son. Their goal is to serve as ambassadors to Cuba's heritage, while celebrating their new American experience.
RCA Red Seal, Sony Classical, deutsche harmonia mundi, Masterworks Broadway and Masterworks Jazz are labels of Sony Masterworks. For e-mail updates and information regarding RCA Red Seal, Sony Classical, RCA deutsche harmonia mundi, Masterworks Broadway and Masterworks Jazz artists, promotions, tours and repertoire, please visit www.sonymasterworks.com.
Media Contacts:
Angela Barkan – Sony Masterworks – 212-833-8575 – angela.barkan@sonymusic.com
Jane Covner – For Tiempo Libre – 818 905-5511 – jcovner@jagpr.com
Allison Ravenscroft – For Tiempo Libre – 323-449-5030 – aravenscroft@sbcglobal.net
Thursday, April 12: Tiempo Libre at Jazid on Saturday
Saturday, April 14
Jazid 11:00 p.m., $10
1342 Washington Avenue, Miami Beach
305-673-9372
Friday, February 16, 2007: Performance at Jazid tomorrow night, and an interesting new project in the works:
Cuban music ensemble meets the symphony orchestra
Project description by Ricardo Lorenz
Rumba is the primordial musical and dance expression of Cuba. The word rumba
comes from a Spanish word for party. Speaking strictly in musical terms, it is
a marriage between hypnotic rhythmic intricacy and almost profound melodic
plaintiveness. Its streetwise sensuousness has given birth to many styles of
Cuban popular music and has transcended its place of origin, spilling over to
other musical genres, including jazz and classical music. Examples of this
cross-fertilization are the collaboration between Dizzy Gillespie and Machito as
well as the works by Cuban composers such as Ernesto Lecuona, Amadeo Roldán and
Guido López Gavilán.
But while these examples of rumba-infused music are successful in many ways,
they are unsuccessful at preserving the original spirit and actual features of
their progenitor, to the point in which rumba is no longer recognizable. Rumba
Sinfónica seeks to make a bold statement in this respect by allowing Cuban rumba
to not only infuse a symphonic work but to also guide its musical content from
beginning to end without ever losing its basic features: rhythmic intricacy and
melodic plaintiveness. At the same time, Rumba Sinfónica seeks to stay true to
the breath of the symphonic repertoire. The challenge and innovative aspect of
this project, therefore, is to have these two very different, long-standing
traditions come together and join forces at an equal footing.
With this aim in mind, I began by searching for works from the standard
orchestral repertoire that could serve as meeting ground for these two
traditions as well as loose models for the project. I found what I was looking
for in the immensely popular Ravel's Bolero. Eighty years ago, French composer
Maurice Ravel used his genius as an orchestral composer to evoke a Spanish
vernacular dance form. He did it by creating a melody that was evocative and
at the same time unpredictable enough to sustain a long series of reiterations
over a constant pulse without ever becoming boring to the listener. In this
sense, Rumba Sinfonica seeks to be a 25-minute, 21st-Century Afro-Cuban response
to Ravel's Bolero. This time around, however, instead of a Spanish bolero, it
will be a Cuban rumba spearheading the symphonic work. Likewise, instead of
relying upon a snare drum to provide the hypnotic rhythmic collarbone of the
work, an entire Afro-Cuban rhythm section will be called
upon to take on this role. And while also grounded on a potent and evocative
melody, the new work will present reiterations of this melody as they travel not
only between instruments and family of instruments but also between dance forms
that have become staples of Cuba's culture —like the son, bolero, cha-cha-chá,
danzón, and comparsa.
One of the most unique aspects of Rumba Sinfónica is that it will bring
together the talents of Cuban pianist and arranger Jorge Gómez, leader of the
Grammy nominee, Miami-based band Tiempo Libre, and the ample orchestral
experience of Venezuelan-born composer Ricardo Lorenz, who served as
composer-in-residence of the Armonia Musicians Residency Program of the Chicago
Symphony Orchestra and whose orchestral works have been performed by major
orchestras in the US, Latin America, and Europe. Their collaboration will fuse
Lorenz's sophisticated musical narrative and fiery orchestration and the
virtuosic, jazzed-up arrangements of Gómez's Tiempo Libre.
At one level, Rumba Sinfónica is a symphonic tribute that pays homage to the
extraordinary music that results from the continuing evolution of the
traditional and the classical music of Cuba. At another level, and thinking
about the connection to Ravel's Bolero, it is the story in sound of how decades
of rich, authentic, emotionally charged music can result from the natural
interplay and porous borders between the classical and popular traditions. The
anticipated result is celebratory in nature, and can therefore be described in
two words: symphonic party, English for rumba sinfónica.
Thursday, December 7, 2006: 2nd Grammy Nomination!!!
The boys of TL have done it again! Today their second Grammy nomination was announced, this time for their third album, Lo que esperabas. ALL the more reason to make it to their show this Saturday at Jazid -- come say congratulations!!
Saturday, December 9
Tiempo Libre with DJ Melao
Jazid 11:30 p.m., $10
1342 Washington Avenue, Miami Beach
305-673-9372
Thursday, October 6, 2006: Tiempo Libre on Sunday
Tiempo Libre will perform this Sunday as part of the inaugural weekend for Miami's brand new Carnival Performing Arts Center. They'll play as part of a free all-day event called Target Global Beat, which features performances by a variety of world music groups. You'll need a wristband to get into the performances, and these can be picked up on Sunday at the Carnival Center -- look for the "GlobalBeat" tent, which will be located at NE 14th Street and Bayshore Drive (here's a map).

Tiempo Libre goes on at:
12:30 p.m.
Ziff Ballet Opera House Terrace
3 p.m.
Knight Concert Hall
August 1, 2006: Tiempo Libre on the east coast this weekend:
August 2
Philadelphia, PA
Kimmel Center for the Performing Arts
August 3
Bronx, NY
Park 52 - with special guest artist Jimmy Bosch!
August 4
New York, NY
Lincoln Center Out of Doors

July 13, 2006: If you live on the west coast, don't miss Tiempo Libre this weekend!
July 15-16
California WorldFest
Grass Valley, CA
July 17
Kuumbwa Jazz Center
Santa Cruz, CA
July 18
Triple Door
Seattle, WA
July 19
Yoshi's
Oakland, CA
May 16, 2006: NEW ALBUM IS OUT!

Performances this week!! Don't miss the first chance to hear material from the new album, performed live:
Saturday, May 20
CD Release Party
Arturo Sandoval Jazz Club
Shows at 8:30 p.m. and 10:30 p.m.
6701 Collins Avenue (inside Hotel Deauville)
Miami Beach
305.865.5775
Tuesday, May 23
Latino Meets Jazz Series
Arturo Sandoval Jazz Club
6701 Collins Avenue (inside Hotel Deauville)
Miami Beach
305.865.5775
April 27, 2006: New tour dates, new album on the way, and shows IN MIAMI!
The group has added many new tour dates for the spring and summer, and the new album will be out on May 16! Also available are a recent interview with director Jorge Gomez about the new album and a review from a successful concert in Kansas.
MOST important: If you live in Miami and have ever complained about the lack of timba here, DON'T MISS these three performances -- this is a great chance to hear material from the new album and support timba in new venues, which will probably hire other timba bands in the future if they see a good turnout at these shows:
Saturday, April 29
Jazid 11 p.m.
1342 Washington Avenue, Miami Beach
305.673.9372
Saturday, May 20
CD Release Party
Arturo Sandoval Jazz Club
Shows at 8:30 p.m. and 10:30 p.m.
6701 Collins Avenue (inside Hotel Deauville)
Miami Beach
305.865.5775
Tuesday, May 23
Latino Meets Jazz Series
Arturo Sandoval Jazz Club
Shows at 8 p.m. and 10 p.m.
6701 Collins Avenue (inside Hotel Deauville)
Miami Beach
305.865.5775
March 9, 2006: New info on the new TL album!
Song titles for TL's new album, "Lo que esperabas":
1. Opening
2. Lo Que Esperabas
3. Manos Pa'rriba
4. Arrebata'o
5. A Bayamo en Coche
6. Tengo Que Olvidarte
7. Ven a Bailar
8. La Llave
9. Esto Está Listo
10. Ella Tiene

January 16, 2006: TL finishes up album #3!
The members of Tiempo Libre went into the studio at the end of December to begin recording their third album, and amazingly, they were nearly done laying down tracks a mere 15 days later! Proud of this feat and super-excited about the new songs, they played a few tracks and talked about the new album while recording engineer Alex Arias (who also engineered their 2nd album, Arroz Con Mango) worked on what they had just recorded. While I was there, Joaquin "el Kid de la salsa" Diaz was recording the vocals for the song "Manos pa'rriba". When they got towards the end, he and director Jorge Gomez realized they still needed to write the guías that Kid would sing at the end of the song -- it was the coolest thing to sit there and watch them write the guías together, and hear Kid record them right after that! With a Grammy nomination and quickly-filling touring schedule for spring and summer, these musicians are on a roll, and the good vibes makes the creative juices flow freely when the guys get together to record and rehearse.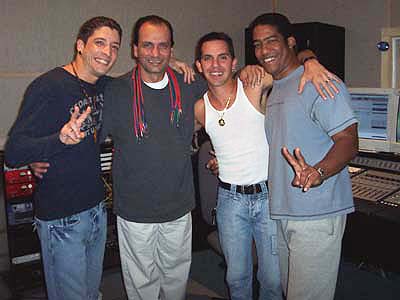 El Kid, recording engineer Alex Arias of Univibe Recording Studios, Jorge Gomez, and Leandro Gonzalez, as they finish up recording "Manos pa'rriba" the third cut off of the new album.
The song they were finishing, "Manos pa'rriba", has a fantastic groove -- it was developed from a jam they would often do live during concerts around the United States, where they found that a funky, disco-based groove was a good way to get timba newcomers to their feet and dancing. After a brief opening quote of a song to Obbatalá, the first portion of the song is straight-up funk/disco, conceived as a tribute to group-favorite Earth, Wind, and Fire. But after about two minutes of groove, there is a sudden break -- trompetista Pavel holds out a screaming note (think Charanga Habaera), Leandro and Pututi II bust out with some earth shattering bloques, and Kid announces "Ok, ahora voy pa' la zona, OK?" It's straight up timba from there on out, and the song overall sounds like a successful formula for coaxing middle America to get onto the floor and shake it a little.
The other song I was lucky enough to get a preview of was a ballad called "Tengo que olvidarte" (I must forget you). Co-written by baterista Angel "Putiti II" Arce and pianista/director Jorge, it's a artistically crafted and beautifully arranged piece sung by Pututi II. That's right, Pututi II SINGS! In addition to all his percussion and song-writing talent, he's got a deep, rich voice, and I was shocked when the guys told me who I was listening to! [Lara Greene]
martes, 22 marzo 2011, 07:31 pm