Timbera Mayor
lunes, 08 enero 2018, 03:45 pm
2018 Festival de la Salsa en Cuba
February 21st - 25th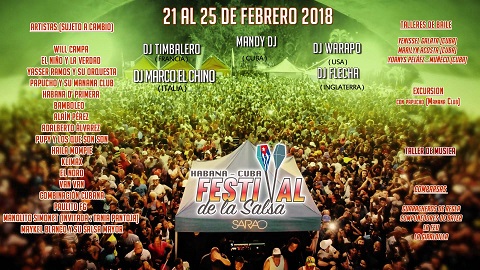 The 2018 Festival de la Salsa en Cuba is almost upon us and, as with previous years, I will be unable to attend. Fortunately, the Facebook page shares a lot of good photos and videos, so I will follow along there. Also as with previous years there is an all-star line-up for the nightly concerts as well as music and dance workshops, DJ parties and After Parties. This year also includes an excursion in Havana to important places for Cuban musical and cultural production under the guidance of none other than Pedro Lázaro Ordoñez - better known as Papucho, bassist and bandleader of Manana Club.
Participants can buy complete passes for all events and concerts, concert-only passes or a day pass that is good from 5pm for one day only. The after parties are not included in any of the passes but are something you don't want to miss with animations, DJs, and separate dance floors for traditional versus contemporary music. Foreigners will not be able to attend events this year by buying tickets in moneda nacional, but you can purchase your tickets by following this link.
Concert Schedule
21st
Wil Campa
22nd
Yasser Ramos y su Tumbao Mayombe
El Niño y la Verdad
Papucho y Manana Club
Havana D'Primera
23rd
Alain Pérez
Bamboleo
Adalberto Álvarez y Su Son
Pupy y Los Que Son Son
24th
Haila Mompié
Giraldo Piloto y Klímax
El Noro y 1ra Clase
Los Van Van
25th
Combinación Cubana
Paulo F.G.
Manolito y Su Trabuco
Maykel Blanco y Su Salsa Mayor
For more information check out Festival de la Salsa en Cuba @Facebook.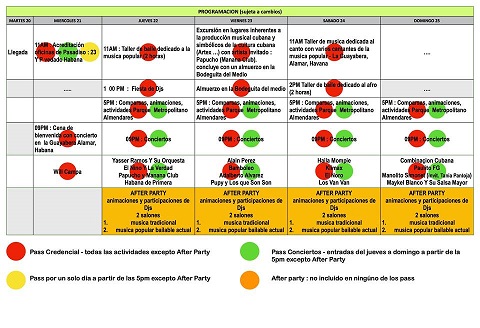 continue reading Timbera Mayor