Archivo
Lo Nuevo
[hide]
Fotos Del Día
[hide]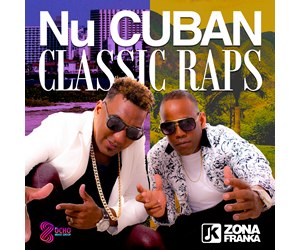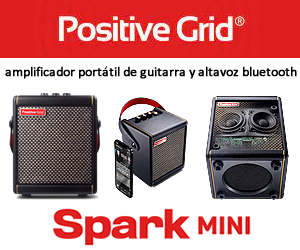 Russ Hamer on Dance
miércoles, 19 febrero 2014, 03:40 pm
Some History of Rueda de Casino in the San Francisco Bay Area
- 19 February 2014 -
(updated 27 March 2014)
Una Bulla y Gracias To All My friends And Colleagues In The San Francisco Bay Area!
This year's (6th ) San Francisco Salsa Rueda Festival (2014) was truly an amazing event. The depth and breadth of musical and dance and choreographic talent at this Festival was impressive by any standards. The musical performances by super-talented local groups, Team Bahia and the Bay Area SalsaTimba All-Stars were great, and of course, Mayito Rivera's performance with Miami's great band, Timbalive was spectacular and exciting.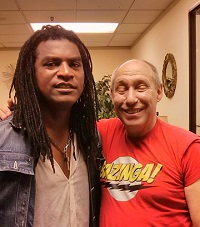 The dance classes and Timbaversity classes were so professional and inspiring. I want to thank all the instructors for their dedication and clarity of teaching and patience and abundance of dance and information that they shared with us.
I especially want to publicly thank Nicholas Van Eyck and Serena Wong for inviting me as a guest of honor. Their graciousness and kindness and public appreciation for my contributions to the Rueda scene in SF moved me very much. I will never forget this event and this honor.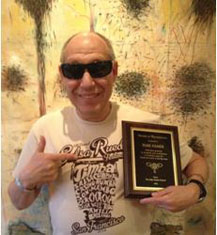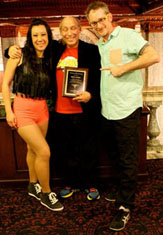 I am so happy that Rueda de Casino has evolved so much in the Bay Area, and that I could play a role in contributing to the cultural richness in our beautiful Bay Area. I am so proud of our city for its diversity and cultural treasures. San Francisco, CA is now without question THE Capital of Rueda de Casino in the United States, beyond even Miami, LA or NY! And Nick and Serena and their classes and this Festival played a huge role in making this so!
A Little History
One evening in early May, 1994, I was dancing Casino at the Club Mystique in the Miami Airport Hilton, and suddenly the center of the packed dance floor opened up and a fast Rueda busted out. It was hot. It was fast. It was exciting. (in retrospect, I learned that it was Ramani Nicola's group). That was it - I was hooked! Upon returning to the SF Bay Area, I saw Rueda once again at the SF Carnaval parade. My friends and I begged the leaders of the Rueda dancers - Tomas Montero and David Lenneman , based in LA - to teach us. So we flew them up from LA to do intensive weekend workshops in our homes, and my dancer-friends and I flew to LA for workshops as well. I memorized every move and began teaching small groups in the East Bay (Oakland, Emeryville, Berkeley, CA) that year. I continued to learn from instructors in Miami, in Havana, and Los Angeles and quickly expanded my repertoire of Rueda moves.
Within a year or so (1995-97), our group grew quickly is size and proficiency, and we began to do shows in various studios. We did one Rueda performance at the Mountainview street festival the year that Ricardo Lemvo and Makina Loca played there. I choreographed a Rueda sequence performed by 2 Rueda groups dancing side by side simultaneousl y.
Some wonderful Cuban dancers then arrived in the Bay Area to perform and teach – Ramon Ramos Ayalo , Ariel Oceguerra , just to name two from that era, and I also studied with them, passing on what I had learned to my students.
Classes became so large that I recruited dancers to co-teach, teaching them Rueda moves and how to lead them and how to call the Rueda - e.g., Naomi Fribourg, Roar Kilaas, Jim Sowers, Dawn Cecilia, Sidney Weaverling, Nick Van Eyck. At the classes at the Rhythm & Motion Studios in SF, we had 3 Ruedas going simultaneously in each class with 3 teachers guiding them. Initially it was me, Naomi and an excellent dancer recently arrived from Miami, Holly Cole, leading the 3 levels of Rueda. Years later it was me and Sidney and Roar (and others) co-teaching. Eventually, Dawn Cecilia and I were teaching in my home Studio in Emeryville, CA. Sidney and Nick ( with their respective partners, Ryan Mead and Serena Wong) went on to become super-influential dancers and teachers and choreographers in the SF Bay Area and beyond (teaching and performing all over the USA and in other countries).
[Very cool aside! : One of my students (and now dear friend), Jim Sowers (of "SpinCycle") brought Rueda with him on his crazy TransAfrica motorcycle trip (Capetown So. Africa to the top!). While in Kenya, he taught Rueda to a group of professional dancers and they put on a show in Nairobi. Possibly (probably!) a first on the continent! Hey! - what gives around, indeed, goes around!]
In addition to teaching in SF, I taught classes and workshops in Oakland, Berkeley, Santa Cruz, Santa Rosa, Menlo Park, in my home studio in Emeryville CA, in Seattle Washington, Tucson and Phoenix Arizona, Brisbane and Sydney Australia, and Losone Switzerland.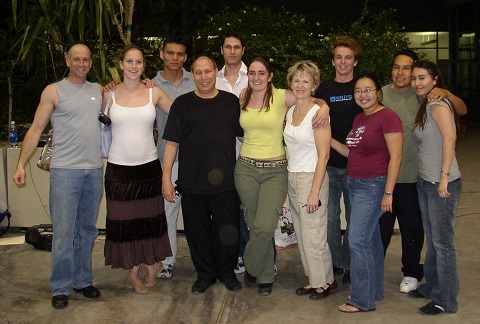 Workshop in Tucson, AZ, 2005 with my son Michael standing behind me (white shirt)
Rueda & Timba in São Paulo, SP, Brasil
Starting in April 2007, I began a research and teaching gig as a Professor Visitante in Visual Neuroscience at the Departmento de Psicologia ; at the Universidade de São Paulo , São Paulo. In the evenings, I started Rueda classes 2 times a week I was fortunate to have a wonderful woman from Havana, Yordanka Medina Armenteros (a PhD student, now Post-Doc, in microbiology there) walk into my class one evening in 2008. Yordanka was a wonderful, talented dancer and musician, but did not have much experience leading or calling Ruedas. So I taught her these skills and we began to co-teach, continuing until I left Brasil in October, 2013.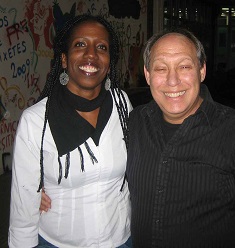 We named our performance group the "PsicoSalseros", since classes and rehearsals were based in the Depto. de Piscologia.

Over the years, Yordanka and I became dear friends and colleagues and we developed a community of over 300 Ruederos in a city where there had previously been absolutely NO Cuban music on the radio (in São Paulo! a diverse city of about 13 million!), and almost no Rueda anywhere else outside of our classes. Finally, in September 2013, we managed to "inseminate" the Radio airwaves with some Cuban and Cuban-influenced music by convincing the Radio DJ of the show "Jazz Caravan" (Radio USP) to invite me and Yordanka to spin music on one of his weekly programs. The genre was supposed to be Latin Jazz, but we made sure to include some Timba (e.g., Bamboleo, NG La Banda ) that illustrated beautifully Jazz influences, as well music illustrating the confluence of folkloric with Jazz influences (like Ifa de Mario Bauza, and Obatala Ayacuna de Orlando "Marcaca" Valle ). You can hear our show here . The show's DJ (Ricardo Corte Real) was blown away, and I am confident that many of the listeners didn't know what hit them! (Ricardo wants me to send more!). Disclaimer : If you do take a listen, please forgive my Gringotious pronunciation of Portugués.
My experience in Brasil is worth mentioning here by way of highlighting how utterly fantastic the dance and music scene is here in the SF Bay Area. When I began all this, Miami was the undisputed "Capital" of Casino and Rueda in the USA. Now the Capital is here, in tiny SF. The San Francisco Salsa Rueda Festival, which Nicholas Van Eyck and Serena Wong began in 2009, played a huge role in sealing SF's place as The Capital of Casino and Rueda and Timba in the USA . We have a treasure here. The SF Bay Area indeed is truly blessed.
continue reading Russ Hamer on Dance