Timbera Mayor
REST IN PEACE TIRSO DUARTE
VUELA ALTO ÁNGEL NEGRO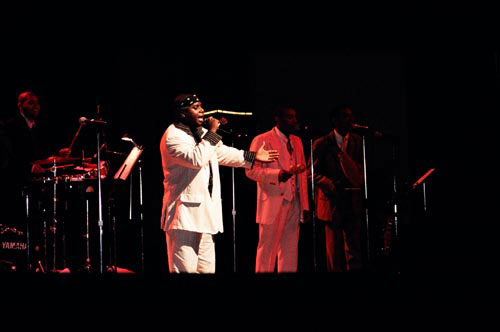 Tirso with Afro-Cuban All Stars
Photo by Cristian Muñoz
ENGLISH: Cuban music fans around the world are in shock and mourning at news of the death of Tirso Duarte in Pasto, Colombia on September 29th. The information currently available is that he was savagely attacked following a concert in Tumaco. He was rushed to the hospital but the injuries were too severe.
Tirso was one of the leaders of the second generation of timberos. He was born in 1978 and grew up during the early days of the timba pioneers. He was a talented pianist, composer, arranger, singer and producer, and was also loved for his personality.
Kevin, who knew him best here at Timba.com, will post a full obituary on Monday. Our deepest condolences go out to his friends and loved ones.
Fly high, Ángel Negro. You will live on through your music.
ESPAÑOL: Los fanáticos de la música cubana están conmocionados y de luto ante la noticia de la muerte de Tirso Duarte en Pasto, Colombia, el 29 de septiembre. La información disponible actualmente es que fue salvajemente atacado luego de un concierto en Tumaco. Lo llevaron de urgencia al hospital pero las heridas eran demasiado graves.
Tirso fue uno de los líderes de la segunda generación de Timberos. Nació en 1978 y creció durante los primeros días de los pioneros de la timba. Era un talentoso pianista, compositor, arreglista, cantante y productor, y también era querido por su personalidad.
Kevin, quien mejor lo conoció aquí en Timba.com, publicará un obituario completo el lunes. Nuestro más sentido pésame para sus amigos y seres queridos.
Vuela alto, Ángel Negro. Vivirás a través de tu música.
Tirso's tribute to his adopted city
continue reading Timbera Mayor