Timbera Mayor
lunes, 30 octubre 2017, 07:59 pm
EL CHACAL & HAVANA D'PRIMERA @KRAKEN
CONCERT REVIEW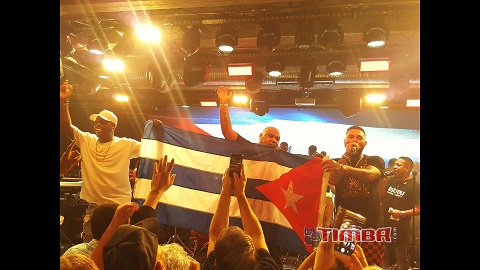 ENGLISH: On a cold, rainy night 27 October 2017 in Stockholm, Sweden, 1000 people sweated and grooved the night away to the music of El Chacal, Havana D'Primera and FClan. The concert was organized by DJ Isra and Ritmico and was the first time I saw El Chacal or FClan and two years since the last time I saw Havana D'Primera. One very important note before posting the link to the concert review: take cash to the Havana D'Primera concert! They are selling CDs, DVDs, t-shirts and ball caps. I had no cash and came home empty handed but with a full heart. Click here for the concert report.
To find a Havana D'Primera concert near you click here.
The remainnig dates fior El Chacal
03-11 Danzon - Vienna, Austria
04-11 El Diablo Tun Tun - Milan, Italy
05-11 Salsa Na'ma - Brescia, Italy
07-11 Donoma - Civitanova, Italy
09-11 La Crespa - Modena, Italy
11-11 Sala Zenith - Madrid, Spain
12-11 Suite 191 - Barcelona, Spain
ESPAÑOL: En una noche fría y lluviosa el 27 de octubre de 2017 en Estocolmo, Suecia, 1000 personas sudaron y pasaron la noche bailando con la música de El Chacal, Havana D'Primera y FClan. El concierto fue organizado por DJ Isra y Ritmico y fue la primera vez que vi a El Chacal o FClan y dos años desde la última vez que vi Havana D'Primera. Una nota muy importante antes de publicar el enlace para la reseña del concierto: ¡lleva efectivo al concierto de Havana D'Primera! Están vendiendo CD, DVD, camisetas y gorras de béisbol. No tenía dinero y volví a casa con las manos vacías pero con el corazón lleno. Haga clic aquí para ver el informe del concierto.
Para encontrar un concierto de Havana D'Primera cerca de ti dale clic aquí.
Las fechas restantes para El Chacal
03-11 Danzon - Vienna, Austria
04-11 El Diablo Tun Tun - Milán, Italia
05-11 Salsa Na'ma - Brescia, Italia
07-11 Donoma - Civitanova, Italia
09-11 La Crespa - Modena, Italia
11-11 Sala Zenith - Madrid, España
12-11 Suite 191 - Barcelona, España
continue reading Timbera Mayor