Pa' Ponerte en Talla
PACIFIC MAMBO ORCHESTRA - New Single Release Concert
"Pacific Mambo Dance" @ Space 550 in San Fancisco
*Breaking: PMO to play the Stern Grove Festival w/ Sheila E. & Marlow Rosado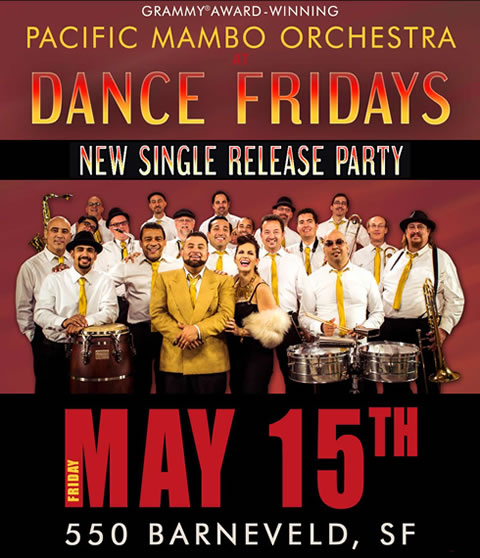 The west coast gears up for the Pacific Mambo Orchestra's release party for their new single and first official video, the "Pacific Mambo Dance". After the closings of beloved venues Café Cócomo and The Addition (formnerly Yoshi's SF), Bay Area salseros and salseras are out in force seeking a new home-base. Let's hope this new Space 550 can rise to the occasion and accomodate this 20-piece powerhouse. The PMO will bring its legions of "música tropical" lovers to this new club next Friday May 15th.
Purchase advance tickets here = http://pmo-dance-party.eventbrite.com
*This event will sell out and tickets are $10 more at the door.
On related news, the PMO is set to perform at the Stern Grove Festival on Sunday June 21st with special guests and fellow grammy award winners Sheila E. and Marlow Rosado. The event should be called Grammys on the Grove if the Academy would allow it. The concert is sponsored by KPFA 94.1 FM. The Stern Grove Festival is FREE and takes place at the Sigmund Stern Grove, a 10,000 audience capacity, beautiful outdoor amphitheater located at 19th Avenue and Sloat Boulevard in San Francisco. More to come on this story. Mambo's gonna rock your world!
continue reading Pa' Ponerte en Talla