Sin Clave No Hay Na
Jazz Plaza 2023 Is Coming!
¡Se Acerca Jazz Plaza 2023!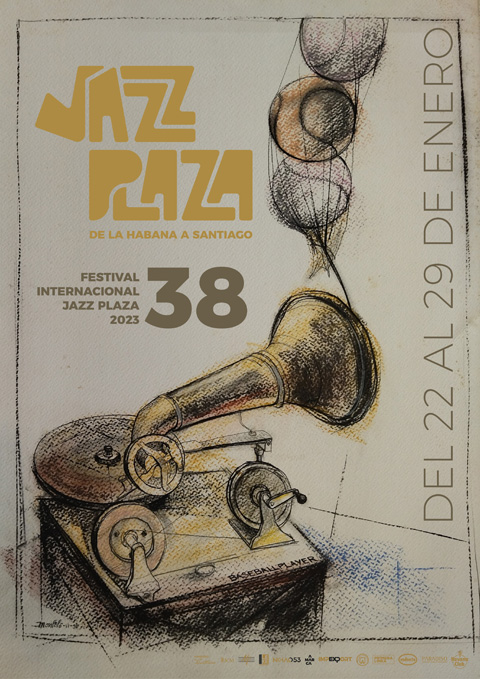 ENGLISH: Jazz Plaza 2023 will take place in La Habana and Santiago between the 22nd and 29th of January 2023. This year's theme is Pa' que fluJazz and the events will, in addition to the numerous concerts and jam sessions, included the XVIII International Colloquium "Leonardo Acosta en Memoriam". Some noteworthy historical dates this year are the 90th Anniversary of the birth of Leonardo Acosta, the 85th anniversary of the death of Chano Pozo, the 45th anniversary of the foundation of CIDMUC, and 60th anniversary of the Orquesta Original de Manzanillo and the 65th birthday of pianist/composer Ernán López-Nussa.
Much of this will be televised in Cuba, and when events are livestreamed and/or archived on the internet, TIMBA.com will help keep you informed of relevant links for enjoying the event.
ESPAÑOL: Jazz Plaza 2023 tendrá lugar en La Habana y Santiago entre el 22 y el 29 de enero de 2023. El tema de este año es Pa' que fluJazz y los eventos incluirán, además de los numerosos conciertos y jam sessions, el XVIII Coloquio Internacional "Leonardo Acosta en Memoriam". Algunas fechas históricas destacables de este año son el 90 aniversario del natalicio de Leonardo Acosta, el 85 aniversario de la muerte de Chano Pozo, el 45 aniversario de la fundación del CIDMUC, y el 60 aniversario de la Orquesta Original de Manzanillo y el 65 aniversario del pianista/compositor Ernán López-Nussa.
Gran parte de Jazz Plaza será televisado en Cuba, y cuando los eventos se presentan via "live-streaming" y/o se archiven en Internet, TIMBA.com les ayudará a mantenerse informado sobre enlaces relevantes para disfrutar del evento.
continue reading Sin Clave No Hay Na