Indice - Table of contents
New Stuff
[hide]
Photos of the Day
[hide]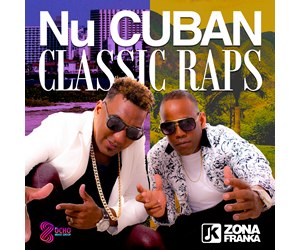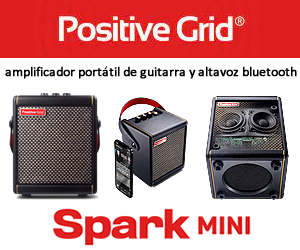 The Roots of Timba, Pt I - 1949-Los sitios acere
1949 Arsenio Rodríguez - Los Sitios acere - 3-2 son clave
bassist: Lázaro Prieto
source: Dundunbanza
notes: In 1989, NG La Banda's groundbreaking timba-rumba Los Sitios entero drew inspiration, in many ways, from this 1949 Arsenio classic.
This 2-clave tumbao is based on bombo-ponche, but comes together rhythmically with the coro at one key point. One of our golden-eared gurus, Christian Smalt, contributed this wonderfully detailed transcription: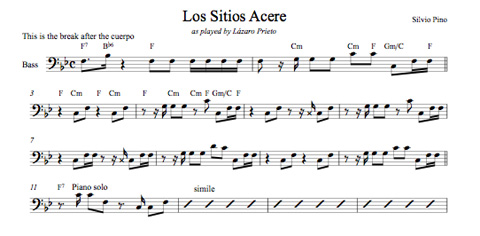 MIDI example
(click here for an 8th note transcription)
But this song demands that we zoom out from our obsession with bass tumbaos for a moment. With Los Sitios acere, the genius of Arsenio Rodríguez reached critical mass. For the next few years, almost every passage of every arrangement was graced with exquisite and inspired nuances. Listen to the cuerpo: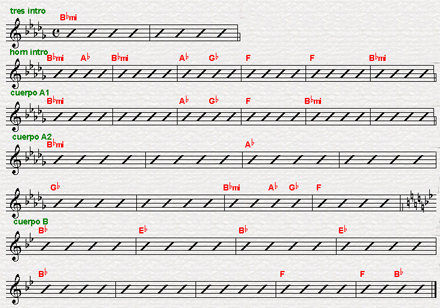 This song, like Me boté de guaño, reflects Arsenio's experimentation with the "flamenco" chord progression - i - bVII - bVI - V. As overused as this now familiar Phrygian palette of chords may be, Arsenio twists it and turns it in ways that still sound very fresh today. Especially compelling is the poignant return to the tonic in the 7th bar of cuerpo A2, and the surprising and beautiful modulation to the parallel major for cuerpo B.
Los Sitios was also part of the first Arsenio recording session to feature trumpeter Félix Chappottín. To most timba geeks, the name Chappottín could only refer to Elpidio Chappottín, the brilliant lead trumpeter of NG La Banda's legendary Metales de Terror horn section, but you'll have to google your way through several dozen pages of Chappottín results before you get to Elpidio. His papá Félix had secured a place in the history books by 1930 based on his work with Sexteto Habanero, Sexteto Munamar, and later with his half-brother Chano Pozo's Conjunto Azul, but when Arsenio and his conguero brother Kike left Cuba in the early 50's Félix inherited the group, complete with Lilí Martínez, and changed its name to Chappottín y sus Estrellas. While Arsenio struggled to please the Yumas, his old group continued to flourish under Chappottín's leadership and produced many classic tracks in the 50s, continuing to thrive until his death in 1983.
Tuesday, 22 March 2011, 07:32 PM