Sin Clave No Hay Na
CHUCHO VALDES TO RECEIVE LATIN GRAMMY LIFETIME ACHEIVEMENT AWARD
Also: Harold López-Nussa US Tour
CHUCHO VALDÉß RECIBIRÁ EL PREMIO DE LA EXCELENCIA MUSICAL (GRAMMY LATINO)
También: Harold López-Nussa de gira en EEUU


ENGLISH: Chucho Valdés, founder of Irakere and more recently leader of The Afro-Cuban Messengers, and a winner of at least 3 Latin GRAMMY and six GRAMMY awards, will receive the Lifetime Acheivement award from The Latin Recording Academy in November. Congratulations Chucho!
ESPAÑOL: Chucho Valdés, fundador de Irakere, más recientemente líder de The Afro Cuban Messengers y ganador de al menos 3 premios Latin GRAMMY y 6 premios GRAMMY, recibirá el Premio a la excelencia musical de La Academia Latina de la Grabación© en Noviembre. ¡Felicidadas Chucho!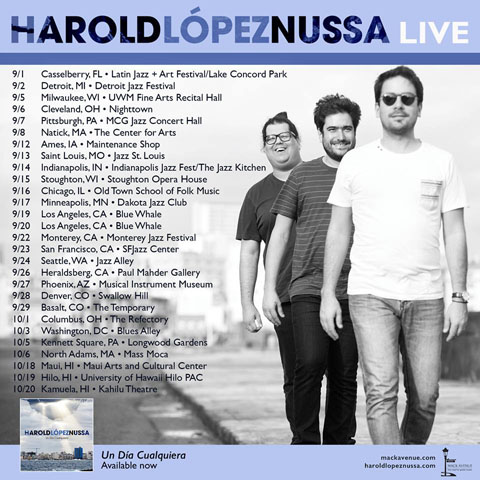 In support of the new album Un Día Cualquiera, Harold López-Nussa is touring the US with his trio, which includes drummer Ruy-Adrian López-Nussa and bassist Gastón Joya. This is a must see concert. Harold and Ruy-Adrian are both amazing, but I need to say something extra about their current bassist Gastón Joya - when he gets into a zone, he is so deep into what he is doing that I would even go watch him play with a Polka band if that is what he chose to do.

Chicagoans will be delighted to know that one of the group's stops is The Old Town School of Folk Music on September 16, one of the few venues in Chicago that truly does justice to Cuban music (there are others, but not many).

But hey, don't take my word for it.....