Sin Clave No Hay Na
JAZZ PLAZA 2021: EPILOGUE
JAZZ PLAZA 2021: EPÍLOGO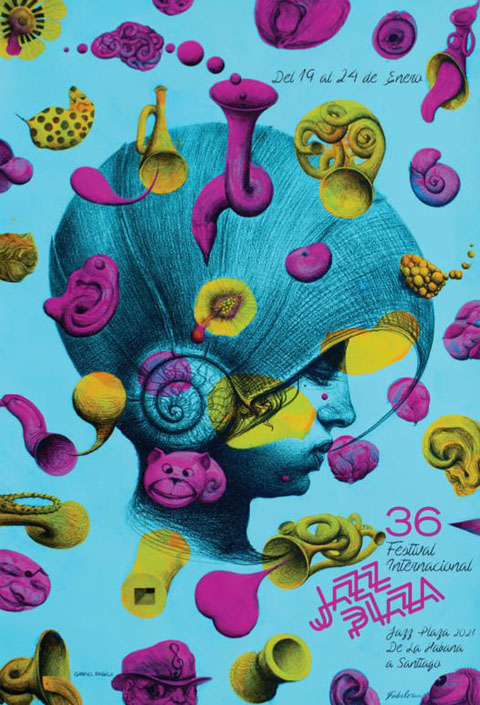 ENGLISH: There are some aspects of the physical version of Jazz Plaza that cannot be captured online- the wonderful energy between audiences and performers during live concerts and the cameraderie among jazz musicians from all over the world that one experiences afterwards in late-night jam sessions in hotels and small clubs for example. Nevertheless, there are several reasons why the on-line version was worthwhile:
1. The on-line concerts were excellent. Many of these are archived on the Ministry of Culture of Cuba YouTube channel and are worth watching.
2. This is probably the first time that people who did not physically attend were able to experience the Coloquio Internacional, an excellent series of discussions, documentaries and master classes. Most of that is also archived on the Ministry of Culture of Cuba YouTube channel. One of the many highlights is an excellent documentary about the Orquesta Cubana de Música Moderna.
For those who use Facebook, a Festival Jazz Plaza Facebook page and the Streaming Cuba Facebook page also have many of the videos.
3. Chicago-based HotHouse curated and streamed HotHouse Meets Havana, in which many of the Chicago concert segments were by members of the AACM (Association for the Advancement of Creative Musicians), which added an element of the avant garde to the proceedings. Kudos to Hothouse for introducing viewers in Cuba to Chicago's avant garde scene and for introducing international viewers who might not have otherwise watched some of the Cuban concerts to that material. If any AACM members are reading these lines, I would like to suggest pulbicly that encounters, either virtual or physical, between AACM members and young artists in Cuba's experimental jazz community such as Delvis Ponce, Marcos Morales, Michel Herrera and Yasek Manzano could yield interesting results.
While this writer very much hopes to return to a physical edition of Jazz Plaza, he also hopes that some form is video transmission of the best of the best, both of the concerts and the Colloquio, can be continued. It would not be necessary to attempt to do this in real time - one could decide which recordings to share after the festival. The important thing is that the best material be presented to the world from both aspects of the festival.

ADDITIONAL RESOURCES:
1. The website D'Cuba Jazz by jazz journalist Jose Dos Santos is the best website anywhere about jazz in Cuba. It also has a Facebook page.
2. Radio station CMBF has La Equina del Jazz Monday-Friday nights from 11pm-12am Eastern US Time. You can listen to it on their website.
3. Radio Havana Cuba's English language shortwave service has The Jazz Place every other Saturday night in rotation with Music With A Message. You can find more information on the RHC website. Most of the broadcasts are also archived for a short period on Tunein.com
4. This writer's shortwave radio program From the Isle of Music also frequently features Cuban jazz recordings, often with interviews with the artists. More information can be found on the From the Isle of Music Facebook page.


un ejemplo de los muchos conciertos excelentes

ESPAÑOL: Hay algunos aspectos de la versión física de Jazz Plaza que no se pueden capturar en línea: la maravillosa energía entre el público y los artistas durante los conciertos en vivo y la cámaradería entre los jazzistas de todo el mundo que se experimenta después en las sesiones de improvisación nocturnas en hoteles y pequeños clubes, por ejemplo. Sin embargo, hay varias razones por las que la versión online ha valido la pena:
1. Los conciertos en linea fueron excelentes. Muchos de ellos ya están disponibles en el canal YouTube del Ministerio de Cultura de Cuba.
2. Es probablemente la primera vez que los no capaces de asistir físicamente fueron capaces de experimentar el Coloquió Internacional, una serie excelente de paneles, documentales y clases magistrales. Disponisble también en su mayoria en el canal YouTube del Ministerio de Cultura de Cuba
Para los que tienen Facebook, hay también una página del Festival Jazz Plaza y de Streaming Cuba
3. HotHouse, con sede en Chicago, seleccionó y transmitió HotHouse Meets Havana, en el que muchos de los segmentos de conciertos desde Chicago fueron realizados por miembros de la AACM (Asociación para el Avance de Músicos Creativos), que agregó un elemento de "avant garde" a los procedimientos. Felicitaciones a Hothouse por presentar a los espectadores en Cuba la escena de "avant garde" de Chicago y por presentar ese material a los espectadores internacionales que de otra manera no habrían visto algunos de los conciertos cubanos. Si algún miembro de la AACM está leyendo estas líneas, me gustaría sugerir pulbicamente que los encuentros, ya sean virtuales o físicos, entre miembros de la AACM y artistas jóvenes de la comunidad de jazz experimental de Cuba como Delvis Ponce, Marcos Morales, Michel Herrera y Yasek Manzano podrían lograr resultados interesantes.
Si bien este escritor tiene muchas esperanzas de volver a una edición física de Jazz Plaza, también espera que alguna forma de transmisión en video de lo mejor de lo mejor, tanto de los conciertos como del Coloquio, pueda continuar. No sería necesario intentar hacer esto en tiempo real; se podría decidir qué partes valen la pena compartir después del festival. Lo importante es que se presente al mundo el mejor material de ambos aspectos del festival.

RECURSOS ADICIONALES:
1. El sitio web D'Cuba Jazz de José Dos Santos es el mejor sitio sobre jazz en Cuba en todo el Internet. También tiene una página Facebook.
2. La emisora CMBF transmite La Esquina del Jazz lunes-viernes 11pm-12pm, escuchable en linea en vivo en su sitio web.
3. El servicio inglés de Radio Habana Cuba en onda corta ofrece The Jazz Place cada otro sábado (alternando con Music With a Message). Más informacion en su sitio web.
4. El programa en onda corta de este escritor, From The Isle of Music, ofrece grabaciones de jazz cubano frecuentemente, a veces con entrevistas a los artistas. Más información está disponible en la página Facebook del programa.