Sin Clave No Hay Na
KIKI VALERA CD RELEASE EVENTS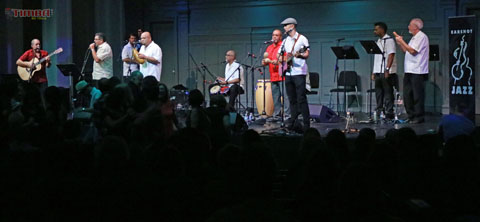 ENGLISH: Kiki Valera launched his new CD Vivencias en clave cubana (you can read Tom Ehrlich's review here) with several events on radio and in concerts last weekend. You can see a photo gallery of the concerts and studio session an KNKX here.
Kiki has been doing radio interviews for several stations, and Bill Tilford interviewed him in his home for his program From the Isle of Music. That interview will air the week of November 10-16.
ESPAÑOL: Kiki Valera lanzó su nuevo CD Vivencias en clave cubana (puede leer una reseña en inglés por Tom Ehrlich aquí) en la radio y en conciertos el fin de semana pasada. Puede ver una galería de fotos de los conciertos y la sesión en KNKX aquí.
Kiki esta grabando muchas entrevistas radiales para diversas estaciones, y Bill Tilford entrevistó a él en su hogar para su proprio programa From the Isle of Music. Esta entrevista saldra al aire la semana del 10 al 16 de Noviembre.