Timbera Mayor
MUCHO
GIRALDO PILOTO & KLÍMAX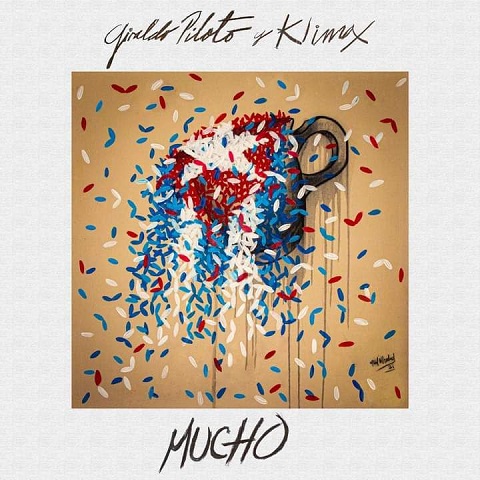 MUCHO artwork by Michel Mirabal
ENGLISH: It's been over five years since the last album by Giraldo Piloto & Klímax, but they are back with the apptly-named project "MUCHO". The album will be released in stages and will eventually consist of 13 tracks. On December 17th the first four songs dropped as an EP. The new tracks feature guest artists Alexander Abreu and Brenda Navarrete, as well as Klímax bandmembers Yensa Mercedes Vidaurreta, Mily Cantero, Noel Díaz, and Joselier López. In the video below Piloto explains that subsequent songs will be released as singles, while the final five songs will also drop as an EP and will all have females leads.
Click here for links to MUCHO at the various digital sites.
The next single to drop will be "Si No Probaste Antes" featuring Yordys Larrazabal.
The best way to keep up-to-date with the releases as well as the band's concert schedule is to follow them on social media and subscribe to their YouTube channel.
ESPAÑOL: Han pasado más de cinco años desde el último disco de Giraldo Piloto & Klímax, pero están de regreso con el acertadamente llamado proyecto "MUCHO". El álbum se lanzará por etapas y finalmente constará de 13 pistas. El 17 de diciembre, las primeras cuatro canciones se lanzaron como EP. Los nuevos temas cuentan con los artistas invitados Alexander Abreu y Brenda Navarrete, así como con los miembros de la banda Klímax Yensa Mercedes Vidaurreta, Mily Cantero, Noel Díaz y Joselier López. En el video a continuación, Piloto explica que las canciones posteriores se lanzarán como sencillos, mientras que las cinco canciones finales también se lanzarán como un EP y todas tendrán protagonistas femeninas.
Dale clic aquí para enlaces a MUCHO en los diversos sitios digitales.
El próximo sencillo a lanzar será "Si No Probaste Antes" con Yordys Larrazábal. La mejor forma de estar al día de los lanzamientos y de la agenda de conciertos de la banda es seguirlos en las redes sociales y suscribirse a su canal de YouTube.
Giraldo Piloto & Klímax YouTube Channel
Giraldo Piloto & Klímax Facebook
EP track list:
| | |
| --- | --- |
| Contra el Tráfico | feat Alexander Abreu |
| Me Sacas por el Techo | |
| Si Tu Decisión Es Irte | |
| La Policia Soy Yo | feat Brenda Navarrete |