Sin Clave No Hay Na
viernes, 10 julio 2020, 04:28 pm
Some Important Cuban Music Virtual Events
Algunos importantes eventos virtuales de música cubana
I. CONCERT FOR CUBA / CONCIERTO A CUBA
DATES / FECHAS JULY/JULIO 18 & 19
TIME / HORA 7PM CDT (8PM HORA DE CUBA) - 9:30PM CDT (10:30PM HORA DE CUBA)
WHERE/ DÓNDE: IN CYBERSPACE / EN CIBERESPACIO (DENTRO CUBA EN TV)
HOTHOUSE TWITCH TV
HOTHOUSE GLOBAL YOUTUBE
HOTHOUSE FACEBOOK
WWW.HOTHOUSE.NET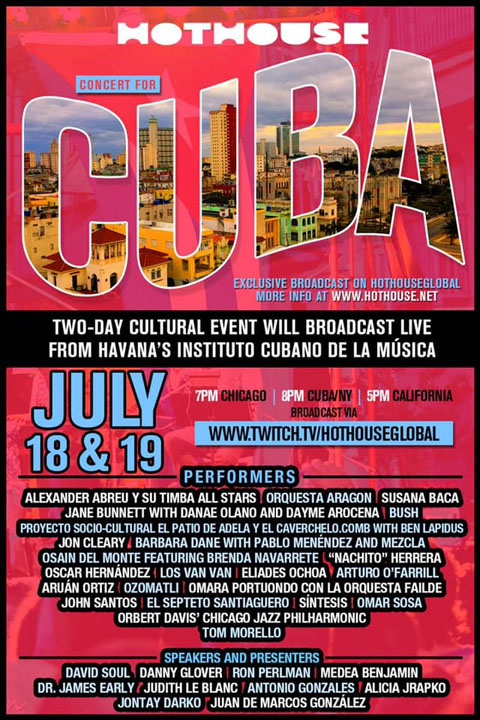 ENGLISH This very ambitious event will pull together what appears to be a mix of live video feeds and archival video footage including numerous Cuban musicans and other speakers in an impressive collaboration between several entities and individuals in the United States and Cuba. At press time some aspects of this event including the final participant list were still evolving, and for that reason, if you are in Facebook, we encourage you to follow the Hothouse Facebook page or the page of the Instituto Cubano de la Música (you should be following that page even without this concert) for more details as they develop. If you are not in Facebook, you can keep your eye on www.hothouse.net
Hothouse is a Chicago-based organization, and this writer, who lives in Chicago, hopes for the maximum success of the event, especially if that inspires an increase in Chicago presenters and radio stations (especially the latter) proactively presenting current music from Cuba both live and on the air.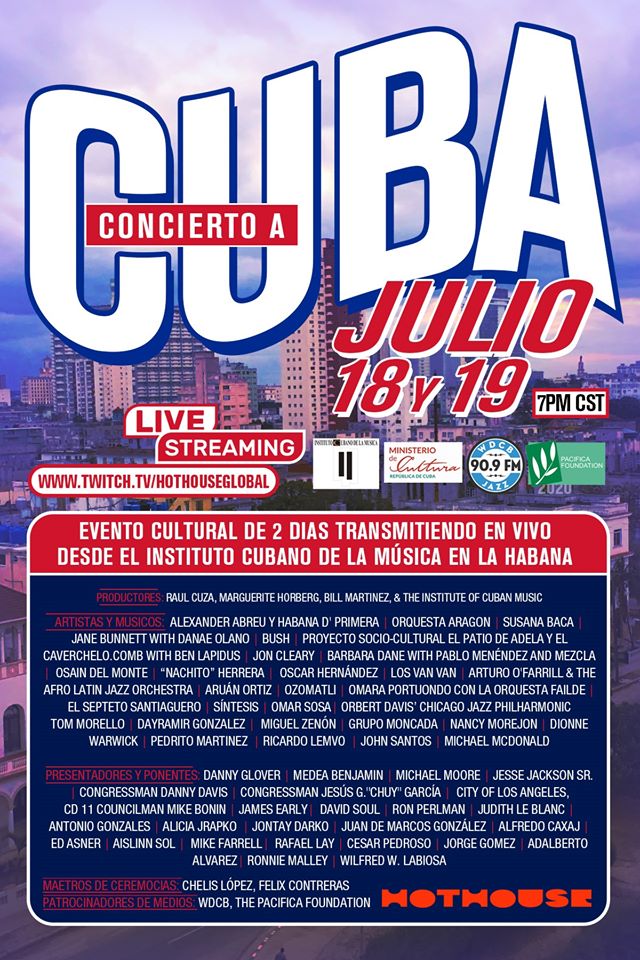 ESPAÑOL Este evento muy ambicioso reunirá lo que parece ser una mezcla de transmisiones de video en vivo y videos de archivo, incluidos numerosos músicos cubanos y otros oradores en una impresionante colaboración entre varias entidades e individuos en los Estados Unidos y Cuba. En el momento de la publicación, algunos aspectos de este evento, incluida la lista final de participantes, todavía estaban evolucionando, y por esa razón, si está en Facebook, le recomendamos que siga la página de Facebook de Hothouse o la página del Instituto Cubano de la Música (usted debería seguir esa página incluso sin este concierto) para obtener más detalles a medida que se desarrollan. Si no está en Facebook, ojo en www.hothouse.net
Hothouse es una organización con sede en Chicago, y este escritor que vive en Chicago espera el máximo éxito del evento, especialmente si eso inspira un aumento en los presentadores y emisoras de radio de Chicago (especialmente la última) que presentan de manera proactiva la música actual de Cuba en vivo y en el aire.
---
II. CONCERTS & PRESENTATIONS VIA STREAMINGCUBA
WHEN / CUANDO: FREQUENTLY / FRECUENTEMENTE
WHERE / DÓNDE: STREAMINGCUBA FACEBOOK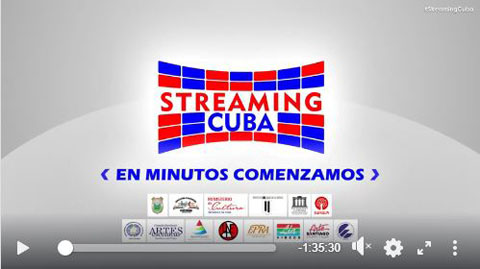 ENGLISH: Some time ago, we mentioned that Streamingcuba was running live music presentations and other musical content inclunding the presentation of new albums on their Facebook page. The frrequency and variety of these events has increased since then, and there are even frequent morning videos about the current situation regarding COVID-19 in Cuba. This is one of the best virtual vehicles for Cuba's music industry and its followers around the world in these difficult times. This writer would love nothing better than to see Cubadisco's live 2021 awards ceremonies available to the world using this or something similar to it.
ESPAÑOL: Recientemente, mencionamos que Streamingcuba estaba presentando música en vivo y otros contenidos musicales, incluida la presentación de nuevos álbumes, en su página de Facebook. La frecuencia y variedad de estos eventos ha aumentado desde entonces, e incluso hay videos frecuentes de la mañana sobre la situación actual con respecto a COVID-19 en Cuba. En este momento es uno de los mejores vehículos virtuales para la industria musical cubana y sus seguidores en todo el mundo en estos tiempos difíciles. A este escritor no le gustaría nada mejor que ver las ceremonias de premiación de Cubadisco 2021 en vivo disponibles para el mundo entero usando esto o algo similar.