Archivo
Lo Nuevo
[hide]
Fotos Del Día
[hide]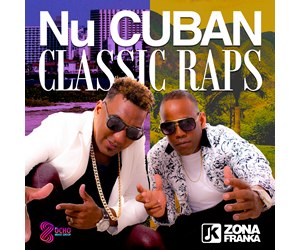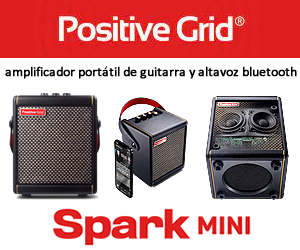 La Última
jueves, 12 junio 2014, 08:03 pm
ACAS Blow Away the Hardened Timbaphile
3 More Nights at SF JAZZ - Hollywood Bowl on Sunday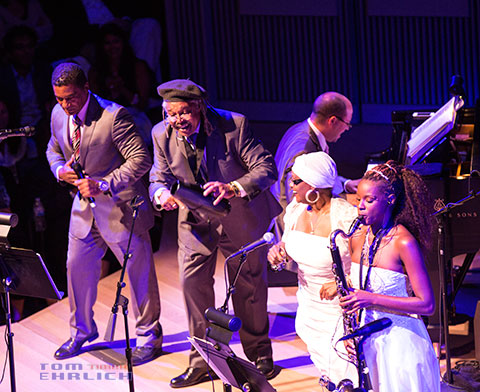 photos by Tom Ehrlich
UPDATED: click continue reading below for more Tom Ehrlich photos
The Afro-Cuban All Stars began life as the Rolls Royce of heritage acts, showcasing Cuban legends like Omara Portuondo, Félix Baloy, Ibrahim Ferrer, Rubén González, Compay Segundo, et al. Today's ACAS is quite a different beast. The repertoire is largely the same - Chan Chan, El cuarto de tulo, Kila Quique y Chocolate (and now a fresh Arsenio classic, Cangrejo fue a estudiar) - but the arrangements and execution have become much more modern, exciting and innovative.
The new rhythm section is tremendous. The break-dancing youngster from the last tour, Tony Moreaux (of royal Grupo Changüí de Guantánamo lineage) is now the old man of the group, joined by two twenty-year old phenoms: conguero Tany Allende (who's already paid his dues with the like of Alain Pérez and Yoel Páez in Spain) and timbalero Caleb Michel (a native English speaker from Phoenix who plays like an ENA graduate). Hearing these three lace the traditional songs with cutting edge timba percussion fireworks is like a shot of pure adrenaline when combined with bassist Giovanni Cofiño, the ex-Revé musical director whose praises I've sung many times, and Marco Crego, who played piano on Klímax's epic third album and was heavily involved in the early formation of Grupo Dansón, which of course became Havana d'Primera. All told it's one of the most exciting new rhythm sections I've heard in recent years.
The lead vocals are pared down to the consummate pro, Emilio Suárez, and De Marcos himself, who turns out to be quite a singer. He and Suárez spent half of their time with cordless microphones, mingling and dancing with audience members while they sang - never missing a note. By the end, the normally staid SFJAZZ crowd was dancing from the rafters.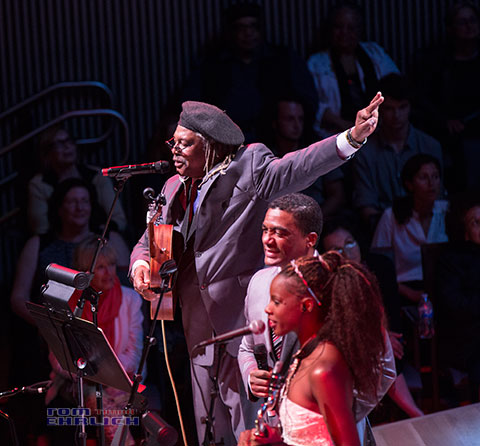 Among the most innovative features of this band is the horn configuration. To explain, there's a reason why Van Van and Revé use three trombones: trumpets, while higher, more agile and generally more exciting, are notoriously hard to play in tune. They're thrilling live when you've had a few beers, but their physical construction, combining valves with the natural overtone series, is a nightmare. De Marcos starts with three exceptionally well-trained trumpeters, but his master stroke is the addition of a bass clarinet. The idea no doubt stemmed from the fact that he wanted to bring his daughter on tour, but the result is a revelation. The perfectly intoned orchestral instrument creates a rich, fat base that holds the trumpets together like glue. Combined with the crystal clear and exquisitely revealing acoustics of the SF JAZZ venue, it's the best trumpet section sound I've ever heard live - and I didn't have a few beers to help me arrive that conclusion - only coffee. Another new sonic feature is JdM's other daughter, who normally plays keyboards, now doubling on a vibe-synth, played with mallets.
Finally, props have to be given to SF JAZZ itself. That room is a work of art. It's never too loud (a miracle if you're a veteran of Cuban music concerts). You hear the rhythm section coming live off of the stage and the vocals and horns from vast arrays of small speakers hanging down from the rafters above. It may not be any better than Yoshi's Oakland on their best night, but SF JAZZ is set up so that there are no bad nights and although it has a huge capacity, the sound is perfect everywhere and every seat "feels" close to the stage.
Get down there tonight through Saturday if you can. Los Angeleans game to brave the Playboy Jazz Fest can hear them on Sunday.