Indice - Table of contents
New Stuff
[hide]
Photos of the Day
[hide]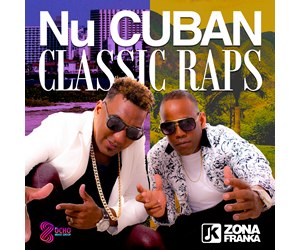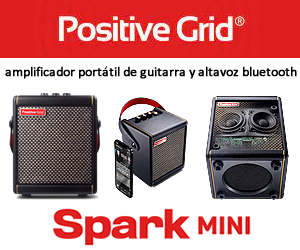 Chicago's Timba & Salsa Dance Scene - Restaurants with La Música
Restaurants and Clubs with Food & La Música
(Photos and capsule reviews by Bill Tilford, all rights reserved)
If you like your food and music together, there are some small Chicago restaurants and clubs worth checking out on different nights. They usually (with a few exceptions) don't have huge dance floors, but their menus are often excellent, and so are many of the musicians that they book. Some have cover charges while others do not (at the "no-cover" establishments, they do still assume, of course, that you have come to eat and/or drink as well as listen and/or dance; please remember that these are small business owners, not the City of Chicago).

This is a perpetual work in progress, we'll add listings as we have a chance to visit them. We are also leaving the departed listed here as a reminder of how brutal the live scene can be. If you go to these live venues and enjoyed the experience, please let the owners know how much you appreciated the fact that the went the extra mile with hosting live talent. It is something they always need to hear, particularly at those moments when the message may not be showing up in their cash registers...
AG (Abram Gale) Lounge, 2366 N. Neva Av., Chicago IL 60607, telephone (773) 804-6011
This is basic bar and grill food (sandwiches, wings, salads, pizza) and has some sports screens going. As of this writing (June 2012), there has been live Latin entertainment every Thursday night booked by Latin Soul Entertainment; every second Thursday night, the house band is now Rica Obsesion Havana, the Latin Jazz unit of Rica Obsesion. Acts on the other Thursday nights are a variety of things including Latin comedy. There is a decent amount of dance floor space in the lounge (Rica Obsesion Havana plays the danceable kind of Latin Jazz). When the bands are on, they start playing between 10-11pm.
NOVEMBER 2013 UPDATE: This venue is not currently hosting live music as described above.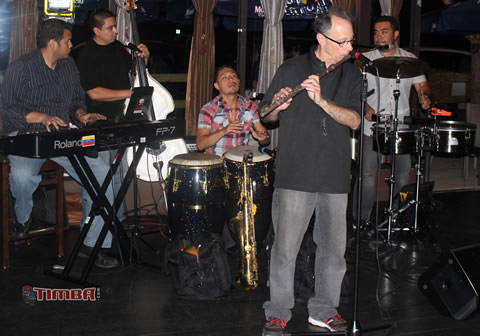 Rica Obsesion Havana at AG Lounge
Alhambra Palace Restaurant, 1240 W. Randolph St., Chicago, IL, telephone (312) 666-9555
The Alhambra is more on the scale of a large nightclub complex than a simple restaurant but includes an excellent Middle Eastern menu which is served both in the restaurant and the nightclub (Alhambra Room) area. There is Salsa every Tuesday night, most weeks just DJ-driven (via 4 Fantastic Events), but once a month a live band is included as part of that mix. There are several forms of live entertainment including Flamenco other nights of the week .



Freddy Kenton Jr. at the Alhambra
CLOSED: Café Bolero, 2252 North Western Av, Chicago IL 60647, telephone (773) 227-9000
This excellent Cuban restaurant has been operating for approximately 17 years (as of early 2012), and for the last 15 of them, it has been the Tuesday night home for a fine Latin and Afro Cuban Jazz combo, Havana, a small group whose innovative repertoire includes some excellent Cubop that would be interesting listening even if they played it as straight-ahead Jazz. Technically, you can dance to what the band plays, and there is a little space where you could do that, but this is really more of a listening venue where you can have a very nice Cuban dinner, relax, have some drinks and take in an extremely worthwhile Latin Jazz jam. We were impressed when we caught a set by Havana there. The band starts playing at about 8:30pm.
Occasionally, Café Bolero also has other special events.
NOVEMBER 2013 UPDATE: A restaurant called Paladar (not yet reviewed) now operates here, and it has been hosting music on Tuesday nights once a month..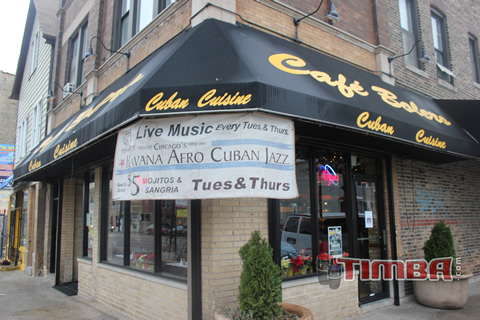 Cafe Bolero
Cafe LaGuardia , 2111 West Armitage Av, Chicago, IL 60647, telephone (773) 862-5996 This is a Cuban bistro and lounge with a small band and dance space in the bar area. According to the owner Carlos LaGuardia, it has been operating for approximately 13 years. On Tuesdays and Wednesdays, there is music from 8-11PM. It isn't always Cuban music, sometimes it's Brazilian, or flamenco, or belly-dance music, but we caught a very nice jam session with musicians from Eliezer y su Combo in honor of his birthday on a Tuesday night, Angel D'Cuba's group has been there, and it's worth watching their website to see who is coming. This isn't a place to hook up with a hundred other dancers at once, but the food and music are great, and there is some space to dance.
NOVEMBER 2013 UDATE: fortunately, their food has been much more dependable that the consistency of their entertainment calendar, which is not always current on their website. You may want to phone them to see what's on for the week you are thinking of paying a visit. That being said, as of January 2014, they are reliably having good music several nights a week, especially weekends. You just may need to call to confirm who it is.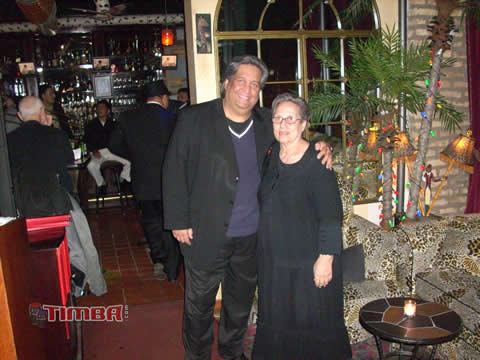 Carlos LaGuardia (owner) and his Mother at Cafe Laguardia
NEW JANUARY 2014: :Candela Latin Cuisine & Bar, 2451 N. Milwaukee Av,
Chicago, IL 60618 (773) 227-9898
This new pan-Latin restaurant and nightclub opened in late 2013. It is open for supper every night except Monday. The menu is mixed Latin American and Spanish, and the music also varies; call to see who is playing (the owners tell us that there will be a regular peña on Tuesdays, and there will be different Latin bands on weekends).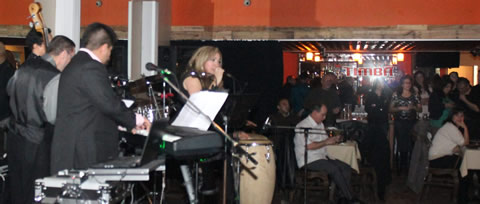 Sureya at Candela

Carnivale, 702 W. Fulton Market, Chicago IL, 60661, telephone (312) 850-5005
Carnivale has been open approximately 7 years and has a Pan-american menu with some Asian influences as well. There is a huge dining room and a smaller bar/lounge in which live bands (primarily Chicago area Latin bands) play on Wednesday nights. You can hear the bands in the dining room as well. We took in a set by Mateo y los Bachateros there. There isn't a clearly marked dance floor, but there is space to dance in the lounge. At this writing, Wednesday night is the only regular live bands night, but they book quality local acts, so worth watching their calendar.
NOVEMBER 2013 UPDATE: This Wednesday event is no longer happening until further notice.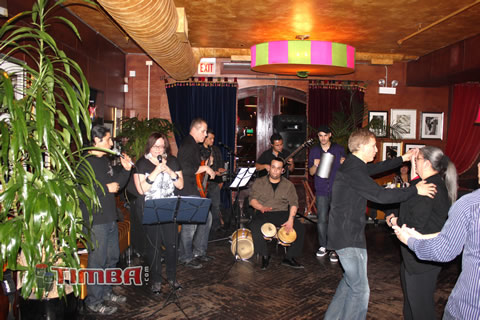 Mateo y los Bachateros at Carnivale
Coco, 2723 W. Division St., Chicago IL 60622, telephone (773) 384-4811.
Coco is in the middle of the Paseo Boricua section of Division St and has a nice Puerto Rican menu (we usually lean toward down-home food and had mofongo stuffed with camarones when we first checked the place out, but the menu includes some upscale Puerto Rican cuisine in addition to the basics.) In the summer, you can dine outside as well as in, and there are live Salsa bands on Saturday nights starting about 10:30pm.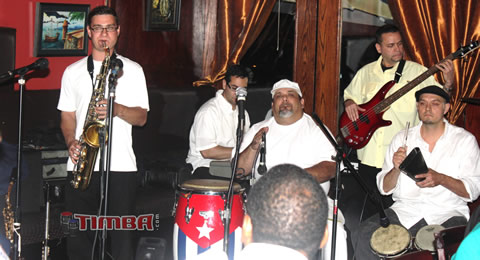 Albert Sierra and Conjunto Coco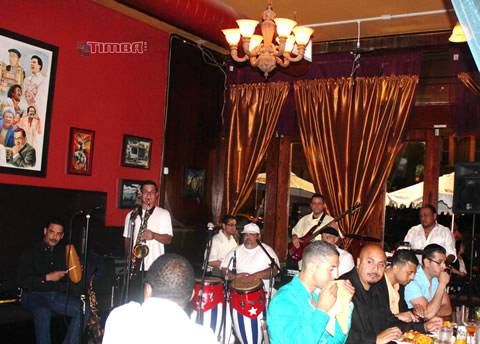 We checked out one of Albert Sierra's projects, Conjunto Coco. One of the nice things about this place is that on Saturday night, the bands are still cooking into the morning hours in an age where many establishments turn things over to a DJ after midnight. Rather than a square dance floor, there is a long and wide corridor between the bar and the dining tables, and Albert Sierra's group had the dancers moving when we were there. A very nice option for dining and late night live music on Saturday nights.
(NOT YET REVIEWED) Havana, 412 N. Clark St, Chicago IL 60654, telephone (312) 644-1900 Haven't been in here yet, but this Cuban Restaurant advertises live Latin Music on Friday and Satruday nights. Their event calendar doesn't care whether you care about which band, so phone first if you want to know...
Katerina's, 1920 W. Irving Park Road, Chicago, IL 60613, telephone (773) 348-7592 Katerina's is a bar/restaurant serving excellent Greek food with a very eclectic calendar of Jazz, international, Funk and other acts. On the last Saturday of every month, Latin Jazz/Charanga powerhouse band Conjunto holds forth. The cover charge helps establish that the bands are playing shows rather than just providing dinner music, but this still ideal for a late meal while catching the band.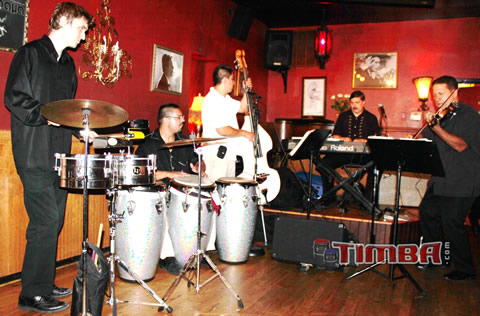 Conjunto at Katerina's
La Z De Oro, 6241 W. Cermak Rd, Berwyn, IL 60402, telephone (708) 788-7602
This is a small (a dozen or tables or so) Mexican restaurant in Berwyn that stays open into the wee hours of the morning, and on Wednesday nights, it is hosting (as of June 2012) Marysela and her Hot Bañeros, a quartet featuring Marysela Aviles, a versatile vocalist originally from Mexico but versed in Salsa and Latin Jazz, and Samuel del Real on keyboards. There isn't a separate bar here, so this is really a place to go have some Mexican food and dig on some Latin music while you're eating. (Marysela is especially strong with ballads, and Samuel del Real has been on the Chicago scene for a long time). On the other hand, the band plays from 9pm-1am, so it is a valid late night dinner option.
NOVEMBER 2013 UPDATE: We aren't sure who, if anyone, plays here now, phone first.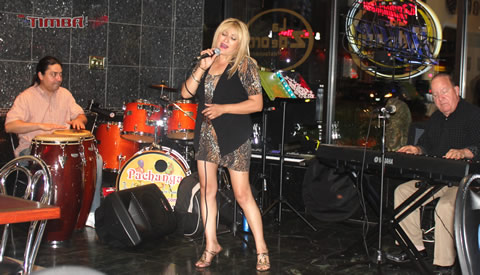 Marysela and her Hot Bañeros at La Z De Oro
Las Tablas Restaurant , 4920 W. Irving Park Rd, Chicago, IL 60641, telephone (773) 202-0999.
Las Tablas dates to 1991, and there are actually two locations, but the Irving Park Road location is the one of interest for music. This is a fine Colombian restaurant that has been having music for about 6 years now. As of March 2011, Carpacho Super Combo has an open run playing Latin jazz and some dance music from approximately 8pm-11pm many (but not all) Saturday nights. The website does not show the band schedule, so you'll need to call the restaurant to find out what's going on that night. We took in dinner and a set by Carpacho on Saturday, March 19, 2011. Both were excellent. There isn't a distinct dance floor, but there is some space for dancing in front of where the band plays, and although in theory they are playing music mainly for diners, some dancing does happen as the evening progresses.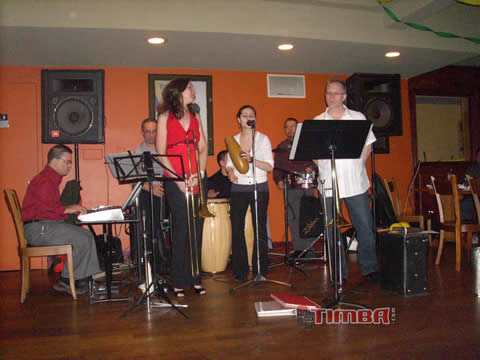 Carpacho y su Super Combo at Las Tablas
CLOSED: Maiz 1041 N. California, Chicago, IL 60622 telephone (773) 276-3149.
According to owner Carlos Reyna, Maiz began hosting live music and Salsa DJs in October 2012 after completing some renovations. The primarily Mexican menu specializes in antojitos; there is also a bar. Evenings there is also an all you can eat buffet option for $5.00. On Fridays and Saturdays, there is live music from 11pm-midnight (when we were there on Saturday, November 10, the Latin Jazz group Havana Kings actually played from 11pm-1am), and there is a Salsa DJ most nights of the week (when we were there, that DJ was Luis Rollin Rivera). As is the case with most of the restaurants with live music near Humboldt Park, this is a relatively small place but does have room to dance, and at this writing, it plans to host the Latin Jazz group Havana Kings in an open run on Saturdays as well.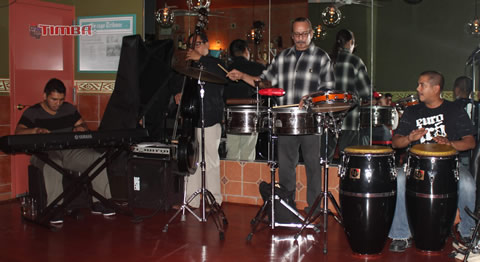 Some of the Havana Kings at Maiz
90 Miles Cuban Cafe, 2540 W. Armitage, Chicago IL 60647, telephone (773) 728-6000.
This is a medium-sized restaurant with great Cuban food and (in the summer) an outdoor patio. The only time that there is regular live music currently is on Tuesday nights, when Albert Sierra's Cuban Flavor, the house band, plays the danceable kind of Latin Jazz (there isn't a full dance floor exactly, but there is some room to dance).
NOVEMBER 2013 UPDATE: Carlos Garcia's Havana Kings now holds forth here on Tuesday nights.
JANUARY 2014 UPDATE: The live entertainment is now Flamenco. Phone first.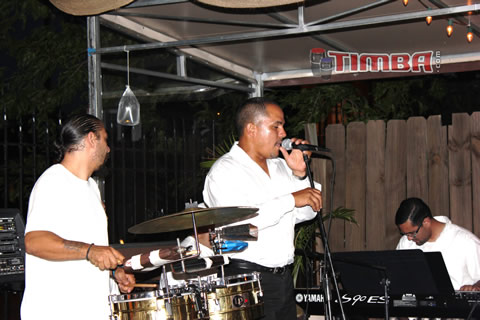 A vocal moment with Albert Sierra's Cuban Flavor at 90 Miles Cafe.
NOT YET REVIEWED: Paladar, 2252 N. Western Ave, Chicago IL 60659. This took over the location of the former Cafe Bolero and has been having some bands (we believe Latin Jazz) on Tuesday nights.
CLOSED Rumba, This ornate supper club has been active for over a decade and serves a Latin fusion menu. It hosts a number of different Chicago-area live Salsa bands on weekends as well an an in-house band, Rumba 351, on weeknights. We caught Eliezer u su Orquesta there in March 2011. Dance space is limited (they do clear away some of the tables late in the evening), but it's a good place for a dining plus dancing experience.
NOVEMBER 2013 UPDATE: For a time, there was some discussion about whether this was truly dead or merely awaiting relocation. We are now formally pronouncing death as of 2013.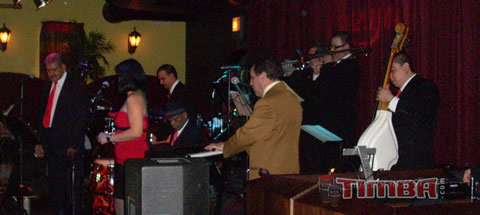 Eliezer y su Orquesta at Rumba
Sabor a Cafe, 2435 West Peterson Av, Chicago IL 60659, telephone (773) 878-6327
This Colombian restaurant serves up an eclectic mix of music, especially on weekends. According to owner Elio Erraez, the restaurant has been hosting live music for a decade now. He is clearly a Jazz fan given the images of greats such as Dizzy Gillespie that adorn the walls behind and around the stage and also a Cuban music fan (Arsenio Rodriguez is also on the wall). We were there when piano great Tony Perez happened to be in town, and he, rising local Cuban music star Angel d'Cuba and others held forth in a hard-swinging jam session on a Wednesday night that had been scheduled on pretty short notice. The Good News/Bad News is that the owner by his own admission loves an element of surprise as part of the restaurant's ambience, so even though there is a website and a Facebook page, you'll need to check directly with the restaurant to see who is performing when. On the other hand, if guys like Tony Perez are dropping in from time to time, it's definitely worth checking. The food was quite good as well.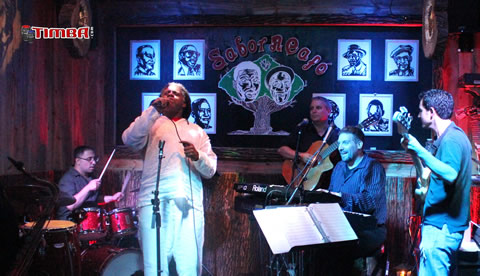 Angel d'Cuba and Tony Perez at Sabor a Cafe
Siboney Cuban Cuisine , 2165 North Western Av, Chicago, IL 60647, telephone (773) 276-8776.
This relative newcomer to the Cuban restaurant scene opened in 2009. This is a somewhat larger establishment with a few rooms, one of which has a stage and a servicable dance floor. It has hosted some DJ-driven Timba dance nights. Excellent Cuban food, and it sometimes has live music on Friday and Saturday nights. We caught a nice Latin jazz set by Papo Santiago's group on a Friday night in early 2011, and Angel D'Cuba's group has been there as well. The website isn't always up to date on entertainment, so it pays to call and see who is appearing and on which nights.
JANUARY 2014 UPDATE: This has been recently closed for renovations; phone first.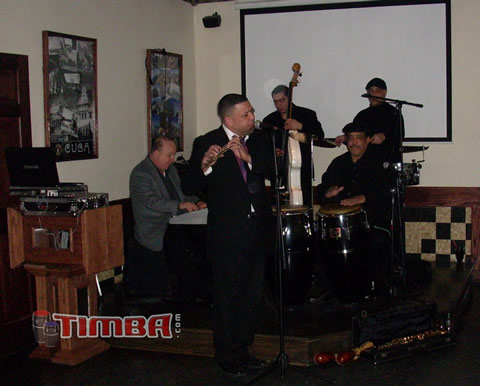 Papo Santiago with a jazz combo at Siboney Cuban Cuisine
Tumbao, 3213 W. Armitage Av, Chicago IL 60647, Telephone (773) 772-9800
Tumbao has a varied light (but well-done) menu which includes some Caribbean items. The music is also varied, but it does occasionally have some live Salsa in addition to DJs. We caught a very nice set there by Papo Santiago after his CD came out. When there are bands, the sightlines are excellent (unlike many of the other restaurants, this is one large room with an unobstructed view), and there is some room to dance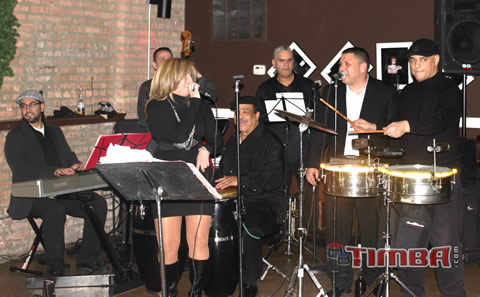 Papo Santiago's Dance Band, Infraverde, at Tumbao
Sunday, 26 January 2014, 05:37 AM