Indice - Table of contents
New Stuff
[hide]
Photos of the Day
[hide]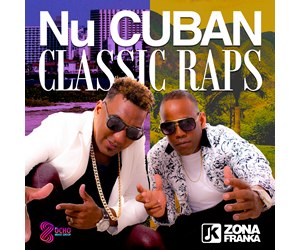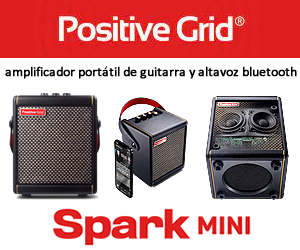 Chicago's Timba & Salsa Dance Scene - Salsa Tuesday at the Alhambra Palace
Salsa Tuesday at the Alhambra Palace
(Photos and review by Bill Tilford, all rights reserved)
Where: Alhambra Palace , 1240 West Randolph Street, Chicago IL
When: Tuesdays, 7:30pm until ??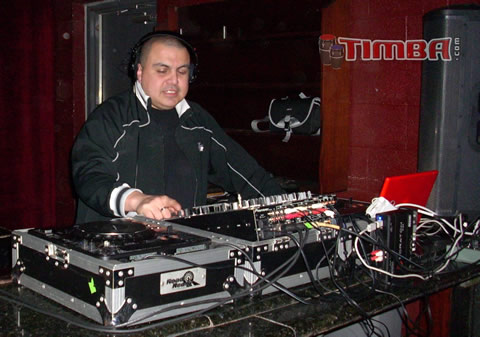 DJ El Prieto
Since Timba.com is about the music and the dancing, we wouldn't normally start off by telling you all about the room, but this place deserves to be an exception. The Alhambra Palace is a beautifully-decorated ballroom and restaurant facility that brings to mind the classic era of ballrooms, bands and dance festivals. According to the general manager, Fareed Nobahar, the Alhambra has been operating for about 4 years now. In addition to the weekly salsa nights, there is swing dancing on Wednesday, stepping once a month on Thursday, and Friday and Saturday nights have a cabaret scene going with Flamenco, Turkish music, belly dancing, a dance group called Read My Hips and other acts. Fareed also mentioned that the restaurant serves a combination of Moroccan cuisine and tapas.
DJ Luis "Rollin" Rivera
For Salsa Tuesday, the music is completely DJ-driven on most nights by DJ El Prieto and DJ Luis "Rollin" Rivera. Once a month, however, there is a combo of DJ music and live bands. The nights begin with a dance lesson. The instructors have rotated periodically over time, but the instructor for this night was Juan "Ta-To" Paredes from Tampa.
According to the organizer, Angelo Prieto, this event began 3 years ago with a 5-week run by Angel Melendez's band and never looked back.
What we saw and heard: We caught Salsa Tuesday's third anniversary party (also a Mardi Gras party) on March 8, 2011. Several hundred people came to the event, and the dance floor was already packed by the time the band came on. The first hour after the doors opened was basically for socializing. A dance lesson began approximately 8:30, a DJ set started after 9:30, and the band began about 11PM. The DJ set was a very nice mix of Salsa styles including a healthy dose of Cuban songs. The band was Nabori , which did a smoking set, and you can see our separate report about them in the Chicago-based bands section.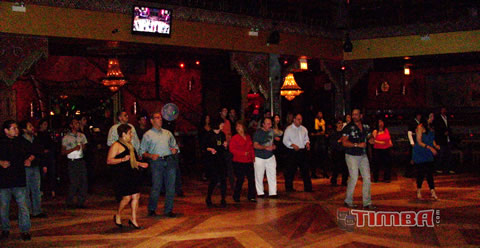 Ta-To Paredes showing them how it's done
The verdict: Impressive. You don't need to have a date to go here, because the instructors do their best to help get you partnered up during instructions, and much of the crowd is into social dancing anyway. On the other hand, this would be a great place to take your date dining and dancing even though it's a Tuesday, and if you have never experienced the ambience of a true ballroom, this is an excellent opportunity to do just that. The music is spot-on for the room.
Monday, 16 January 2012, 06:20 AM