Kevin Moore - Beyond Salsa Piano - Vol. 3 - Int. - 1960-78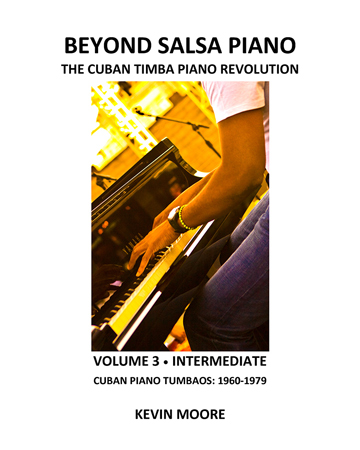 Click here for the new Beyond Salsa Online Catalog
Volumes 3 & 4 are arranged by artist and overlap somewhat chronologically. Taken together, they begin with the Cuban Revolution and end 30 years later with the fall of the Berlin Wall, two events which had as much impact on Latin music as they did on world politics.
By New Year's Eve, 1958, the level of musical connectivity between Cuba and the rest of the world had reached its all-time zenith. 24 hours later, Havana and New York might as well have been on different planets. The Cuban Revolution took a machete to the Latin music scene and the two severed halves, like twins separated at birth, followed almost completely unrelated trajectories for two decades and remain surprisingly separated in 2009.
In the 1960s, North American musicians continued to assimilate and further develop the Cuban musical influences of the 40s and 50s but as for the goings on in post-Revolution Cuba, their interests centered more on where Soviet missiles might or might not be hidden. For their part, Cuban musicians were extremely interested in jazz, rock and soul, but it wasn't until the 1980s that they began to take notice of the "salsa" phenomenon that was raging in the north.
Thus, as we pick up our story in 1959, where we left off in Volume 2, we're immediately confronted with a distinct fork in the road. We'll take the less traveled Cuban route for two reasons. First, it leads most directly to our ultimate destination – the Havana piano revolution of the 1990s. Second, the task of covering the pianistic developments of the salsa era has already been masterfully accomplished by Rebeca Mauleón-Santana -- a brilliant player, writer and educator -- without whose guidance and inspiration these books would never have been imagined, much less written.
Saturday, 16 March 2013, 10:44 AM