Michelle White - Timbera Archives February 2005
Friday February 25 2005 - Adalberto Álvarez y su son in Canada
Tomorrow they begin their Canadian tour with a concert at Cubano's Club in Montreal. Cuban bands are a rare treat in North America so don't miss them! If you want to kow what to expect, check out my concert review "Hay que tocar para los bailadores" (You have to play for the dancers). You can also watch some video clips from the concert or our latest interview with Adalberto (in WMV format).
Wednesday February 23 2005 - El Lanzamiento Cubano del Nuevo Disco de Haila
Haila lanza en Cuba su tercer CD llamado "DIFERENTE" realizando un gran concierto en el Salón TURQUINO del Hotel Habana Libre el dia 5 de marzo de este año 2005. Este CD ya se lanzo a finales del 2004 en Japón. Lea las críticas o mire los videos de EuroDisney del junio pasado.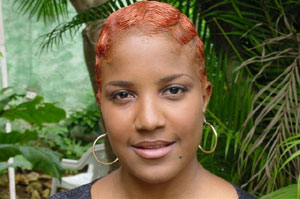 The Cuban Release of Haila's New CD
Haila will release her third CD called "DIFERENTE" at a big concert in the Salón TURQUINO of Hotel Havana Libre on March 5th 2005. This CD was already released in Japan at the end of 2004. Read the reviews or watch the videos from EuroDisney from last June.
Monday February 21 2005 - Tirso Interview in WMV Format
We have converted the files for the Tirso interview to WMV for modem and broadband because they were too slow at downloading. So if you tried once and it didn't work, go back an try again. Depending on your connection speed, click modem or broadband to see the answers to each question.
Entrevista con Tirso en FormatoWMV
Hemos convertido los video de la entrevista con Tirso a formato WMV para modem y broadband porque llevó tanto tiempo para bajarles. Entonces, si trataste de mirarles y no funcionó, trates otra vez. Dependiendo de la velocidad de tu conexión, cliq en modem o broadband para mirar las respuestas para cada pregunta.
Thursday February 17 2005 - Entrevista con Tirso Duarte
Cuando Linda estaba en Cuba hizo una entrevista muy intresante con Tirso Duarte. Ahora tenemos los clips del video. Las pregutnas están escrito en inglés pero las respuestas están en español. Los videos están en formato MPG para broadband. Vamos a trabajar con transcribirla para la gente que no puede mirar los videos.
Interview withTirso Duarte
When Linda was in Cuba she did a very interesting interview with Tirso Duarte. Now we have the video clips. The questions are written in English but the answers are in Spanish. The videos are in MPG format for broadband. We are going to work on transcribing it for people who can't watch the videos and also do an English translation.
¡Más Videos!
La gente del guestbook han hablado un poco sobre las cantantes feminina cubana y por eso he puesto unos videos de cantantes femininas en la página. Desafortunadamente no tenemos videos de todas. Pero tenemos Ailyn y Biunaikis de Azúcar Negra y también el estreno Somos Dos (cantada por El Nene) que es muy popular en los conciertos. Hay dos videos de Haila cuando tocaba con El Clan en EuroDisney el junio pasado incluso la canción nueva Solita de su disco Diferente. Y también tenemos dos clips con Yaqueline Castellanos de cuando estaba en gira con Azúcar Negra. El primero es No me parezco a nadie y el segundo Siboney que también nos eseña Azúcar Negra tocando jazz.
More Videos!
The people in the guestbook have been talking a little about the female cuban singers, so I put up a few videos of female singers. Unfortunately we don't have videos of all of them. But we have Ailyn and Biunaikis of Azúcar Negra and also the new song Somos Dos (sung by El Nene) that is very popular in concerts. There are two videos of Haila when she sang with El Clan at EuroDisney last June including the new song Solita from her new CD Diferente. And we also have two videos of Yaqueline Castellanos from when she was on tour with Azúcar Negra. The first is No me parezco a nadie and the second Siboney, which also shows us Azúcar Negra playing jazz.
Tuesday February 15 2005 - Entrevista con Adalberto Álvarez
Tenía la oportunidad de hablar con Adalberto antes del concierto en Gothemburgo, Suecia. Quiero agradecer a Linda y Arturo por su ayudo con las preguntas. Y también tengo que pedir perdón a ustedes que hablo español tan mal. Espero que puedan comprender lo que pregunté. La entrevista es en formato WMV para modem y broadband. Vamos a transcribirla también para la gente que no pueden mirar los videos. English transcription coming soon.
Se Sigue Comentando Released/Lanzado
Elito Revé's new CD Se sigue comentando has finally been released. I highly recommend it. It is filled with great songs that please both musicians and dancers. We will shortly be adding a section for la Revé so check back with us.
Friday February 11 2005 - Tour Updates
Last night I attended the Adalberto Álvarez concert in Gothenburg, Sweden. It was a major success and I'll be reporting more on that later. In the meantime, they continue their tour of Scandinavia with a concert in Oslo tonight and in Copenhagen at Club Mambo tomorrow. Check the tours section for the rest of their dates. They will be returning to Cuba for only 3 days before leaving for a tour of Canada.
Other important tour updates include the finalized schedule for the Mamborama tour, the preliminary schedule for Manolito y su trabuco and several new dates for Los Van Van and Dantes y su bomba. And we have also heard that the only date Paulo FG will be playing in Europe this month will be the 20th at Canta Cuba in Milan, so don't miss it if you're anywhere near Italy.
Thursday February 10 2005 - Update on Canta Cubano in Milan
The Canta Cuba festival, which will be held in Milan February 13-20, is assembling quite an impressive list of artists. The inaugural day, February 13th, Dantes Cardosa, "el Ricky Ricon" will be presenting 2 songs. Other artists include Mena, ex NG La Banda, and Miguel Enriquez. It seems that Italy is determined to win the award as Best Timba Country Outside of Cuba. So forget your February ski trip and go to Milan instead for 10 days of Cuban music.
Actualización en Canta Cubano en Milano
El festival Canta Cuba, que ocurrirá en Milano el 13-20 febrero, está montando una lista de artistas muy impresionante. El dia de la inauguracion, el 13 de febrero, Dantes Cardosa, "el Ricky Ricon" va a hacer 2 temas. Otros artistas incluyan Mena, ex NG La Banda, y Miguel Enriquez. Parece que Italia está decidida de ganar el premio para Mejor Pais Timbero Afuera de Cuba. Entonces olvidate tu vacaciones del esquí de febrero y vaya a Milano para 10 días de música cubana.
Wednesday February 9 2005 - Suena Cubano
Ivette ha escrito de Suena a Cubano, un grupo de músicos jovenes que están haciendo música que incluye son, merengue y salsa cubana. También hay una página de fotos del grupo.
Ivette has written about Suena a Cubano, a group of young musicians who are doing music that includes son, merengue and salsa cubana. There is also a photos page for the group.
Thursday February 3 2005 - Boni & Kelly - Together
Timba.com ha hablado con Ebblis y Kelly de su proyecto que se llama Together (juntos). Entre la gente que ha contribuido en una manera o otra están grandes nombres de la timba como Juan Formell, Juan Manuel Ceruto, Ricardo Amaray, Alexander Abreu y más. Cliq aquí para leer la entrevista. También tenemos unas fotos nuevas. Y he visto en Salsamania que hay un pedacito de su actuación de la televisión cubana del 31 de diciembre 2004.
We haven't quite gotten everything translated yet but we hope to have that taken care of next week.
Tuesday, 22 March 2011, 07:32 PM