Michelle White - Timbera Archives July 2005
Thursday July 28 2005 - Reportaje del Concierto de Paulo FG en Zurich
David Doogue nos mandó este reportaje del concierto de Paulo FG y su Élite en Zurich.
Concert Report of Paulo FG in Zurich
David Doogue sent us this report (in Spanish) from the concert of Paulo FG y su Élite in Zurich.
Wednesday July 27 2005 - Dantes Goes Solo
Dantes Cardosa Gonzáles is beginning a solo career, leaving behind Dantes y su Bomba. Early in August he has a month-long tour of Lima, Peru. In September he will go to Cuba to record new songs for a CD and will leave Cuba for a tour as a soloist. Click here to see some pictures of his concert at the Fiesta Festival in Rome, 2005.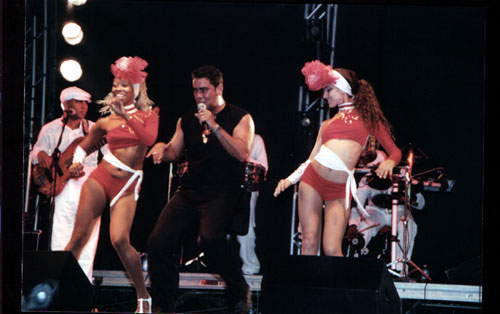 Dantes Como Soloista
Dantes ha comenzado un carriera como soloista, dejando atrás Dantes y su Bomba. Los primeros dias de agosto tiene una tournèe en Lima, Perú de un mes. En septiembre se va para Cuba a grabar nuevos temas para hacer un disco y saldrá de Cuba solo para una gira como solista. Haga clic aquí para ver unas fotos de su concierto en el Festival Fiesta en Roma.
Thursday July 21 2005 - Ivette has the latest on El Clan and Los Ángeles de La Habana
Click here to read the latest about El Clan and Los Ángeles de La Habana and to see pictures from the second anniversary of El Clan as well as presentations by El Clan and Los Ángeles de La Habana at Café Cantante.
Ivette la última de El Clan y Los Ángeles de La Habana
Haga clic aquí para leer la última de El Clan y Los Ángeles de La Habana y para ver fotos del segundo aniversario de El Clan y también presentaciones de El Clan y Los Ángeles de La Habana en Café Cantante.
Wednesday July 20 2005 - Maraca's New CD, Soy Yo, Released in the US
Yesterday, July 19, the long-awaited Maraca CD Soy Yo was released in the US on the Ahí Nama music label. We will get back with a review shortly, but from what I heard of the new songs at EuroDisney last year, Maraca has produced more great dance songs and he and Otra Visión perform them with absolute precision. To see what I'm talking about, check out the short clips from the concert at EuroDisney last year.
El nuevo disco de Maraca, Soy Yo, Se lanzó en EE.UU
Ayer el 19 de julio Soy Yo, el nuevo disco muy anticipado de Maraca, se lanzo en los EE.UU de Ahí Nama music. Volvemos pronto con una reseña pero de lo que escuché de las canciones nuevas en EuroDisney el año pasado, Maraca ha producido más canciones bien bailable y él y Otra Visión las tocan con precisión absoluta. Para ver de lo que estoy hablando mira los breves clips de video del concierto en EuroDisney el año pasado.
Tuesday July 19 2005 - The Oviedo Family
Calixto Oviedo's new Latin Jazz CD Calixto's Way is ready now but I don't yet know where you can buy it. I heard the demo and it was excellent. Calixto has recently returned from Cuba to perform with latin Jazz Orquesta and others this summer. He is currently in Norway. He will soon be touring with his band and will be joined by his sons Yulién and Yarién. Yulién is just now finishing up his own CD before joining his father, while Yarién who is a rapero and composer and has been singing with Yulién, will be recording a demo in Italy soon. As soon as we know the concert dates we'll publish them. Kevin will be back with more information soon.
La Familia Oviedo
El nuevo disco de new Latin Jazz de Calixto Oviedo que se llama Calixto's Way ya está listo pero no sé donde puedes comprarlo. Escuché un demo y es excelente. Calixto volvió recientemente de Cuba para actuar con with Latin Jazz Orquesta y otros este verano. Ahora está en Noruega. Pronto estará en gira con su grupo y sus hijos Yulién y Yarién vienen para acompañarlo. En este momento Yulién está terminando su propio disco antes que reunirse con su papá, mientras Yarién que es rapero y compositor y ha estado cantando con Yulién va a grabar un demo en Italia pronto. Cuando sabemos las fechas de los conciertos los publicaremos. Kevin viene pronto con más información.
Concert updates
Issac Delgado is on his way to Montreal this month to perform at La Grande Fete de Cuba on the 29th and 30th of July. Looks like it's time for the people in New York and other northern US states to gas up their cars and get ready to visit their northern neighbor again.
We also have another date for the Revé tour: Vienna, Austria. La Floridita, August 22.
Monday July 4 2005 - Preliminary Concert Reports
The European concert season is in full swing now, and we have some preliminary reports from Claudia D'Amassa in Milan and David Doogue from Zurich.
Paulo FG y su Élite in Zurich:
David was at the concert in Zurich on Saturday July 2nd and promises to send us a full report soon. But for now fans will be happy to hear that after the rough start where the band wasn't able to make the Stockholm concert, David verifies that Paulo FG y todo su Élite are here. So if you were feeling unsure about attending one of his concerts for fear that it would be without his band, no more worries. David tells us he's doing lots of estrenos, including Cleopatra, Su Libertad and Mi Admiradora. Check out Paulo's tour page to see which concerts are planned for the moment. We will update the page regularly as new concerts are scheduled.
La Charanga Habanera in Milan:
Claudia D'Amassa has sent us some photos of the recent Charanga Habanera concert in Milan. She tells us that the concert was packed, the temperature was 35 degrees, Junior sang Píntate los labios María and that the band performed 4 new songs. The new songs are reputed to be real TIMBA and not light. Thank you David! Claudia says that they expect to release the new CD in October.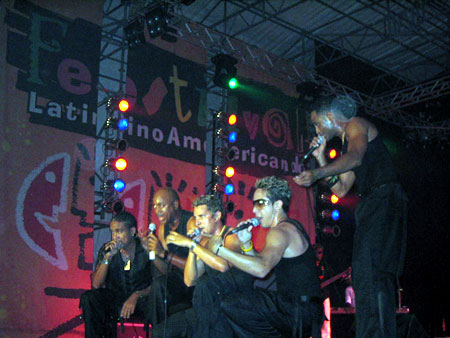 La Charanga Habanera at Festival LatinoAmericando in Milan
Reportajes Preliminares de Conciertos
La estación europea de los conciertos ya está en curso, y tenemos algunas reportajes preliminares por Claudia D'Amassa en Milano y David Doogue de Zurich.
Paulo FG y su Élite en Zurich:
David estaba en el concierto en Zurich el sábado el 2 de julio y jura que mandarnos un reportaje completo pronto. Pero para ahora los fans estarán feliz saber que después del inicio difícil cuando la orquesta no podría ir al concierto de Estocolmo, David verifica que Paulo FG y todo su Élite están aquí. Entonces si te sintieras inseguro sobre atender a uno de sus conciertos para el miedo que estaría sin su banda, no te preocupas más. David nos cuenta que Paulo está cantando muchos estrenos, incluyendo Cleopatra, Su Libertad y Mi Admiradora. Compruebas la página de giras de Paulo para saber que conciertos están planeados por el momento. Pondremos al día la página cuando se planean más conciertos.
La Charanga Habanera en Milano:
Claudia D'Amassa nos mandó unas fotos del concierto reciente de la Charanga Habanera en Milano. Nos cuenta que el concierto estaba lleno de gente, que la temeratura estaba 35 grados, Junior cantaba Píntate los labios María y que la banda tocaba 4 canciones nuevas. las nuevas canciones son reputados ser TIMBA verdadera y no light. Gracias David! Claudia dice que esperan lanzar el nuevo CD en octubre.
Tuesday, 22 March 2011, 07:32 PM