Michelle White - Timbera Archives April 2005
Friday April 29 2005 - The Floridita Cuban Music Award London
On Saturday June 18th and Sunday June 19th there special award winners concerts and on June 20th an award presentation dinner for the winners of the 2005 Cuban Music Awards. June 18th Charanga Habanera will perform. On June 19th will be Havana Sax. Cuban pop duo Buena Fe and the hip-hop group Triangulo Oscuro will also be performing. Sound slike a must-see event! It will be held at the Battersea Park Events Arena and all ticket holders at the awards concerts will be given a free Havana Club cocktail. For information see http://cubanmusicawards.co.uk/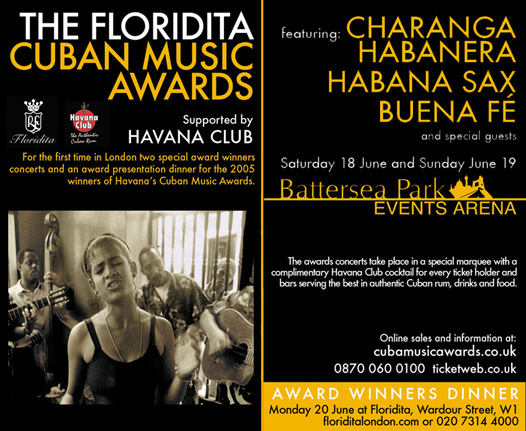 Wednesday April 27 2005 - Issac Delgado celebrates 15 years as an artist
Today Issac Delgado will do a press conference to discuss the 15th anniversary of his band. Lusafrica will present the new CD, Prohibido, recorded in Abdala studios, at Cubadisco 2005. For more information about this CD click here.
Issac Delgado cumple 15 años de vida artistica
Hoy Issac Delgado hará una conferancia de prensa para discutir el 15 aniversario de su grupo. La disquería Lusafrica presentará el nuevo disco, Prohibido, grabado en los estudios Abdala, en el Cubadisco 2005. Para más información sobre este disco haga clic aquí.
Monday April 25 2005 - ¡Qué Trabuco!
The occasion of the current Manolito y Su Trabuco tour has led to some discussion at Timba Geeks about what exactly a "trabuco" is. One of our Italian friends provided us with an excerpt from an interview where Manolito explains that a trabuco was a type of firearm used against pirates way back when, and today it has become synonymous with something that is powerful, so when he put the band together it was with this idea in mind; that this combination of musicians would be a powerhouse or all-stars if you will. I have to agree that the name is well-deserved.
Manolito y Su Trabuco are currently in the middle of their European spring tour. I caught their show at Mondo in Stockholm, Sweden on April 22 and have a concert report. Manolito was also kind enough to allow me to interview him during the sound check and you can listen to that interview (in Spanish) in MP3 format by clicking here.
After Stockholm the band continued on to Copenhagen where they were joined on stage by Calixto Oviedo. Tomorrow they perform in Malmö and then work their way down into the heart of Europe. So check the schedule to find the concert nearest you.
And in related news...
Trabuco singer Ricardo Amaray has finally recorded a solo CD of his own compositions. Timba fans are already familar with his songwriting because he has written or co-written many of the biggest hits of the Trabuco in recent years as well as hits for La Charanga Habanera and 2 new songs for the upcoming Boni & Kelly album. Ricardo's CD was produced by Manolito, and Ricardo expects it to be released some time this summer.
And Roicel Riverón, Trabuco drummer, is working on a CD with his brother, bassist Roberto Riverón. I would like to think that it's because we at Timba.com have nagged them to do so, but I suppose that didn't really impress them much. At any rate, we're happy the are finally doing it and we hope to be getting more details about the project and we'll let you know.
¡Qué Trabuco!
La ocasión de la gira actual de Manolito y Su Trabuco condujo a una cierta discusión en Timba Geeks sobre cuál es exactamente un "trabuco". Uno de nuestros amigos italianos nos dio un extracto de una entrevista donde Manolito explica que un trabuco era una arma de fuego usada contra piratas, y hoy es sinónimo de fuerza, y cuando creó el grupo estaba con esta idea en mente; que esta combinación de músicos sería un powerhouse o all-stars. Tengo que convenir que el nombre es bien merecido.
Actualmente Manolito y Su Trabuco están en medio de la gira de primavera de europa. Vi su show en Mondo en Estocolmo, Suecia el 22 de abril y tengo un reportaje del concierto (en inglese). Manolito era muy amable y me permitió hacer una entrevista durante el soundcheck, y pueden escucharlo en formato MP3 por hacer clic aquí.
Después de Estocolmo, la banda continuá para Copenhague, Dinamarca donde Calixto Oviedo estaba invitado a tocar con ellos. Mañana actuaran en Malmö y después van para el centro de europa. Controla las fechas para encontrar el concierto más cercano a ti.
Y en noticias similares...
Cantante del Trabuco Ricardo Amaray finalmente ha grabado un disco de sus propios temas como soloísta. Fanáticos de la timba conocen sus composiciones porque ha escrito muchos éxitos del Trabuco en años recientes y también éxitos para La Charanga Habanera y 2 canciones nuevas para el disco de Boni & Kelly. El CD de Ricardo es producido por Manolito, y Ricardo dice que será lanzado en el verano.
Y Roicel Riverón, baterísta del Trabuco, trabaja en un disco con su hermano, basista Roberto Riverón. Me gustaría pensar que es porque nosotros de Timba.com han dado la lata a ellos para hacerlo pero supongo que no los impresionó mucho. De todos modos, somos felices que finalmente la hacen, y esperamos recibir más detalles del proyecto para poner la información en la página.
Friday April 22 2005 - Third International Meeting of Popular and Formal Dances
The Cuban Folkloric Company JJ invite Cubans and Foreign dancers to the III International Meeting of Cuban Popular and Formal Dances that will be held in Havana City from September 26th to October 2nd, 2005. For all the details click here.
Thursday April 21 2005 - What's happening in Peru
La Charanga Habanera will remain in Lima this month performing at the salsotec "Tumbao" of Miraflores and La Victoria.
Pedro Calvo will also be arriving in Perú shortly with a group called Team Cuba, although it is not to the same Team Cuba put together by Juan Formell a few years ago.
Lo que pasa en Perú
La Charanga Habanera se quedará en Lima este mes presentando en la salsoteca "Tumbao" de Miraflores y de La Victoria.
Pronto vendrá Pedro Calvo en Perú con un grupo que se llama Team Cuba, pero no es lo mismo Team Cuba que hizo Juan Formell unos años atrás.
Tuesday April 19 2005 - Cuban Nights in Italy
Discotec Tam Tam in Verbania, Italy will begin Tam Tam takes you to Cuba next Thursday. Thursday nights the club will feature latin groups, DJs and dance shows. The concerts are free so don't miss them. Calixto Oviedo is the musical producer of the shows. The groups he has chosen to bring in are:
Thursday April 21 - Cuba Tu Isla
Thursday April 28 - Latinos
Thursday May 5 - Percussion show and DJ, featuring Chiky percussionist in Calixto's Latin Train
Thursday May 12 - Chocolate
Thursday May 26 - Special conciert by Calixto y su Latin Train
Noches Cubanas en Italia
La discoteca Tam Tam en Verbania, Italia comenza con Tam Tam te transporta a Cuba el próximo jueves. Cada jueves en el club aparecerán grupos latinos, DJs y bailarín animadores. El ingreso es gratis, no lo falta. Calixto Oviedo es el productor músical. Los grupos que ha eligido son:
el jueves 21 de abril - Cuba Tu Isla
el jueves 28 de abril - Latinos
el jueves 5 de mayo - Show de percusión y DJ, con Chiky percusionista de Calixto's Latin Train
el jueves 12 de mayo - Chocolate
el jueves 26 de mayo - Concierto especial de Calixto y su Latin Train
Monday April 18 2005 - Concerts/Conciertos
Manolín
Heard from someone at the concert in Bilbao last Friday that it lasted over 2 hours. Manolín has put together a 13 man band and while he's working on his new CD, he is taking the time to do some concerts here in Europe. As soon as we can find some details about the CD we'll post them here.
Una persona que fue all concierto en Bilbao el viernes pasado dijo que el concierto duró más que 2 horas. Manolín ha hecho una banda de 13 integrantes, y mientras está trabajando con su nuevo disco, va a hacer algunos conciertos aquí en Europa. Cuando encontramos detalles del disco los pondremos aquí.
Calixto
Calixto Oviedo will be performing this Friday, April 22 in Telemark, Norway with a Norwegian group led by Haajùkon Graf.
Calixto Oviedo toca el viernes 22 de abril en Telemark, Noruega con un grupo Noruego que dirige Haajùkon Graf.
Dantes
Dantes y su Bomba will return to Italy on May 16 to take part in the Festivals of Capannelle, Milan, Civitanova and Pescara. But before this he wants to celebrate his birthday (May 28th) in Cuba. In August he will return to Greece to continue his concerts in this country.
Dantes y su Bomba regresará a Italia el día de 16 de mayo para participar en los Festivales de Capannelle, Milano, Civitanova y Pescara, pero antes desea pasar su cumpleaños en Cuba. En el mes de agosto retornará a Grecia para continuar sus conciertos en esa nación.

The Brother of Ricky Ricón Preparing His Own Group
Dayán Cardosa González, younger brother of Dantes Ricky Ricón, is preparing his own musical group, which he has given the provisional name of Puro Corazón. Dayán, founding member and ex-vocalist of Ricky Band, was the only band member of this orchestra who decided not to go to Italy in order conclude his studies of Music, Italian and Law.
At the present time Dayán is working on the mixing and mastering stage of his first demo, with the participation of Cuban musicians, among others Alberto Casado (composer, arranger, orchestrator of various songs that have won in the prestigious Adolfo Gúzmán competition).
So far what we've heard about Dayán, according to the judgement of expert musicians, is that he does an equally good job interpreting timba, salsa erotica, bolero or chachachá. Soon Timba.com will make available to its readers a page with all the information about this new group.
El Hermano de Ricky Ricón Prepara Su Propio Agrupación
Dayán Cardosa González, hermano menor de Dantes Ricky Ricón, se encuentra preparando su propia agrupación musical, cuyo nombre provisional es Puro Corazón. Dayán, fundador y ex vocalista de la Ricky Band, fue el único integrante de esa orquesta que decidió no viajar a Italia para poder concluir en Cuba sus estudios en música, idioma italiano y Derecho.
En la actualidad , Dayán trabaja en la fase de mezcla y masterización de su primer demo, con la participación de experimentados músicos cubanos, entre ellos Alberto Casado (compositor, arreglista, orquestador de varios temas ganadores en el prestigioso Concurso Adolfo Gúzmán).
Por lo pronto le adelantamos que Dayán, a juicio de expertos musicales, disfruta por igual la interpretación de una timba, salsa erótica, bolero o un chachachá. En breve, timba.com pondrá a disposición de los lectores una página con toda la infomación de esta nueva agrupación.
Friday April 15 2005 - Calixto Oviedo To Tour North America!
Calixto will be touring the United States and Canada to promote his new Latin Jazz CD, Calixto's Way, which was recorded the studios of D.D.E Records LTD in Turin, Italy. The tour will be from September 8 through October 31st. For more information contact Rodolfo Pagán.
Phone: +1 718-733-7163
Cell: + 1 917-232-2624
¡Calixto Oviedo en gira de Norteamérica!
Calixto va en gira en los EE.UU y Canadá para promocionar su nuevo disco de jazz latino, Calixto's Way, que fue grabado en los estudios de D.D.E Records LTD en Turino, Italia. La gira será el 8 de septiembre al 31 de octubre. Para más información contactar a Rodolfo Pagán.
Teléfono: : +1 718-733-7163
Movil: +1 917-232-2624
Other Tour Updates
Charanga Habanera is currently touring Peru, but we don't have the concert dates or venues. And Manolín is touring after recording a new CD in Spain (no, we don't know what kind of music it is) he has a few concert dates that we know of, for example tonight in Bilbao at Teatro Café Angiorgia. We will update as more info becomes available.
Otras Actualizaciones de Giras
Charanga Habanera está en Perú ahora pero no tenemos las fechas ni los lugares. Y Manolín está en gira después de grabar un nuevo disco en España (no, no sabemos que tipo de música es) tiene unas fechas de qe sabemos, esta noche en Bilbao en Teatro Café Angiorgia por ejemplo. Vamos a ctualizar cuando tenemos más información.
El Clan Section Updated
Ivette has updated the section for El Clan with new photos, updated band member bios and a new datos section.
La Sección de El Clan Actualizada
Ivette ha actualizada la sección de El Clan con fotos nuevas, más información de los integrantes actuales y un nueva sección de datos.
Wednesday April 13 2005 - Minute-by-minute updates
14:00 GMT.
Esta Es Mi Charanga
"Ask and ye shall receive." I tried taking this sage advice and it worked! Here are some more details about the new Charanga Habanera CD. The CD will consist of 12 songs that will be timba with pop, reggaetón and ballads but fundamentally dance music to 90% in the style of Soy Cubano Soy Popular. The CD will be called Esta Es Mi Charanga. They will be recording starting in May and it will be released at the end of June in Cuba. It will be the main motive for the Charanga Habanera summer tour of Europe.
Esta Es Mi Charanga
Pedí más detalles del nuevo CD de la Charanga Habanera y los recibí. El disco tendrá 12 temas, será de timba con pop, reggaeton y baladas, pero fundamentalmente de música bailable el 90 %. Será por el estilo de Soy Cubano Soy Popular. El disco se va a llamar Esta Es Mi Charanga. Se estará grabando a partir de mayo y finales de junio será su lanzamiento en Cuba. Será el motivo principal de la gira de la Charanga Habanera para el verano por Europa.
12:00 GMT.
Charanga Habanera - the 2005 CD
La Charanga Habanera will begin recording their 10th CD in May 2005 in ABDALA studios. Their last Timba CD, Soy Cubano Soy Popular released in 2003, was their most successful CD to date. Rather than follow it immediately with another Timba CD, David decided to do an experimental CD, and in 2004 the Charanga gave us Charanga Light, a collection of Latin Pop, Balladas and Reggaetón that allowed the charangueros to explore their suave side.
So what we all are wondering now is, what will the 2005 CD be? Will the Charanga return as the leader in aggressive, hardcore timba after their venture into the world of light, or has the Charanga gone suave? Only time will tell.
Charanga Habanera - El disco de 2005
La Charanga Habanera empezará a grabar su 10:a disco en el mes mayo en los estudios ABDALA. Su último disco de Timba, Soy Cubano Soy Popular de 2003, era su disco más exitoso hasta ahora. Más bien que sígalo inmediatamente con otro CD de Timba, David decidía hacer un disco experimental y en el año 2004 la Charanga nos dio Charanga Light, una colección de latin pop, baladas y reggaetón que permitió que los charangueros exploraran su lado suave.
Bueno lo que nos preguntamos ahora es ¿cómo será el disco de 2005? ¿Volverán la Charanga como el lider en timba agresiva y dura después de su aventura en el mundo del light, o se ha convertido la Charanga en una orquesta suave? Solamente con el tiempo sabremos.
Tuesday April 12 2005 - Transcription of the TVere interview with Leonid Torres
Thank you Ivette! The fans asked for it and Ivette delivered. I don't know what lengths she had to go to to get a copy of the interview and transcribe it, but we can finally lay to rest the controversy surrounding the interview. Leonid said absolutely nothing about negras or mulatas or anything referring to race whatsoever. But it is a very nice interview, so enjoy!
Transcripción le la entrevista en TVere con Leonid Torres
¡Gracias Ivette! Los fans lo pidieron e Ivette lo entregó. No sé que cosas tenía que hacer para obtener una copia de la entrevista y transcribirla pero finalmente podemos terminar la controversia de la entrevista. Leonid no dijo absolutamente nada sobre negras o mulatas o cualquier cosa que refería a la raza. Pero es un entrevista muy buena.
Dantes in Athens
OK a correction here. Dantes y su Bomba are already in Greece and will be performing Tuesday-Sunday at La Cubanita in Athens. If we hear about any extra concerts on mondays we'll let you know.
Dantes en Atenas
Bueno una corrección. ¡Dantes y su Bomba ya están en Grecia donde realizan una gira de un mes! Tocan el martes hasta el domingo en La Cubanita en Atenas. Si recibimos información de conciertos el lunes les informaremos.
Pavel Molina - Los Van Van Bassist
Pavel has been playing with Los Van Van for a few years now, alternating with Juan Formell on bass. Formell didn't accompany the band on Van Van's recent European tour. So what do we know about Pavel? Check out his new musician's page to learn about the man chosen by Juan Formell as his replacement on bass. Pavel sent us a nice description of his career to date (in Spanish).
Pavel Molina - Bajista de Los Van Van
Pavel ha tocando con Los Van Van hace algunos años ya, alternandose con Juan Formell en el bajo. Formell no acompañó Van Van en la reciente gira de Europa. ¿Bueno qué sabemos de Pavel? Lea su página nueva para aprender sobre el hombre elegido por Juan Formell como su reemplazo en el bajo. Pavel nos envió una descripción buena de su carrera hasta hoy.
Monday April 11 2005 - Anniversaries
Azúcar Negra celebrated their 7th anniversary on Friday, April 8th. The main concert will be at La Piragua at the end of this month. The band, which has really come together with it's current line up of singers and musicians, is preparing for the St. Lucia Jazz Festival and their summer tour of Europe. They will also be releasing their new CD later this year, but you can already hear some of the new songs if you catch them in concert. Or you can watch some live clips in our video archive.
Klímax will also be celebrating an anniversary soon. They are planning a series of concerts and a national tour to celebrate. The principle concert will be held on May 7th at the Sal Avellaneda del Teatro Nacional in Havana.
Tour Updates
The tours section has been updated with new dates for Los Van Van including their Tour of Mexico. They will be close enough to the US for some lucky timberos to make a little timba pilgramage to see El Tren! We have also added Tiempo Libre's 2005 tour schedule for the US. When we get the dates for their August tour of Italy we will be updating their page, so keep checking. Finally we have news that Dantes y su Bomba will be playing at La Cubanita in Athens, Greece, but we don't have the actual concert dates yet, so check back with us.
Aniversarios
Azúcar Negra cumplió 7 años el viernes 8 de abril. El gran concierts será en la piragua al fin del mes. La orquesta, que ahora está en uno de sus mejores momentos con la combinación de cantantes y músicos que hay, está preparandose para el festival St. Lucia Jazz y para su gira de verano en Europa. También lanzarán su tercero disco este año pero ya pueden escuchar algunas de las canciones nuevas en sus conciertos. O pueden mirar algunas videos en vivo en nuestra archivo de videos.
También Klímax celebrarán su aniversario pronto. Están planeando una serie de conciertos y una gira nacional para celebrar. El concierto principal va a realizarse el dia 7 de Mayo en la Sal Avellaneda del Teatro Nacional, La Habana.
Página de Giras Actualizada
La sección de giras está actualizada con nuevas fechas para Los Van Van incluyendo la Gira de México. ¡Estarán tan cerca de la Yuma para que algunos timberos afortunados hagan un pequeño peregrinaje de timba para ver El Tren! Tenemos el horario del la gira de Tiempo Libre 2005 para los EE.UU. Cuando recibimos las fechas de la gira de Italia en agosto actualizamos la página, entonces compruébala de vez en cuando. Para concluir tenemos noticias de que Dantes y su Bomba tocarán en La Cubanita en Atenas, Grecia, pero no tenemos las fechas ahora, pues compruéba la página.
Friday April 8 2005 - Concert Report: Los Van Van in Copenhagen
The report from the final concert of the spring tour of Los Van Van is up. The venue was so packed that I couldn't find a decent vantage point to take pictures or film. I got most of Chapeando from the balcony so you can check out that clip among the Los Van Van videos. There are also clips from last summer at EuroDisney of some of the same songs that were performed in Copenhagen. Click here to read the concert report, and here to watch the video interview with pianist Cucurucho (in Spanish).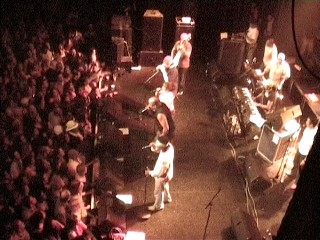 Reportaje: Los Van Van en Copenhague
El reportaje del último concierto de la gira de primavera de Los Van Van es cargado. El lugar estaba tan lleno que no podría encontrar un buen punto de vista para tomar fotos o filmar. Filmé la mayoría de Chapeando desde el anfiteatro. Pueden mirar el clip entre los videos de Los Van Van. Hay también clips del verano pasado en EuroDisney de algunas canciones que tocaban en Copenhague. Haga clic aquí para leer el reportaje del concierto (en inglese), y aquí para mirar la entrevista en video con pianista Cucurucho (en español).
Thursday April 7 2005 - Video Interview with Cucurucho of Los Van Van
Roberto Carlos "Cucurucho" Rodríguez had the task of taking over as pianist for Los Van Van when César "Pupy" Pedroso left to form Pupy y los que son son. While this may seem an impossible task, Cucurucho has done an excellent job and has even co-written 2 of the hit songs on the new Chapeando album: La Buena and Ven Ven Ven. Cucurucho was kind enough to take a few minutes after the Copenhagen concert to answer some questions for Timba.com. Click here to watch the interview clips in WMV format.
Entrevista en Video con Cucurucho de Los Van Van
Roberto Carlos "Cucurucho" Rodríguez tenía la tarea de asumir el puesto de pianista para Los Van Van cuando César "Pupy" Pedroso salió para fundar Pupy y los que son son. Aunque puede parecerse una tarea imposible, Cucurucho ha hecho un trabajo excelente y aun ha escrito 2 canciones exitosas en el nuevo disco Chapeando: La Buena yVen Ven Ven. Después del concierto en Copenhague, Cucurucho era agradable y nos dio unos minutos para contestar a algunas preguntas para Timba.com. Clic aquí para mirar los clips en formato WMV.
Tuesday April 5 2005 - Live Video of Calixto y su Latin Train
We have added 5 clips from a concert held in Italy early this year to our video collection. This concert features songs from Calixto's upcoming CD, Calixto's Way. The promotional tour for the CD will begin later this spring, but you can check out the videos to get a sneak preview.
Video de Calixto y su Latin Train en Vivo
Hemos puesto 5 clips de un concierto que ocurrió en Italia al inicio de este año en nuestra colección video. Este concierto tiene canciones del nuevo disco de Calixto que se llama Calixto's Way. La gira promocional comenzará más tarde este primavera pero pueden mirar los videos como preestreno.
Monday April 4 2005 - Back from Denmark
Ay mi madre! I'm still on a Chapeando high after the Los Van Van concert in Copenhagen on Saturday! A report will be coming shortly, but for now I'll just say that the concert was fantastic. The venue was sold out and if you'd had a few extra tickets you could have scalped them because there were fans standing around outside the venue hoping to find a ticket.
In the audience were musicians such as Germán Velazco, who needs no introduction, Hernán Lugano of Latin Groove Orquesta and Peter Suwalski of Ice Cream Vendors.

Robertón and Germán
Los Van Van are back in Havana now and the next concert information we have for them is the Festival San Luis in San Luis Potosi, Mexico on May 1.
Dance and Music Classes in Cuba
Cubakultur, the arrangers of the successful Los Van Van concert in Copenhagen, also offer a series of dance classes in Cuba. There is still time to sign up for the next set of classes beginning in June. For all the details click here or visit their website where the information is available in English and en Español.
Cursos de baile y musica en Cuba
Cubakultur, los promotores del exitoso concierto de Los Van Van en Copenhague, también ofrecen una serie de cursos de baile y música en Cuba. Todavía hay tiempo para colocarse para las clases que comienzan en junio. Para todos los detalles (en ingles) haga click aquí o visitar su sitio donde hay información en Español y in English.
Issac Has a New Website
The new official website for Issac Delgado is easy to remember: http://www.issacdelgado.com
Issac Tiene un Nuevo Sitio
El nuevo sitio offical de Issac Delgadoes fácil recordar: http://www.issacdelgado.com
martes, 22 marzo 2011, 07:32 pm