Michelle White - Timbera Archives October 2005
Monday October 31 2005 - Nuevas Fotos de La Charanga Habanera
Cristian Muñoz nos dió 10 fotos de David Calzado y Su Charanga Habanera de la actuación el 28 de octubre en Lula Lounge en Toronto, Canadá. Para nosotros que no han visto los charangueros hace tiempo, las fotos enseñan que tienen un nuevo estilo de pelo. Mira las fotos con Randolph, Aned y Noel.
Giras
Tenemos fechas de la gira de Orishas en EE.UU. OK no tocan Timba pero me gusta su música también. La gira de Paulo FG en Europa también está actualizada con fechas en Italia. Y Calixto Oviedo ya está en gira con su grupo Latin Train y también con Latin Groove Orquesta.
New Photos of La Charanga Habanera
Cristian Muñoz sent us 10 photos of David Calzado y Su Charanga Habanera from the performance of October 28 at Lula Lounge in Toronto, Canada. For those of us who haven't seen the charangueros for a while, the photos show that they have a new hair look. Check out the photos with Randolph, Aned and Noel.
Tours
We have the dates of the Orishas tour of the US. OK they don't play Timba but I like their music anyway. The Paulo FG tour of Europe is also updated with dates in Italy. And Calixto Oviedo is already touring with his group Latin Train as well as with Latin Groove Orquesta.
Saturday October 22 2005 - Grupo Danson in Benefit Concert at Club Mambo Tomorrow
This news just in, Grupo Danson, Alexander Abreu's new group, will be playing a benefit concert tomorrow October 23 at Club Mambo in Copenhagen, Denmark. Tickets are 30 DDK, and the money will all go to help the victims of the natural disasters in Latin America caused by the recent storms. I haven't heard the group myself, but Alexander told me that, despite the name, it is a timba group. Many of the songs are his own compositions, while they have also done new arrangements of some traditional Cuban songs.
Friday October 21 2005
New World Latin Festival in Copenhagen, Denmark
From the 4th until the 6th of November 2005, Copenhagen will be home to a Latin Festival including workshops with classes in Salsa, Samba and Tango, live concerts with some of the biggest artists from Denmark and abroad in the world of Salsa, Merengue, Samba, Reggae, Reggaeton and Latin Jazz.There will be also art exhibitions and films from and about Latin America as well as Latin American food.
Venues: Vega, Amagerbio and Islands Brygge Kulturhus
The following artist will be on the program:
Sonora Carruseles (Colombia), Simone Moreno (Brasilien), Sierra Maestra (Cuba), Jose Carlos (Brasil/DK) Latin Groove (Cuba/Argentina), Alianza (Cuba/Sverige), Peru Tropical (Peru/DK) Ache (Cuba/DK).
In Sweden you can buy tickets via www.ticketbox.se.
Organizer: New World Latin Festival and Den Danske Kulturforening
Project Manager: Stine Ortvad
E-Mail: stine@latinfestival.dk
Tel. +45 20987477
Tuesday October 18 2005 - Updates by Ivette
Ivette has sent us a short report and some photos from the recent anniversary concert of Pupy y Los Que Son Son at Casa de la Música Miramar on October 8th. She has also updated her blog with info and a picture of Gardi at the International Song Festival. She has also updated the intro page of Los Ángeles de La Habana.
Concert Updates
We have a few new dates for Paulo FG and for Orquesta Revé.
Haila begins her Autumn Tour of Europe on November 20th. She will perform in Amsterdam/Eindhoven, Café Caruso in Rome, La Rumba in Milan and will also be in Belgium and Barcelona. We will post the exact dates when we have them.
We have also received information about upcoming tours planned in Spain:
Pupy y Los Que Son Son - January 2006
David Calzado y Su Charanga Habanera: February 13-28
Manolito Simonet y Su Trabuco: March 4-30
When the concert venues are confirmed we will get back to you with the exact dates.
Actualizaciones por Ivette
Ivette nos mandó un breve reportaje y algunas fotos del reciente concierto del aniversario de Pupy y Los Que Son Son en Casa de la Música Miramar el 8 de octubre. También ha actualizado su página con información y una foto de Gardi en el Festival Internacinal de la Cancón. También actualizó la primera página de Los Ángeles de La Habana.
Actualizaciones de Giras
Tenemos algunas fechas nuevas de Paulo FG y Orquesta Revé.
Haila empeza su gira de otoño de Europa el 20 de noviembre. Actuará en Amsterdam/Eindhoven, Café Caruso en Roma, La Rumba en Milano y también va a estar en Bélgica y Barcelona. POnemos las fechas exactas cuando las tenemos.
También hemos recibido información de próximas giras planeado para España:
Pupy y Los Que Son Son - enero 2006
David Calzado y Su Charanga Habanera: febrero 13-28
Manolito Simonet y Su Trabuco: marzo 4-30
Cuando los lugares están confirmados volvamos con las fechas exactas.
Tuesday October 11 2005 - Interview with Janne Bogdan of Soneros All Stars
Last week Soneros Records signed a contract with Pimienta Records Corporation for the Soneros All Stars CD ¡Dime Nagüe!. Pimienta Records now has the exclusive rights to manufacture, sell and exploit (hmmmm) the CD in the USA and Puerto Rico. So it seems like time to publish the short interview I did with Janne on the occasion of the release party here in Stockholm this summer.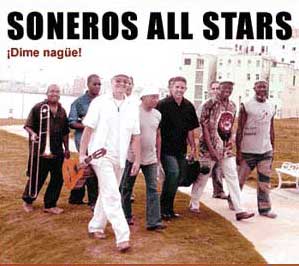 If you don't know what I'm talking about, let me tell you. The CD is modern changüí in the spirit of Elio Revé Matos and has recieved rave reviews. Bruce Polin of Descarga said: "...just may be the hottest Cuban salsa-son release of the year.", and I personally have been listening to it regularly since I got my copy. I'd say that with the releases by Elito Revé y su Charangón and Oderquis Revé and now Soneros All Stars, changüí is hotter than ever this year. I will be following up with more on changüí in the near future.
Friday October 7 2005 - Concerts Scheduled / Concerts Cancelled
Lots of movement in the area of upcoming concerts. On the good side La Charanga Habanera has more confirmed dates in Canada, this time in Montreal and Québec City. Also we have updated on the European tour of La Barriada, and it seems that London is developing a solid salsa scene at Cubana, where Osvaldo Chacón is performing weekly this autumn! In addition we have the first date for Manolito y Su Trabuco who will shortly be releasing their latest CD. They will be playing in France on December 1. So start looking for the Manolito dates near you and send us the info so we can update their tour page.
On the bad side, the NG La Banda concert in Paris was cancelled, the stated reason being illness or injury. And the Paulo FG concert in Vienna has been cancelled by the venue due to some bad experiences with a previous Cuban concert. We want to emphasise that this was not the fault of Paulo FG, his manager or the promoter or even a question of visas. Hopefully they will be able to find another venue and Paulo will be able to perform for his Austrian fans this fall. We'll keep you updated. For the current dates we have on Paulo click here.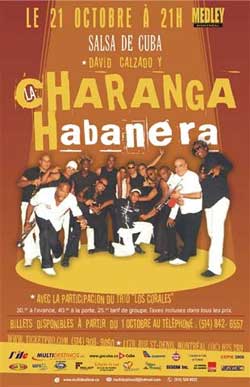 Concerts Scheduled / Concerts Cancelled
Mucho movimiento en el asunto de próximos conciertos. Lo bueno es que La Charanga Habanera tiene más fechas confirmadas en Canadá, esta vez en Montreal y Québec City. También actualizamos la gira de europa de La Barriada, y parece que en Londres está deserollando un mundo solido de la salsa en Cubana, donde Osvaldo Chacón toca cada semana este otoño! Además tenemos la primera fecha de Manolito y Su Trabuco que hasta pronto lanzarán su último disco. Tocarán en Francia el 1 de diciembre. Pues comenza buscar las fechas de conciertos de Manolito cera de ti y mándanos la información para que podemos actualizar su página de giras.
Por lo malo, el concierto de NG La Banda en Paris fue cancelado, la razón enfermidad o lesión. Y el concierto de Paulo FG en Viena fue cacleado por el lugar debido a algunas experiensas mala con un concierto cubano anterior. Quisiéramos acentar que ni Paulo FG ni su manager ni el promotor tiene la culpa y que no era por cuestion de la visa. Esperamos que encuentren otro lugar y que Paulo pueda actuar para sus fans en Austria este otoño. Para las fechas de Paulo que tenemos por el momento haga clic aquí.
Tuesday, 22 March 2011, 07:32 PM