Michelle White - Timbera Archives June 2005
Wednesday June 29 2005 - Ottawa Blues Festival Will Feature a Cuban Stage!
Things are looking good for Cuban music in Canada. This year the Ottawa Blues Fest has a stage dedicated to Cuban artists. Pupy y los que Son Son will be playing 5 nights during the festival: 3 times at the Festival Plaza and twice at Casino du Lac-Leamy. If Ottawa seems too far off to you, they will also play on July 14th in Quebéc City at Bar Le Clac. In addition, you can hear other Cuban artists at the Blues Fest such as Havana Ensemble, Septeto Variedades, Elmer Ferrer and a couple of jam sessions featuring afro-cuban percussion. I'm sure that this emphasis on Cuban music will be a success and will help to open the doors for more tours of Canada. This is in turn good for poor US citizens who are getting, as Yeni so eloquently says, Nada, these days. If you can't go to Cuba, why not take a trip north instead where you can enjoy Cuba's most popular band while dancing with our northern cousins?
Tuesday June 28 2005 - El Benny Social Club - Stockholm, Sweden
This Thursday, June 30th, a new club will be opening in Stockholm, Sweden: El Benny (the site is in Swedish). It's going to be a little different than your standard dance club, more based on the idea of the social clubs that used to be found in Cuba. Of course there will be drinks, food and dancing and dance and music classes will be offered. DJs will play a combination of son and other traditional music but also Timba. In addition, the idea is for it to function as a meeting place for everyone who is interested in Cuban culture. There will even be opportunities for people to market their business ideas, sign up for trips to Cuba, etc. It's an interesting intiative and I'm curious to see how it turns out. That's where I'll be this Thursday. The club will be open every Thursday from 20:00 to 02:00 at the Jazz Club Stacken in Gamla Stan (The Old Town).
Wednesday June 22 2005 - Maraca Update
Maraca's 2005 tour plans are pretty well worked out now. After the European tour this summer, Maraca will be performing in Latin America, including a tour of Mexico in September/October of nearly 30 concerts! Fans will be happy to hear that the new CD, Soy Yo, will be released on July 19th in the USA on the Ahí Nama lable. I had the pleasure of hearing some of the new songs at the EuroDisney concert last summer and can promise that they maintain the high standard that people expect of Maraca's music. And how convenient that Cristian Muñoz sent us some pictures of Maraca y Otra Vision at Teatro Mella for the presentation of his Cubadisco-nominated DVD.
Maraca
Los planes para la gira de Maraca el 2005 están más o menos listos. Después de la gira de Europa este verano, actuará Maraca en America Latina, incluyendo una gira de México en septiembre/octubre con casi 30 conciertos! Los fans estarán feliz saber que el disco nuevo, Soy Yo, se lanzará el 19 de julio en el EE.UU con Ahí Nama. Tenía el placer de escuchar algunas nuevas canciones en el concierto EuroDisney el verano pasado y les juro que matienen el alto nivel que la gente esperan de la música de Maraca. Y qué oportuno que Cristian Muñoz de salsa2salsa.com nos mandó algunas fotos de Maraca y Otra Vision al Teatro Mella para la presentación del DVD nominado en Cubadisco.
Friday June 17 2005 - Timba is Hot in Peru
Peru is one of the countries that I call a Timba Country. Unlike many Latin American countries where traditional salsa rules, timba is very popular among Peruvians. It is a regular stop on the tour schedules of many Timba bands, and over the years a number of Cuban artists have settled in Lima. Generally they all play in different bands sometimes forming part of the band for touring salsa artists such as Jerry Rivera. Fortuntely, some of these cubanos have decided to join forces to create what they have named Team Cuba, remembering the group put together by Juan Formell at the end of the 90s.
The members are:
Rafael Labarrera - cantante
Fabian Quiala - cantante
Jorge Padrón - cantante
Alberto González - cantante
Manuel Alejandro Moreno - "Hueso"- drums
Norberto Valdés- "Tibu" - bajo
Felix Silva - congas
Yuniel Alonso - piano
Yoankis Veitia - "Congris"- trombon
Hamlet González - saxos y dirección
The Peruvian Team Cuba has been performing in clubs such as El Voo Doo Tropical Salsa and El Tumbao. They even recently made a television commercial for Voo Doo! They have sent us some pictures from a performance at El Voo Doo. They also have a live CD. I hope we can soon put some music samples up so people will have an idea of what the cubanos in Peru are capable of. Let's see if Lima can threaten La Habana's position as Timba Capital of the World.
La Timba Está Pegando en Perú
Perú es lo que llamo yo un país de Timba. En contraste con de muchos países latino americanos en donde el salsa tradicional gobierna, la timba es muy popular entre peruanos. Es una parada regular en las giras de muchas orquestas de Timba, y durante los años un número de artistas cubanos se ha establecido en Lima. Generalmente ellos tocan en diversas orquestas y forman a veces parte de la banda para la gira de artistas de la salsa tales como Jerry Rivera. Afortunadamente, unos cubanos han decidido a unir las fuerzas para crear lo que han nombrado Team Cuba, recordando al grupo creado por Juan Formell en el final de los años 90.
Los integrantes son:
Rafael Labarrera - cantante
Fabian Quiala - cantante
Jorge Padrón - cantante
Alberto González - cantante
Manuel Alejandro Moreno - "Hueso"- drums
Norberto Valdés- "Tibu" - bajo
Felix Silva - congas
Yuniel Alonso - piano
Yoankis Veitia - "Congris"- trombon
Hamlet González - saxos y dirección
Team Cuba peruano se ha estado actuando en clubs tales como El Voo Doo Salsa Tropical y El Tumbao. ¡Incluso hicieron recientemente un anuncio de televisión para Voo Doo! Nos han enviado algunos fotos de un actuación en el Voo Doo. También tienen un CD en vivo. Espero que pronto podemos poner algunas muestras de la música en la página para que la gente tendrá una idea de lo qué son capaces los cubanos en Perú. Veamos si Lima puede amenazar la posición de la Habana como capitol de la Timba por el mundo.
Photos of Pupy and Manolito
And speaking of photos, we have uploaded some new pictures from Cristian Muñoz: Pupy at a matinee in Casa de la Música Habana and Manolito at Cubadisco.
Fotos de Pupy y Manolito
Y para hablar de fotos, tenemos fotos nuevas por Cristian Muñoz: Pupy en un matiné en la Casa de la Música Habana y Manolito en Cubadisco.
Wednesday June 15 2005 - Pupy y los que son son at Ottawa Blues Fest
Canada continues to be the envy of North America, this time with the first ever North American appearance of Pupy Y Los Que Son Son (as far as I know anyway). The band will play 3 consecutive dates at the Ottawa Blues Fest, all concerts beginning at 9:15 PM on the ADCN Stage. We are expecting more Canadian concert dates for Pupy to be released soon. For thsoe of you who are even remotely close to Canada, don't miss this opportunity to see Pupy live. the band is fantastic. Just check out the recent photos by Cristian Muñoz to see how they are packing the house at their concerts in Havana. There will be even more photos up soon so check back with us.
The Blues Fest will also feature a number of other Cuban artists such as Havana Ensemble, Septeto Variedades, Duo Angelisa and Elmer Ferrer who is known to Timba fans for his guitar solo on Los Van Van's Corazón from the recent Chapeando album.
Monday June 13 2005 - Azúcar Negra Records New Demo
On Friday Azúcar Negra recorded a demo of their new song Toque Natural. The song features the participation of a number of big names in Timba:
From Azúcar Negra el Nene and Biunaikis
Pedrito Calvo
David Calzado
Leo and Leonid - Charanga Habanera
Ricardo Amaray - Manolito y su Trabuco
Amilkar - Warapo
Jannier - Pupy
Ricardo Leyva of Sur Caribe and his singers
Maite - La Frontera
Triangulo Oscuro
Oscar Leyva - Luna Negra
Manolito Simonet was also present.
Leonel Limonta wrote the song of course and the arrange ment was by El Bamba Adalberto Dominguez (who also arranged Andar Andando and Sin Mirar Atrás)
Producer: Jose Manuel ex-director of la Egrem
Executive production: Elcida - musical director of Egrem
We spoke with Limonta about the idea behind the song and he said that for this summer he wanted to give the Cubans, in whatever part of the world they may be, a song in a salsa tempo titled Toque Natural that speaks of the pride of having been born in Cuba and of feeling Cuban and to extend your hand to the human beings who need it. One of the coros states with certainty: Soy Cubano con un Toque Natural, Soy Cubano con un sello original and another coro says: En mi Cuba se puede reír, En mi Cuba se puede gozar, En mi Cuba señores hay un lalali un lalala.
I have heard that the arrangements for the horns in this song and the other songs written for the next CD are mambos that are both very commercial with a lot of flavor and have the Azúcar Negra fans dancing. And while I haven't heard Toque Natural yet, I have to agree that the mambos in Somos Dos and in the clip of Te Cojó el Dun Dun at salsamania.it stay with you and you find yourself humming them the next day.
The next CD should be released later this year following closely on the critically acclaimed CD from 2004, Sin Mirar Atrás.
Azúcar Negra Graba un Demo Nuevo
El viernes pasado Azúcar Negra grabó un demo de su canción nuevaToque Natural. La canción ofrece el participación de un número de nombres grandes en Timba:
De Azúcar Negra el Nene y Biunaikis
Pedrito Calvo
David Calzado
Leo y Leonid - Charanga Habanera
Ricardo Amaray - Manolito y su Trabuco
Amilkar - Warapo
Jannier - Pupy
Ricardo Leyva de Sur Caribe y sus cantantes
Maite - La Frontera
Triangulo Oscuro
Oscar Leyva - Luna Negra
Presente estaba también Manolito Simonet.
Por supuesto el autor es Leonel Limonta y el arreglo es de El Bamba Adalberto Dominguez (que también arregló Andar Andando y Sin Mirar Atrás)
Productor: Jose Manuel ex-director of la Egrem
Productora ejecutiva: Elcida - musical director of Egrem
Hablamos con Leonel Limonta sobra la idea de la canción y dijo que para este verano ha querido regalarle a los cubanos y cubanas, que estén en cualquier lugar del mundo, una canción en tiempo de salsa titulada Toque Natural. El tema habla del orgullo de haber nacido en Cuba y sentirse cubano y tender la mano a los seres humanos que lo necesiten. Unos de sus coros refleja la certeza de que, Soy Cubano con un toque natural, Soy Cubano con un sello original. Otro coro dice: En mi Cuba se puede reír, En mi Cuba se puede gozar, En mi Cuba señores hay un lalali un lalala.
Dicen que los arreglos para los metales en esta canción y en las otras canciones escritas para el próximo disco son bien comerciales y con mucho sabor y tienen los fans de Azúcar Negra bailando. Y mientras aún no he escuchado Toque Natural, tengo que convenir que los mambos en Somos Dos y en el demo deTe Cojó el Dun Dun que está en salsamania.it permanecen contigo y te encuentras tarareándolos el día siguiente.
El próximo CD se lanzará este año, siguiendo de cerca del disco aclamado, Sin Mirar Atrás de 2004.
Paulo FG en Estocolmo y Londres
La gente está preguntando y por eso voy a contar lo que pasaba...La mañana del concierto había noticias en la página de Suecia, http://www.salsason.com que la orquesta de Paulo no salía de Cuba pero Paulo y Ana, sí. Estaban en Italia. El productor del concierto tenía que buscar otro grupo y era La Liga Habanera que tocaba. Pero Paulo quería encontrar sus fans en Suecia y vino. Después de la actuación de La Liga Habanera, Paulo cantaba playback. El precio del concierto fue reducido de €25 a €12 (he convertido de coronas suecas) y la gente que ya había pagado pero no quisiera ir recibiera un reembolso. La gente que vino (el lugar estaba muy lleno) bailaba y cantaba y mucha gente dijo que con su carisma y su voz Paulo conquistó el público. Paulo prometió volver y hacer un concierto gratis. Pocos personas que fueron se quejaron.
El día después fue a Londres para cantar en Coin Street Festival (clic aquí para unas fotos del festival por Osvaldo Chacón). Mis amigos de Londres me dijeron que tenía un grupo de 6 músicos, pero no saben si eran músicos de Élite o músicos que viven en Europa. En este festival cantaba Candido Fabré y Osvaldo Chacón también. El concierto estaba en una tienda y en la pista estaba una alfombra...no es lo mejor para bailar.
El Problema:
No escribí nada de eso porque ahora en Europa es algo que sucede a menudo. En Estocolmo 2004 el grupo de Issac llegó a Europa una semana después de un concierto previsto en Estocolmo. En este caso sucede la misma cosa que era el día del concierto cuando la gente recibió la información y el productor tenía que buscar un grupo de Suecia. En este caso estaba Gilito y su Clave que tocaba.
La gira actual de Candido Fabré en Inglaterra tenía problemas también porque la banda llegó un día tarde y por eso no estaba en el primero concierto.
El problema con grupos que no llegan a Europa es algo muy mal para la música cubana no solamente para los fans pero también para la reputación de los músicos y los managers y agencías. Hay productores aquí que han dicho que nunca más van a trabajar con cubanos porque nunca es cierto que llegan y los productores pierdan dinero y reputación. También hay gente que dice que los músicos cubanos faltan respeto. Eso no digo yo pero digo que es importante poner fin a esto. No sé si es cuestión de problemas de salir de Cuba o entrar en el EU o con boletos o mal planeamiento. Lo único que es cierto es que cada vez que sucede algo así, es otro golpe para la música cubana en el mundo.
Paulo FG in Stockolm and London
People are asking so I am going to tell what happened... The morning of the concert the news was on the Swedish site, http://www.salsason.com that Paulo's orchestra did not leave Cuba, but Paulo and Ana did. They were in Italy. The producer of the concert had to look for another group and was La Liga Habanera that played. But Paulo wanted to meet his fans in Sweden and came anyway. After the performance by La Liga Habanera, Paulo sang playback. The price of the concert was reduced from €25 to €12(I have converted from Swedish crowns), and the people that already had paid but did not want to go received a reimbursement. The people who came (the place was very full) danced and sang and many people said that with his charisma and voice Paulo conquered the audience. Paulo promised to return and to do a free concert. Few people who attended the concet complained.
The day after, he went to London to sing at the Coin Street Festival (click here for some festival photos provided by Osvaldo Chacón). My friends from London told me that he had a group of 6 musicians, but I do not know if they were musicians of the Élite or musicians who live in Europe. Candido Fabré and Osvaldo Chacón also sang at this festival. The concert was in a tent and there was a carpet o the floor... not the best thing for dancing.
The Problem: I didn't write anything about that because in Europe this is something that happens often. In Stockholm 2004 Issac's group arrived in Europe one week after a concert scheduled in Stockholm. In this case the same thing happened: it was the day of the concert when people received the information and the producer had to look for a group from Sweden. In this case it was Gilito y su Clave that played.
The present tour of Candido Fabré in England also had problems, because the band arrived a day late and for that reason it was not at the first concert.
The problem with groups that do not arrive in Europe is something very bad for Cuban music not only for fans but also for the reputation of the musicians and managers and agencies. There are producers here that have said that they are never going to work with Cubans again because it is never certain that they will arrive and the producers lose money and their reputation. Also there is people who say that the Cuban musicians lack respect. I do not agree with that, but I say that it is important to end this. I don't know if it is question of problems leaving Cuba or entering the EU or with tickets or poor planning. The only thing that is certain is that whenever something like this happens, it is another blow for Cuban music in the world.
Wednesday June 8 2005 - Pictures by Cristian Muñoz
Cristian sent us a few photos of his recent trip to Cuba as a preview of what is to come. Cristian's section is now up, so you can check there to see the latest pictures and read the latest news from his trips to Havana. And here we have a sample picture of Michel Maza singing with Elito Revé.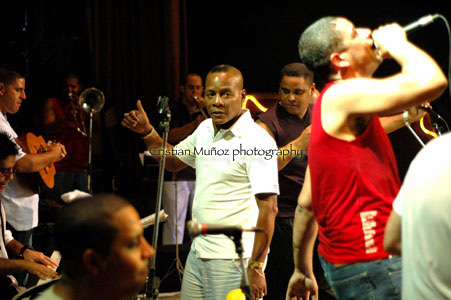 Elito Revé and Michel Maza
Fotos por Cristian Muñoz
Cristian nos mandó unas fotos de su viaje reciente a Cuba como un preestreno de lo que viene. La sección de Cristian ya está lista donde pueden controlar para mirar las últimas fotos y leer las últimas noticias de sus viajes a La Habana. Y aquí tenemos una foto muestra con Michel Maza cantando con Elito Revé.
Tour Updates
I have also updated the tours section with new dates in Italy for
Paulo FG, la Charanga Habanera, Dan Den, Adalberto Álvarez and Manolín.
Giras
También he actualizado la sección de las giras con nuevas fechas en Italia para Paulo FG, la Charanga Habanera, Dan Den, Adalberto Álvarez and Manolín
Monday June 6 2005 - Entrevista con Paulo FG
Paulo FG, ganador del premio Timba.com por estar "Cantante más carismático y atractivo de la timba", cantaba en Estocolmo el viernes y tenía la oportunidad de darle su premio y hacer un breve entrevista. Habló de los efectos que usa en la música y también de los nuevos discos: Un poquito de to' que es música bailable y Ilusión que será un disco de boleros. Dijo que en Un poquito de to' usa un efecto marcha reggaetón y también volviendo a sus raices con Opus 13 incorporando batá.
Tienen que perdona mi mal español. Por eso he escrito la preguntas en la página también para que ustedes me pueden comprender :-)
Interview with Paulo FG
Paulo FG, winner of the Timba.com prize for being the "Most Charismatic and Attractive Male singer", sang in Stockholm on Friday and I had the opprtunity to give him his award and do a brief interview. He talked about the gears he used in his music and also about the new CDs: Un poquito de to' which is dance music and Ilusión which will be a CD of boleros. He said that on the new CD he's using a marcha reggaetón gear as well as returning to his roots with Opus 13 incorporating batá.
You have to forgive my poor Spanish. I have also written out the questions on the page so you can understand me :-)
Friday June 3 2005 - De La Habana
Cristian Muñoz is back from his trip to Cubadisco. He has generously provided Timba.com with many fantastic pictures of timba artists and he also has a selection of beautiful photos from La Habana. He will shortly be getting his own section here. In the meantime, Cristian has provided us with some updates on what's going on in the capital of timba:
According to Cristian, Michel Maza is now a member of Elito Reve's band!! Revé will be touring this summer, and I wonder if Europe will finally get to see Michel singing live. Cris tells us that Yeni from Van Van is finally winning over the hearts of the Cuban people with 'Despues de Todo'... or at the very least gaining respect because of it. Issac is in Havana and played last week at La Tropical, where he officially released his new CD Prohibido. Cristian has photos of a TV filming with Issac and Ivette sent us some pictures from the release concert at La Tropical. Cristian also saw Paulito FG at the airport and said that he was on his way with his sister to Europe for a couple of shows...he and his sister....what about the band? Pupy is still on top, although sharing the spotlight with Van Van now with the release of Chapeando. Sur Caribe will soon release a new album, which Cristian has heard is good. Leonel Limonta and Azúcar Negra are sounding great with El Dun-Dun (you can listen to a clip of this song at salsamania.it in the Anteprime for Aprile). Cuba can't get enough of Manolito y su Trabuco. Cristian has some photos of Manolito from Parque Lenin. Tumbao Habana is gaining momentum and sounding tight with Pascualito at the reigns. Bamboleo is strong and still appeals very much to the Cubans.
Thursday June 2 2005 - More Tours
The Festivals page is now updated. Most of the festivals have their sites updated with this year's program. If you know of some festivals where there will be timba bands playing that we don't have on our Festivals page please send us an e-mail.
We have also updated the tour schedules for Adalberto Álvarez, Azúcar Negra, Los Van Van, Charanga Habanera, Orquesta Revé, Dan Den, Dantes y su bomba, Paulo FG, Pachito Alonso; Manolín and Issac Delgado. Some of the pages are still missing a lot of dates so keep checking back and if you have more information please send it.
Más giras
la página de Festivales ya está actualizada. La mayoría de festicvales han actualizado sus páginas. Si sabes de algun festival donde va a tocar una orquesta timbera que no tenemos en nuestra página de fetivales por favor mandanos un correo.
También hemos actualizado las fechas de Adalberto Álvarez, Azúcar Negra, Los Van Van, Charanga Habanera, Orquesta Revé, Dan Den, Dantes y su bomba, Paulo FG, Pachito Alonso; Manolín e Issac Delgado. Todavía falta muchas fechas en algunas páginas pues controla la página y si tienes más información por favor mandala.
Tuesday, 22 March 2011, 07:32 PM