Michelle White - Timbera Archives August 2005
Wednesday August 25 2005 - Cristian Muñoz Back at Salsa2Salsa.com
While Kevin has seemingly disappeared again and I have been gone on tour with Azúcar Negra (tour report to follow when the tour is over), Cristian has returned to salsa2salsa.com with a new radio program for the month of August featuring our own DJ Duniel Deya and new photos.
Cristian Muñoz Regresa a Salsa2Salsa.com
Mientras parece que Kevin ha desaparecido de nuevo y yo he estado siguiendo la gira de Azúcar Negra (escribirá un reportaje de la gira cuando se ha terminado), Cristian ha vuelto a salsa2salsa.com con un nuevo programa de radio para el mes de agosto con nuestro DJ Duniel Deya y fotos nuevas.
Wednesday August 17 2005 - Tours Updates
As some of the European Tours come to an end I have updated the Tours page. We have added a page for Caribe Girls who have been touring this summer and will be in Europe until the middle of September. We are still waiting for the schedule for Pupy y los que Son Son as well as Orquesta Revé. Los Van Van are in Japan now.
Actualizaciones de las Giras
Ahora cuando algunas Giras de Europa han terminado, he actualizado la página de giras. Tenemos una página para Caribe Girls que han estado en gira este verano y estarán en Europa durante septiembre. Todavía estamos esperando las fechas de Pupy y los que Son Son y Orquesta Revé. Los Van Van está en Japón ahora.
Interview with Paulo FG by David Doogue
With the help of the Timba Geeks, I have done my best at translating the interview done by David with Paulo FG at his concert in Zurich on July 2, 2005. Click here to read the English version.
Tuesday August 16 2005 - Entrevista con Paulo FG por David Doogue
David hizo una breve entrevista con Paulo FG el la ocasión de su concierto en Zurich el 2 de julio 2005. Haga clic aquí para leerlo.
Monday August 15 2005 - Ivette Tiene Noticias de Gardi
En su página Ivette nos cuenta sobre El Festival de la Canción Latinoamericana y lo que tiene a ver con Gardi.
Friday August 12 2005 - Charanga Habanera Opens Offical Website
All of the Charanga Habanera fans will be pleased to know that the Charanga has opened an official website at http://www.charangahabanera.net. The site includes a fan club and a guestbook.
Charanga Habanera Abre Página Oficiál
Todos los fans de la Charanga Habanera estarán feliz saber que la Charanga ha abrido su página oficial http://www.charangahabanera.net. El sitio incluye un club de fans y un libro de visitas.
Thursday August 11 2005 - El Tosco Finally Gets His Prize
In December 2003 the first, and thus far only, Timba.com Awards were held. Fans from around the world voted for their favorite muscians in a number of categories. Since then, we have been trying to catch up with each winner to present them with their prizes. Despite our best efforts there are still a few who have as yet not received their award. But finally, with the help of Linda Rodriguez, El Tosco has recieved the award for the Best Timba Metales, for the horn section that was known as Los Metales de Terror.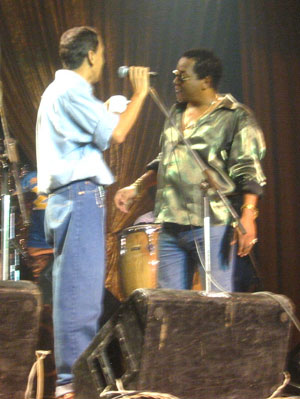 Rafael Lam presents the award
The presentation of the award took place on Sunday, August 7th at the matinee at Casa de la Música Habana. Salsa/Timba journalist Rafael Lam presented the award on stage during the show, and El Tosco is reported to have made up a coro about having a taza to drink coffee out of. Our thanks to Rafael and Linda and congratulations to El Tosco, NG la Banda and Los Metales de Terror.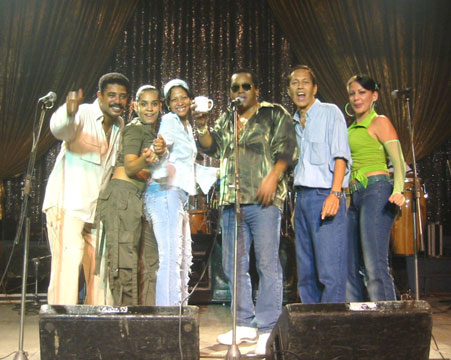 El Tosco y los Cantantes
Al Fin El Tosco Recibe su Premio
En diciembre 2003 era la primera, y hasta ahora la única, votación Premio Timba.com. Fans del mundo entero votaron por sus músicos preferidos en varios categorías. Desde eso hemos tratado de encontrar cada ganador para darle su premio. A pesar de nuestras mejores esfuerzos todavía hay algunos que hasta ahora no han recibido su premio. Pero finalmente, con la ayuda de Linda Rodriguez, El Tosco recibio la premio por Mejor Metales de la Timba por la sección conocido del nombre Los Metales de Terror.
La presentación del premio ocurrió el domingo 7 de agosto en el matine en la Casa de la Música Habana. El periodista de la sala/timba Rafael Lam del presentó el premio al medio de la actuación, yEl Tosco se divulga para haber compuesto un coro sobre tener un taza para beber el café. Nuestros gracias a Rafael y a Linda y felicitaciones a El Tosco, NG La Banda y Los Metales de Terror.
Wednesday August 10 2005 - Homenaje en Fotos a Ibrahim Ferrer
Otro grande de la música cubana se ha fallecido. Cristian Muñoz nos mandó unas fotos de Ibrahim como homenaje a este cantante que trajo la musica tradicional de Cuba al mundo entero por su trabajo con Buena Vista Social Club y sus discos posteriores como soloista.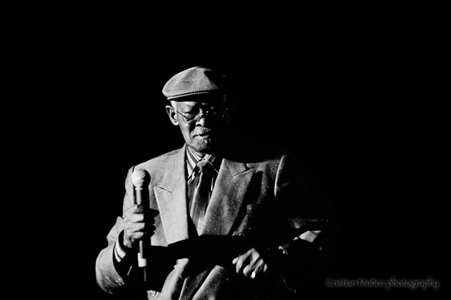 Tribute in Photos to Ibrahim Ferrer
Another of the great Cuban musicians has passed away. Cristian Muñoz sent us some photos of Ibrahim as a tribute to this Cuban singer who brought Cuban traditional music to the whole world through his work with Buena Vista Social Club and his subsequent solo albums..
Tuesday August 2 2005 - Entrevista con Yeni Valdés por Claudia D'Ammassa
En la ocasión del concierto de Los Van Van en Milano Italia el 5 de julio 2005, Claudia tenía la oportunidad de hablar con Yeni Valdés. Yeni ha sido siempre una pionera en un mundo musical donde hay pocas mujeres que son cantantes principales. Ahora en Cuba está pegando la canción Después de Todo cantada por Yeni en el disco Chapeando. Haga clic aquí para leer la entrevista y aquí para mirar fotos del concierto en Milano.
Interview (in Spanish) with Yeni Valdés by Claudia D'Ammassa
On the occasion of the Los Van Van concert in Milan, Italy the 5th of July 2005, Claudia had the opportunity to talk with Yeni Valdés. Yeni has always been a pioneer in a musical world with few female lead singers. Currently the song Después de Todo, sung by Yeni on the CD Chapeando, is a big hit in Cuba and among timberos around the world. Click here to read the interview (in Spanish only) and here to see photos of the Milan concert.
Cristian is back with Photos of Issac Delgado
Timba Photographer Cristian Muñoz is back again with more pictures from his May visit to Cuba. This time he sent us photos of Issac Delgado at Cubadisco promoting the release of his new CD Prohibido.
Cristian ha vuelto con fotos de Issac Delgado
Fotógrafo de Timba Cristian Muñoz regresó de nuevo con más fotos de su viaje a Cuba en mayo. Esta vez nos mandó fotos de Issac Delgado en Cubadisco para el lanzamiento de su nuevo disco Prohibido.
Tuesday, 22 March 2011, 07:32 PM