Indice - Table of contents
New Stuff
[hide]
Photos of the Day
[hide]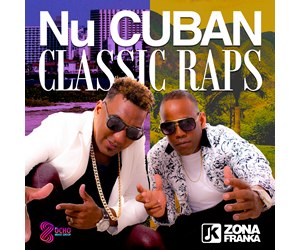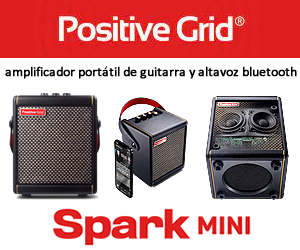 SpanishEnglishConcert reports - Buena Fe - The Concert Report
The Concert
At 10:30 pm on 18 August 2012 my ten years of waiting came to an end as Buena Fe began the concert with what I call "Potpurrí 1". If you have the Buena Fe Live 10 Años de Canciones DVD by Ian Padrón then you know which potpurrí I'm talking about. If you don't have the DVD yet, buy it! The medley is designed to get the audience moving with a selection of upbeat hits "Como el Neanderthal", "Arsenal", and "Candelero". But it ends on a gentle note with a beautiful ballad version of "Quién es".
I think at this point I should mention that Buena Fe really only has one problem with their concerts: they have too many hits. As far as problems go, this is a good problem to have. Their fans have an insatiable appetite and between songs are constantly calling out for songs they want to hear, often these are songs that haven't ever made it past the demo stage, but have somehow slipped into circulation on the Cuban quemador circuit. To please everyone I think the band would have to start doing 3 hour concerts. But the medleys allow them to do several songs, in quick succession, if only a couple minutes of each one.
The second number was "Cubañolito" from the album "Extremistas Nobles" that Buena Fe recorded with Frank Delgado. When the album was released this song got them into hot water with some people who took it seriously, although it was meant as a joke. Despite that it has been a huge hit for them. When El Duo came to the line Yo soy cubano por cuatro generaciones it elicited a cheer from the crowd. Latinoamericando has a giant television screen behind the band and the visual team very appropriately integrated a video of a Cuban flag into the background during sections of the song. Gabriel got a great photo of it . I got a less great photo of it (below).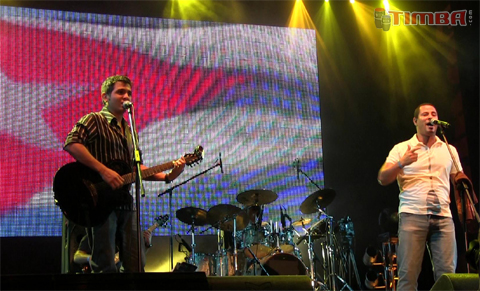 Buena Fe perform Cubañolito @ Latinoamericando
They followed with "Psicología al día" another fast song and a big hit from their debut CD, "Déjame entrar" . Then they slowed things down with one of my absolute all-time favorite songs - "Soy" from the CD "Corazonero". It is simply beautiful with amazing and inspiring lyrics. Recently Buena Fe did a remake featuring Raudel from Escuadrón Patriota for Michel Mirabal's "Créeme" project. You can find that video at Buena Fe's Facebook page as well as their YouTube Channel . I couldn't resist uploading the video of "Soy" from the Milan performance, below.
Soy...un espermatozoide, partícula de amor, algo de nada entre millones...
Some of the greatest concert moments at Buena Fe concerts come before the songs even start. Israel often tells something about the origins of a song or perhaps dedicates a song to a certain group of people for a certain reason. Through these comments they share a little of themselves with their fans, giving insight into what Buena Fe is saying via their music and who they are. For me "Libre" is one of the most moving songs from Buena Fe's last album. Leading into it Israel said: The following song is on the CD "Pi 3,14" It concerns the oh so debated topic of freedom - about which so much ink runs in the press - and you can only find the concept in your own heart. No one can give you happiness, it's within you. And I think that with freedom, at least in my case, that's how it is. I'm free because I've decided it, and not because anyone commands it. Here is video of "Libre" uploaded by Buena Fe to their YouTube channel .
Libre
They stayed with "Pi 3,14" performing the song "Dos emigrantes", which is both a humorous and a scathing look at the topic of emigration. It has been very popular with the Cuban audiences who recognize the characteristics they describe in the song about two emigrants who have come back to visit Cuba. Staying with the upbeat songs they played "Das más" one of their inspirational songs from "Presagios " followed by "Nalgas", a popular and funny song about the - appreciation - Latin men have for their women's buttocks.
Interestingly, they performed only one romantic song the entire night. It was "Cuando tú me faltas" followed by the ballad version of "Corazonero" .
Si supieras todo lo que has hecho, todo lo que llenas, todo lo que matas
si no fuera por lo que yo siento cuando tú me faltas...
Corazonero as a ballad
Then came one of my other very top favorites - "Cada país" from the CD "Catalejo" . It is the ultimate diaspora song - beautiful and heartbreaking at once. And while it was written with Cuba in mind, all expatriates can identify with it - Y vas de tu país a tu raíz, nunca te irás del todo...
Cada país
What better way to lighten the mood again than the hit single "Pleiesteichon" from the movie "Havanastation" by Ian Padrón! Not only is it funny, but the conga rhythms get the audience dancing. And when Israel began introducing the next song, the audience broke out laughing as he explained that the best friend of the Caribbean people is not a dog but a pig. "Mamífero nacional" is a son-fusion and the album version features Eliades Ochoa. Instead Yoel sang lead in one section.
Mamífero nacional
The audience never ceased shouting out the names of songs they wanted to hear, "Guantanamero!", "Era mi aire!" "Por si las moscas!" etc. and Buena Fe did their best to oblige them, but festivals are notorious for sticking to their schedules and the clock was ticking. One fan had been yelling "En cueros!" since the beginning of the concert and at last all his shouting was rewarded. As "En cueros" wound down, Israel introduced the bandmembers, yet another sign that the concert would be ending soon.

Pi 3,14
Being a changüí fan, I was thrilled to hear the opening tumbao of "Pi 3,14". It was the first song from the new album that caught my attention, in part because of the changüí but also for the lyrics which play with contemporary Cuban slang in a clever way. As with so many of their songs it has been a huge success. If you don't have the album yet, you can find the official video of "Pi 3,14" at YouTube and it is in the running for the 2012 Lucas top 10 videos of the year .
"Miedos" is yet another hit from "Pi 3,14", but the album version features Los Aldeanos on rap. Dairon is doing lead on the rap sections now. I just love the electric guitar in this one and the rock vibe, which provides the perfect vehicle for the lyrics. "Miedos" deals with the subject of fears and has the great coro Y hay quien le tiene miedo a la única vida que tiene . Check it out in the video below.
Miedos
You can see at the end of "Miedos" that they got the 10 minute warning. This is when they did "Potpurrí 2" with "Fin de fiesta", "Nacimos ángeles" and "Gracias por el fuego". They had promised to perform "Catalejo" and segued directly into it with the signature clapping that is recognized by Cubans and Buena Fe fans around the world. You can clap along with the video below.
Catalejo
And thus ended the Latinoamericando concert, exactly 90 minutes after it began. With a bow, a kiss and a wave they left the stage, bringing the concert to a close but not the evening.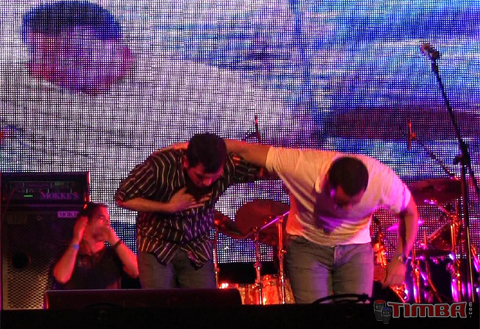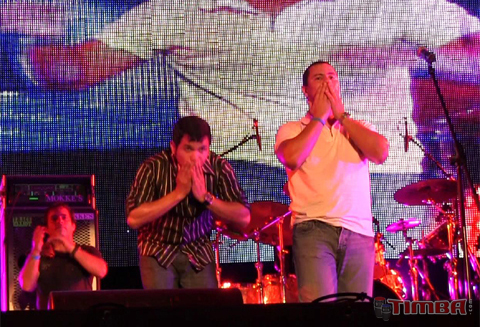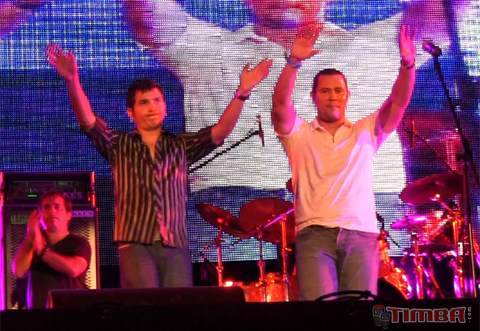 Post Show
When the show ended a line of fans who wanted their picture taken with Yoel and Israel quickly formed. I waited until the room cleared out to ask for one. A few of the guys headed into town to finally get some tourism done, where at last they saw Il Duomo by night. The rest of us went back to the hotel where we stood outside talking for a while. I should say that they talked. I really just listened as Israel and Yoel told stories about things that had happened while they were in Spain and the guys debated whether it was worth the extra money to fly first class, among other topics.
The next morning I got up in time to say goodbye to Los Buenos as they headed back to Spain for the Madrid concert. I don't remember who it was, but one of Los Buenos said something like "Be careful. You're traveling by yourself but we're in a group". That was sweet to be worried about me traveling on my own. Like I said, the guys are really thoughtful. And I hope that the next time I see them I won't be so shy and I can do a nice, long interview with Israel and Yoel. I have a lot of questions...
Click here for more photos from the concert at Latinoamericando .
Tuesday, 06 January 2015, 12:41 PM