Archivo
Lo Nuevo
[hide]
Fotos Del Día
[hide]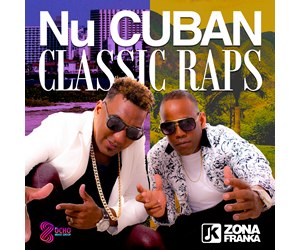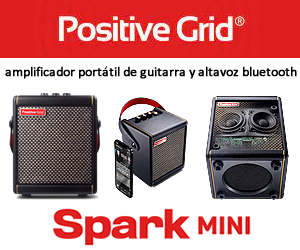 Sin Clave No Hay Na
domingo, 11 octubre 2015, 08:33 am
IRAKERE 40: TOUR AND CD RELEASE
IRAKERE 40: GIRA Y LANZAMIENTO DE CD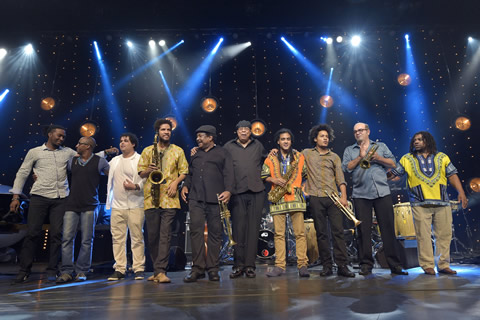 Photo: Francis Vernhet
ENGLISH : One of the most important ensembles of all time in Cuban Jazz AND Cuban Popular Dance Music is Irakere . Although its first recording, Bacalao con pan , was made in 1973 while it was still a sub-group of the Orquesta Cubana de Música Moderna , it officially became a free-standing group in 1975 (hence the Irakere 40 ) and began to shake the world with its music from then until 2005, when it disbanded. One of the reasons that I am writing these lines today is that Irakere 's music kept me riveted to the shortwave radio in the 1970s, when Cuba's radio stations regularly broadcast their newest releases. Here is a surviving video fragment of Bacalao con pan from the period that will help you understand the excitement of the time if you weren't around back then:
ESPAÑOL : Uno de los ensembles más importantes de todos los tiempos en el Jazz cubano y la Música Popular Bailable es Irakere . Aunque su primera grabación, Bacalao con pan , se hizo en 1973 cuando todavía era un subgrupo de la Orquesta Cubana de Música Moderna , se convirtió oficialmente en un grupo independiente en 1975 (de ahí el Irakere 40 ) y comenzó a sacudir el mundo con su música desde entonces hasta 2005, cuando se disolvió. Una de las razones por las que estoy escribiendo estas líneas hoy en día es que la música de Irakere me mantuvo remachada a la radio de onda corta en la década de 1970, cuando las emisoras en Cuba emitian regularmente sus nuevos lanzamientos. Aquí está un fragmento de vídeo sobreviviente de Bacalao con pan de la época que les ayudarán a entender la emoción del momento si ustedes no estuvieron allí en aquellos tiempos:
ENGLISH: Now, Irakere 's founder Chucho Valdés , who celebrated his 74th birthday on Friday, has assembled a special 10-piece group consisting of his Afro Cuban Messengers and five of the best young Cuban Jazz trumpeters and saxophonists for a tour and CD release. The tour in the United States will take place from October 20-November 16 (including Kevin Moore's favorite city of Santa Cruz, where they will be at the Rio Theatre for the Performing Arts ). You can see the entire US tour schedule here. You can also watch a video of this group in action at the Lugano Jazz Festival:

ESPAÑOL : Ahora, el fundador de Irakere , Chucho Valdés , quien celebró su 74o cumpleaños el viernes, ha reunido a un grupo especial de 10 músicos que consiste en sus Afro Cuban Messengers y cinco de los mejores jóvenes trompetistas y saxiofonistas del Jazz cubano para una gira y un lanzamiento de CD. La gira en Estados Unidos tendrá lugar a partir del 20 de octubre hasta el 16 de noviembre (incluyendo la ciudad favorita de Kevin Moore, Santa Cruz, donde estarán en el Rio Theatre for the Performing Arts ). Pueden ver toda la programación de la gira de Estados Unidos aquí. También pueden ver un video de este grupo en acción en el Festival de Jazz de Lugano:
ENGLISH : A new CD, Tribute to Irakere (Live at Marciac) will also be released on October 20 (Jazz VIllage/Harmonia Mundi), and we will review it here in the near future. The roster for Irakere 40 includes Chucho Valdés (piano); Gastón Joya (bass); Rodney Barreto (drums); Yaroldy Abreu (percussion); Dreiser Durruthy Bombalé (batás & vocals); Manuel Machado , Reinaldo Melian & Carlos Sarduy (trumpets); Ariel Bringuez (tenor sax) & Rafael Aguila (alto sax).
We'll be sharing more about Irakere and its role in modern Cuban Jazz and popular dance music during the weeks to come. In the meantime, Kevin Moore's history and discography of Irakere in the Timbapedia is worth visiting here.
ESPAÑOL : Un nuevo CD, Homenaje a Irakere (Live at Marciac) también se dará a conocer el 20 de octubre (Jazz Village / Harmonia Mundi), y lo vamos a reseñar aquí en un futuro próximo. Irakere 40 incluye a Chucho Valdés (piano); Gastón Joya (bajo); Rodney Barreto (batería); Yaroldy Abreu (percusión); Dreiser Durruthy Bombalé (batás y voz); Manuel Machado , Reinaldo Melián y Carlos Sarduy (trompetas); Ariel Bringuez (saxo tenor) y Rafael Aguila (saxo alto).
Estaremos compartiendo más sobre Irakere y su rol en el Jazz cubano moderno y la música popular bailable en las semanas venideras. Mientras tanto, la historia y discografía de Irakere por Kevin Moore en la Timbapedia vale la pena visitar aquí .