La Última
domingo, 17 julio 2022, 11:46 am
RIP Pupy Pedroso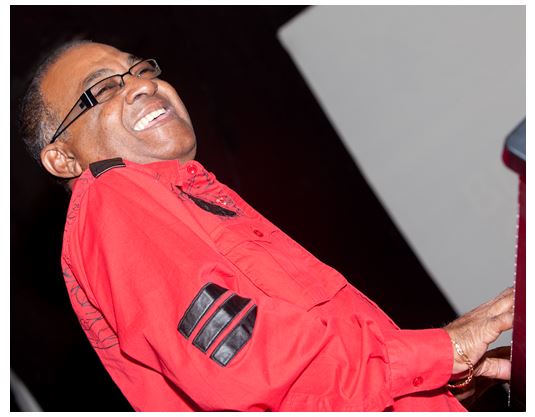 photo by Tom Ehrlich, San Francisco, 2010 - more photos
César "Pupy" Pedroso passed today at the age of 75.
Judged by any imaginable criteria, Pupy Pedroso is among the most important figures in the history of Cuban music. Born into a family of musicians at the very center of the Havana scene at a time when the groups of Arsenio Rodríguez and Antonio Arcaño were creating the very foundations of Latin music as we know it, he was educated during the golden age of the 1950s, and later became a member of Revé and Los Van Van as those two groups reinvented Cuban music in the late 1960s.
Pupy lived his extraordinary life on the very cutting edge of the chronology of Cuban music. At his birth, in September of 1946, Havana's music scene was exploding, dominated by two groups, Arsenio Rodríguez y su Conjunto and Arcaño y sus Maravillas. These two musical juggernauts played back-to-back every Sunday at Los Jardines de la Tropical and frequently toured together as a double bill. Arsenio's band used his revolutionary conjunto format with tres, bongó and trumpets, while Arcaño's was a charanga típica, with timbales, violins and flute. The two groups fed off each others' creativity to produce many of the innovations we take for granted today – not only in salsa and timba, but in English-language popular music as well. Many of the greatest pianists of the era passed through these bands, among them Rubén González, Lilí Martínez, Lino Frías, and one of Pupy's teachers, the great Jesús López. Arcaño's group, which included Pupy's uncle Julio on güiro, often rehearsed at Pupy's house and Pupy's father César "El Nene" Pedroso played piano with many alumni of Arsenio's band in Chappottín y sus Estrellas and René Álvarez's conjunto. It's hard to imagine a more perfect situation for the formative years of an aspiring young pianist.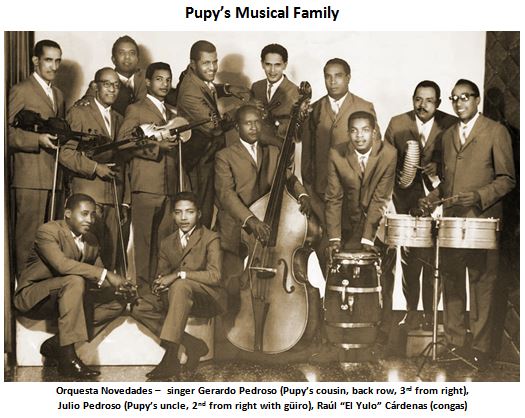 Pupy's grandfather, the first Julio Pedroso, was the leader and flautist of a charanga called Orquesta Cuba, formed in 1932. Among the famous musicians who played with this group were violinist Félix Reina, composer of the classic danzón Angóa, singer Paulina Álvarez, and singer Cheo Marquetti, who would later become the leader of his own important conjunto in the 1950s. Because they lived in Cienfuegos, Paulina and Félix stayed at Pupy's house when the orquesta played in Havana. Pupy remembers the mornings after performances, when his mother would prepare "sopa de la mala noche" (a Cuban hangover cure) for her famous houseguests.
Pupy's uncle, also named Julio Pedroso, better known as "Piro, el escapárate", was considered to be one of Havana's top güiro players. He started out with Orquesta Ideal, a well-known group founded in 1938, which, under the direction of Joseíto Valdés, became one of the first charangas to incorporate call and response vocals in the danzón genre. Julio later joined the top charanga of the 1940s, the incredibly innovative Arcaño y sus Maravillas and stayed with them until they disbanded, after which he joined Orquesta Novedades, where he joined Pupy's cousin Gerardo Pedroso.
Gerardo Pedroso became famous as the singer of one of Orquesta Sensación's biggest hits, Arráncame la vida, a bolero composed by Agustín Lara. In 1956, along with various other members of Sensación, he broke away to form Orquesta Novedades, where he sang and acted as musical director. The band also sometimes accompanied Miguelito Cuní, who sang such classics as No hay yaya sin Guayacán with Arsenio Rodríguez. Cuní and Orquesta Novedades can be heard on the readily available Cuban Gold 3 on the QBADisc label.
Interestingly, the conguero in the above photo of Orquesta Novedades is Raúl "El Yulo" Cárdenas, who would be a founding member of Los Van Van and originator of various important songo conga patterns. El Yulo ended his career with NG La Banda before dying tragically in a 1999 car crash.
The most famous of all Pupy's musician relatives was his father and namesake, César "El Nené" Pedroso, who played piano with nearly everyone at one time or another – Abelardo Barroso y Orquesta Sensación, Chappottín y sus Estrellas, Beny Moré, René Álvarez and Cheo Marquetti, to name a few.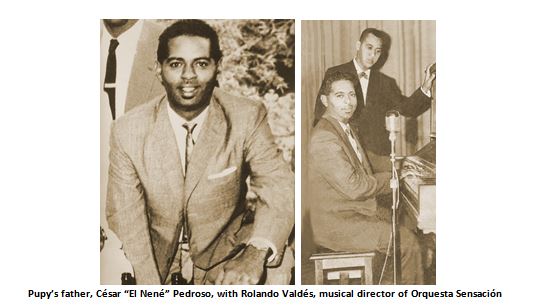 As late as 1983, Pedrito Calvo would still cry out "el hijo de Nené!!" during Pupy's piano solos with Los Van Van.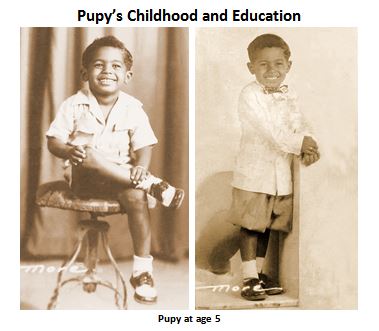 Pupy was surrounded by rehearsals, jam sessions and pianos from birth, and the direction of his life was almost certainly set in motion and propelled by the electrifying experience of growing up in the inner circle of one of history's most exciting and innovative musical periods. There was always a party or a jam session at his house and he clearly remembers such figures as Paulina Alvarez, Tonia la Negra, Rafael Ortiz, Cheo Marquetti, Abelardo Barroso, and Antonio Arcaño himself as frequent musical guests in his childhood home. Among the many first-tier pianists he heard without leaving his living room were Rubén González – then famous for his recordings with Arsenio, now famous for his work with the Buena Vista Social Club – and Raúl Valdés.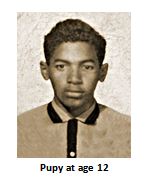 With constant access to the family piano, Pupy was already picking out songs by ear at the age of five. Not yet having learned the names of the notes, he used rum and coffee stains on the keys to keep his place and recalled his initial frustration when he tried to play his repertoire on other pianos not similarly adorned with such helpful splotches.
Pupy's formal education began at the age of 10, studying with two sisters, "Las Hurtado", who gave piano lessons in his neighborhood. At age 12, he enrolled in the famous Amadeo Roldán conservatory, where he studied theory, piano and solfeggio with Aída Tesiro, Osvaldo Ferrer, Luis Pastoré, Georgina Ramos, and, most importantly, the afore-mentioned Jesús López. Later, at a vocational school for professional musicians, he studied harmony with Rafael Lay, Sr., the leader of Orquesta Aragón.
In addition to the many descargas (jam sessions) and formal rehearsals of Arcaño y sus Maravillas and Conjunto Bolero that were regular occurrences at home, Pupy's father took him on regular musical field trips. He always brought the young Pupy along when Orquesta Sensación played and recorded at Radio Salsa and Radio Suaritos, where Pupy also got regular opportunities to hear Arcaño, Chappottín, Melodías del 40, Orquesta Aragón, Vicentico Valdés and even Arsenio Rodríguez before he left Cuba.
Life as a Professional
Considering his genetics, his almost unbelievably ideal musical environment, his formal and informal access to the best teachers, and his good-natured natural love for all things musical, it's not at all surprising that Pupy was soon in demand as a professional pianist, playing with such groups as Orquesta Maravillas de Santa Fe and Orquesta Fascinación, while his father took him to sit in with top bands at clubs like El Zorro y el Cuervo, Scheherezada and Club Karachi.
What is surprising is the staying power of Pupy's compositional muse. Even when we take into account his many early advanatages and a certain creative genius for composition, Pupy has demonstrated an astounding ability to continue to grow and adapt. At his death at age 75, he was still writing Top 10 hits for a cutting edge dance band, just as he'd done literally every year of his life since 1979. Most of the truly great figures in popular music – whether Arsenio, Arcaño, Ritmo Oriental, the Beatles, Stevie Wonder, or Bob Dylan – produced their greatest music during one or two decades and then gave way to future generations. In terms of keeping the creative fires raging, unabated and uninterrupted, for such an incredible (and ongoing) length of time, the only other popular music titan who comes to mind is Juan Formell, who, like Pupy, found the inspiration for his lyrics ("social chronicles" as they called them) in the daily lives of Cubans. Pupy's final album, Re-percusión, was nominated in last year's Cubadisco awards.
In about 1964, Pupy joined Orquesta Revé, a hugely important group that continues to be one of the very best groups in Cuba, staying at the top of the charts, like Pupy and Los Van Van, during nearly every decade since its its inception – no easy trick in the fickle, trend-dominated, youth-oriented world of popular music.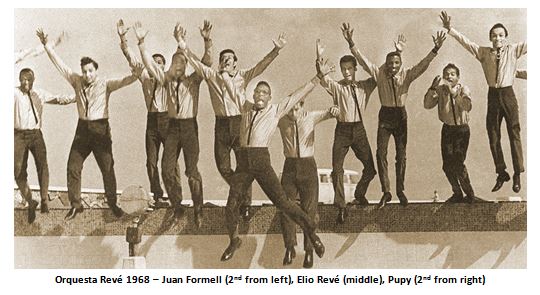 When Pupy joined Orquesta Revé, it was still in its charanga típica phase but the group, Pupy's life, and Cuban music took a profound and pivotal turn in 1968 when Revé hired a new musical director, bassist and composer Juan Formell, who had been surreptitiously listening to North American radio broadcasts and contraband capitalist vinyl and found himself fascinated by everything from the Beatles to Motown. Formell adopted the genre name changüí 68 for his early Revé compositions such as El martes.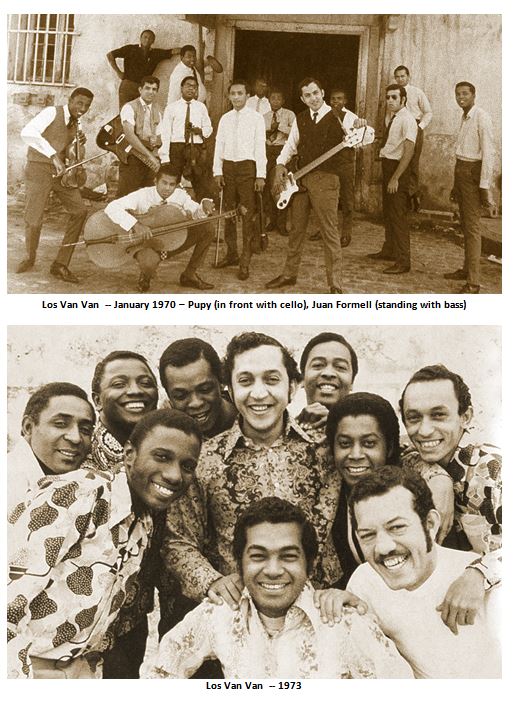 In 1969, Formell set out on his own, with a nucleus of Revé musicians that included Pupy, to form the most successful Cuban group of all time, Los Van Van, rebranding the group's musical style as songo. Other than Pupy, the most important founding musician was the innovative conguero Raúl "El Yulo" Cárdenas, but shortly after the first album was recorded, the original drummer, Blas Egües, was replaced by another critically important figure, José Luis "Changuito" Quintana, who, along with Formell, would become one of Pupy's most important collaborators.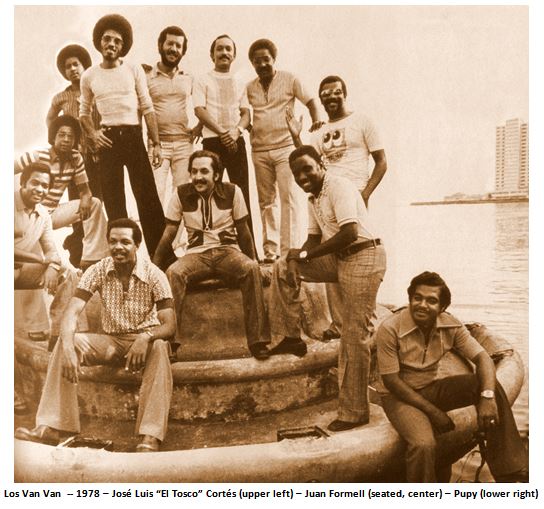 Changuito played with Van Van until the early 1990s and was reunited with Pupy in 2001 to help design the unique rhythmic style of Pupy's new group, Los Que Son Son, with an astounding front line of now legendary singers: Tirso Duarte, Pepito Gómez and Mandy Cantero, who now sings with Los Van Van. Nearly 20 singers have passed through the band, including El Noro, and the recent lineup of Dayán Carrera, Pedro Luis Barrizonte and Lázaro Leandro Borrego.
Los Que Son Son celebrated its 20th anniversary last year and remains one of Cuba's top bands. Here's an accounting of their 10 studio albums, and Pupy's discography as a member of Van Van and the solo albums he recorded while still a member.
Pupy will be greatly missed, but never forgotten.