La Última
Second Melón Book Goes Live
First Book Now in Hard-Copy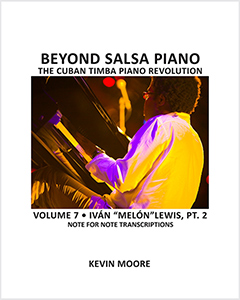 Volume 7 of Beyond Salsa Piano analyzes Melón's tumbaos and general style on Por qué paró and Luz viajera, and also includes rhythm play-along tracks.

Meanwhile, Volume 6, whose eBook and audio files have been online for several days, is now also available in hard-copy.

Volume 5 is still only digital. The hard-copy version will go online Wednesday.

Volume 8 is coming very soon.

Meanwhile, I'm shifting my focus to Beyond Salsa Percussion. Stay tuned!

And don't forget - although Pupy has been postponed, his ex-cantante/ex-compositor Pepito Gómez is a definite go for Friday, March 19th at Club Antón in Berkeley (around the corner from Yoshi's).
QUESTION: Have you tried to log in to timba.com to comment and given up in frustration? If so, please email us and let us know.