Timbera Mayor
10th NATIONAL CHANGÜÍ FESTIVAL ELIO REVÉ MATOS
STARTS TODAY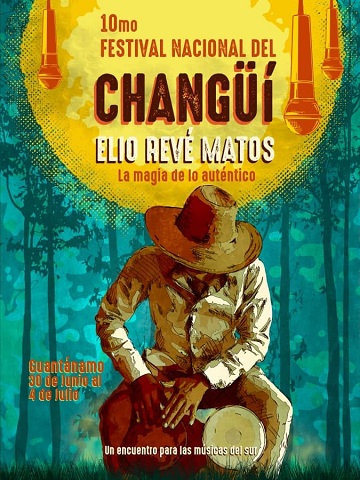 ENGLISH: Today marks the start of the 10th National Changüí Festival Elio Revé Matos in Guantanamo. Yesterday there was a press conference and a showing of the short film "Una Fiesta de Changüí". The 10th edition is dedicated to the 110th anniversary of the birth of Arturo Latamblé, the 70th anniversary of the group Estrellas Campesinas, the 15th anniversary of La Casa Del Changüí and the 85th anniversary of the radio station CMKS, as well as to the presidents of La Cumbancha peñas.
As with previous years, the festival will comprise seminars, changüí music competitions, dance competions and many concerts, including "El Changüí más largo del mundo". Events will take place in Guantanamo City but also in other municipalties in the area. To keep up with the activites, follow the Facebook pages of Changüiseros por el mundo and Destino Guantanamo.
I leave you with the documentary "Este es nuestro changüí", written by Yaremis Estonel and José Cuenca and directed by David Hernández, who won the award for direction in the Long Form Music Video category at the 18th Independent Music Awards in 2020.
ESPAÑOL: Hoy se da inicio al X Festival Nacional de Changüí Elio Revé Matos en Guantánamo. Ayer hubo rueda de prensa y proyección del cortometraje "Una Fiesta de Changüí". La décima edición está dedicada a los 110 años del natalicio de Arturo Latamblé, los 70 años del grupo Estrellas Campesinas, los 15 años de La Casa Del Changüí y los 85 años de la emisora ​​CMKS, así como a los presidentes de las peñas La Cumbancha.
Como en años anteriores, el festival comprenderá coloquios, concursos de música changüí, concursos de baile y muchos conciertos, incluido "El Changüí más largo del mundo". Los eventos se realizarán en la ciudad de Guantánamo pero también en otros municipios de la zona. Para mantenerse al día con las actividades, siga las páginas de Facebook de Changüiseros por el mundo y Destino Guantanamo.
Los dejo con el documental "Este es nuestro changüí", escrito por Yaremis Estonel y José Cuenca y dirigido por David Hernández, quien ganó el premio a la dirección en la categoría Video Musical Versión Larga en los XVIII Premios de la Música Independiente en 2020.
https://www.facebook.com/groups/252672682759581/