Timbera Mayor
domingo, 18 febrero 2018, 11:48 am
Upcoming Events in Cuba - Part 1
Festival de la Salsa en Cuba 2018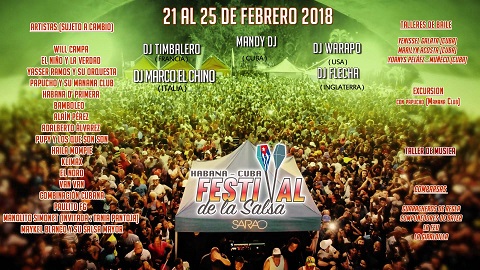 ENGLISH: Even as the 2018 tour season gets underway, things are heating up in Cuba with a number of great music festivals and events. I will post about them here over the next few days so stay tuned. And remember that if you can't make these events this year, most of them are recurring so you can start planning for next year!
First up is the Festival de la Salsa en Cuba, which begins Wednesday, February 21st. The festival includes dance and music workshops, An excursion in Havana with Papucho, directer of Papucho y Manana Club, as well as fantastic concerts each night in Parque Metropolitano. The opening concert will be held by Wil Campa. Participants can buy complete passes for all events and concerts, concert-only passes or a day pass that is good from 5pm for one day only. The after parties are not included in any of the passes but are something you don't want to miss with animations, DJs, and separate dance floors for traditional versus contemporary music. Foreigners will not be able to attend events this year by buying tickets in moneda nacional, but you can purchase your tickets in advance by following this link.
ESPAÑOL: Mientras la temporada de giras de 2018 se pone en marcha, las cosas se están calentando en Cuba con una serie de grandes festivales y eventos de música. Voy a publicar sobre ellos aquí en los próximos días, así que estad atentos. ¡Y recuerde que si no puedes asistir a estos eventos este año, la mayoría de ellos se repiten cada año para que puedas comenzar a planificar el próximo año!
Primero está el Festival de la Salsa en Cuba, que comienza el miércoles 21 de febrero. El festival incluye talleres de danza y música, una excursión a La Habana con Papucho, director de Papucho y Manana Club, así como fantásticos conciertos cada noche en el Parque Metropolitano. El concierto de apertura se llevará a cabo por Wil Campa. Los participantes pueden comprar pases completos para todos los eventos y conciertos, pases solo de concierto o un pase de un día que es válido a partir de las 5 p.m. durante un solo día. Las after parties no están incluidas en ninguno de los pases, pero son algo que no debe perderse con animaciones, DJs y pistas de baile separadas para música tradicional versus contemporánea. Los extranjeros no podrán asistir a eventos este año comprando boletos en moneda nacional, pero pueden comprar sus boletos con anticipación usando este enlace.
continue reading Timbera Mayor