Timbera Mayor
TIMBA THIS WEEK
Azúcar Negra Press Conference for "Tonada Pa'l Bailador"
Havana D'Primera Anniversary Concerts
El Tosco's Birthday
Maykel Blanco & Su Salsa Mayor Tour Begins
There is a lot going on this week in addition to the regular concert schedule in Havana. First up, Leonel Limonta & Azúcar Negra will hold a press conference today at Casa de la Música Miramar for the release of their excellent new CD "Tonada pa'l bailador". They will also give a concert at CDLM Miramar on Saturday, October 7th.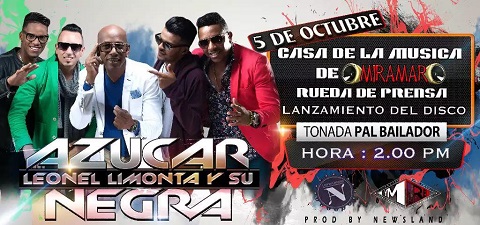 This is Azúcar Negra's 7th album and as the rightly claims, it is a brilliant album for the dancers. You can find the album at the usual digital retailers and streaming sites. "Tonada pa'l bailador" contains 14 tracks and a full review will be coming shortly.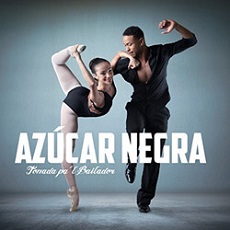 Track list:
Tonada pa'l bailador
Cuando pienso en ti
De fiesta en fiesta
Retomando el son
Por qué me miras así
Mi chica se rebela
La Habana está de fiesta
Tonada pa'l bailador feat. Alexander Abreu
Agua caliente
El tequila feat. El Micha
Pa' que se entere La Habana
Yo necesito de ti feat. Luna Manzanares
Suave, rico y despacito
Maltratando la tela
---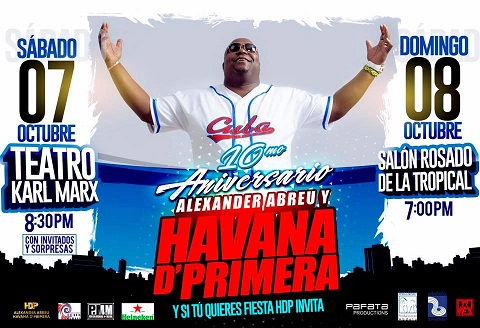 Congratulations to Alexander Abreu & Havana D'Primera who celebrated their 10th anniversary yesterday. They will hold two special concerts this weekend: Saturday the 7th at Karl Marx Theater with surprise guests and Sunday the 8th at Salón Rosado de la Tropical. Their European Tour begins October 12th in Moscow and they will follow up with a national Cuban tour.
Unlike most young bands, Havana D'Primera didn't have a period of "finding themselves" but burst fully-developed on the timba scene. This was in part due to the fact that many of them had already worked together for years in Issac Delgado's band. Alexander's lyrics also made the Havana D'Primera stand out from the masses. It didn't take long for them to become one of the most popular bands both inside and outside of Cuba. During their first decade, Havana D'Primera has released three studio CDs all of which have been at the top of the timba charts and even done well among regular salseros. Still one of Cuba's greatest trumpeters, Alexander is today also highly sought after for collaborations as a vocalist.
---
We cannot fail to mention that today is José Luis Cortés "El Tosco"'s birthday. Where would Cuban music be today without NG La Banda? I shudder to imagine. So Happy Birthday El Tosco and thank you for your role in making our music and dance obsession possible.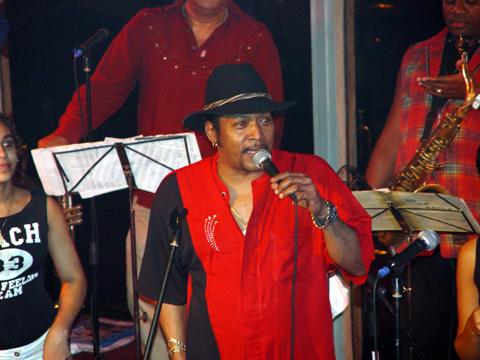 ---
And across the pond over here in Europe, Maykel Blanco & su Salsa Mayor begin their European Tour tonight in Paris. Click here for concert dates. Here is a recent live clip of the band performing in La Guayabera in Alamar, Havana, Cuba.
continue reading Timbera Mayor