Pa' Ponerte en Talla
Kiki Valera's debut solo album to be released this Friday
Lanzamiento del primer disco solista del cuatrista Kiki Valera
Master Cuban cuatro player Kiki Valera -- of Santiago's Familia Valera Miranda fame -- is releasing his first solo record Vivencias en clave cubana this Friday, October 18, 2019 on the Origin Records label. A festive, tropical compendium of musical stories from his life experiences in Cuba, it features all original Cuban sones, boleros and guarachas and was composed and arranged entirely by Kiki and his childhood friend Coco Freeman (ex-cantante of Adalberto Álvarez y su Son and NG La Banda).
To pre-order click here = https://kikivalera.bandcamp.com/releases
Hard copies will be on-hand the following Friday, October 26, when Kiki will be debuting songs from this new record at Seattle's EARSHOT JAZZ FESTIVAL. 8pm show at the Town Hall.
For more info check out = https://www.earshot.org/2019-festival-schedule/
Here is an excerpt from the album liner notes (written by our own Bill Tilford):
"Kiki Valera's debut solo album Vivencias en Clave Cubana, like the first recording of his family, comes relatively late in his career, although he appears in numerous albums with his family and with others. The eldest son of Familia Valera Miranda's leader Felix Varela Miranda, who just passed away in November 2018, Kiki was introduced to the tres when he was six years old by his father. He later attended the Conservatorio Estaban Salas in Santiago de Cuba to study classical guitar. During his time as a student, he discovered his chosen instrument, the cuatro, while watching a street musician playing the instrument. He was so enamored of its sound and the extra possibilities offered by the fourth pair of strings (the tres has three pairs) that he built his own instrument and developed his own technique of playing, tuning and fingering....
...This album was recorded in its entirety by Kiki at his facility in Seattle. His studies in electrical engineering and recording make him a demanding taskmaster when it comes to audio quality, a feature of this record that you will also appreciate. He employed various specialty recording techniques to capture the living essence of his cuatro and used several pre-amplifiers he hand customized to color and warm the sound along with some vintage microphones. Consequently, the mix and master built on this sonic foundation delivers all the traditional and roots tones with a sophisticated, full-range, modern sound-stage treatment. While dancers will move to this right away, audiophiles will also notice the definition, headphone sweetness, and surprises that are eventually discovered after repeated listening."
Here is the video of the album's first single MI SON
Aquí el video-clip del primer sencillo del disco MI SON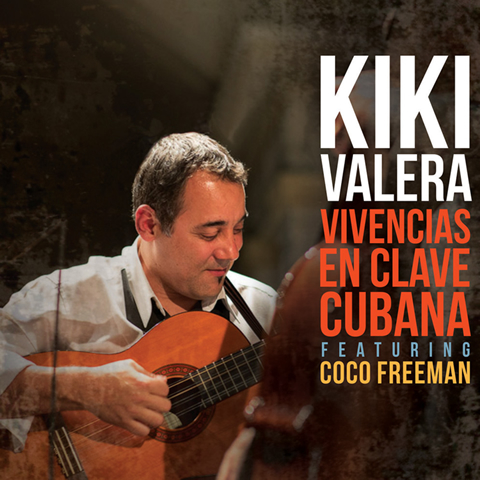 ESPAÑOL: El maestro cuatrista cubano Kiki Valera -- de la afamada Familia Valera Miranda de Santiago -- lanzará su primer disco solista titulado Vivencias en clave cubana este viernes 18 de octubre de 2019 bajo el sello Origin Records. Un compedio festivo y tropical de historias musicales de sus propias experiencias en Cuba, el disco cuenta con sones, boleros y guarachas originales compuestos y arreglados en su totalidad por Kiki y su amigo de la infancia Coco Freeman (ex cantante de Adalberto Álvarez y su Son y NG La Banda).
Para pre-ordenar haga clic aquí = https://kikivalera.bandcamp.com/releases
Copias físicas del CD estarán disponibles el siguiente viernes 26 de Octubre en su concierto en el EARSHOT JAZZ FESTIVAL de Seattle. La presentación es a las 8pm en el Town Hall.
Para más información use este enlace = https://www.earshot.org/2019-festival-schedule/
Aquí les incluyo un extracto de las notas del álbum (escritas por nuestro propio Bill Tilford):
"El primer álbum solista de Kiki Valera, Vivencias en Clave Cubana, como la primera grabación de su familia, llega relativamente tarde en su carrera, aunque aparece en numerosos álbumes con su familia y con otros. El hijo mayor del líder de Familia Valera Miranda, Felix Varela Miranda , quien falleció en noviembre de 2018, Kiki fue introducido al instrumento de cuerdas -- el tres cubano -- cuando su padre tenía seis años. Más tarde asistió al Conservatorio Estaban Salas en Santiago de Cuba para estudiar guitarra clásica. Durante su tiempo como estudiante, descubrió su instrumento elegido, el cuatro, mientras miraba a un músico callejero tocar el instrumento. Estaba tan enamorado de su sonido y de las posibilidades sonoricas que ofrecen las cuerdas adicionales (el tres tiene tres pares) que construyó su propio instrumento y desarrolló su técnica propia de tocar, afinar y digitación ...
... Este álbum fue grabado en su totalidad por Kiki en sus instalaciones en Seattle. Sus estudios en ingeniería eléctrica y grabación lo convierten en un capataz exigente en cuanto a calidad de audio, una característica que los oyentes también apreciarán. Empleó varias técnicas de grabación especializadas para capturar la esencia viva de su cuatro y usó varios preamplificadores que personalizó a mano para colorear y calentar el sonido junto con algunos micrófonos antiguos. En consecuencia, la mezcla y el master desarollado sobre esta base sonora ofrece todos los tonos tradicionales y raíces con un tratamiento sofisticado, completo y moderno de sonido. Mientras que los bailarines se moverán de inmediato, los audiófilos también notarán la definición, la dulzura de los auriculares y las sorpresas que finalmente se descubren después de escuchar repetidamente ."
continue reading Pa' Ponerte en Talla