Pa' Ponerte en Talla
viernes, 17 febrero 2017, 03:58 am
"Making Of" - VAMO' HACERLO - Ángel Yos y La Mecánica Loca
Physical copies will be available this Saturday 2/18/17
Copias físicas del nuevo disco estrenan este sábado
Paris, France based Cuban singer songwriter Ángel Yos is about to release his new album entitled VAMO' HACERLO (Let's Do It!). Click on the album cover below to visit his official website. The album is a collaboration of French and Cuban musicians recorded in both locations. All recodings in Cuba were engineered and mixed by Amaury Pérez, the trombonist famius for his work with Habana D'Primera. Here is PART 1of the "Making Of" for this new record.
For International and European Pre-Sale Click Here
VAMO' HACERLO!
Para la Pre-Venta Inetrnacional y Europea Haz Click Aquí
El cantante cubano basado en París, Francia -- Ángel Yos -- está a punto de lanzar su nuevo álbum titulado VAMO 'HACERLO (Let's Do It!). Haga clic en la portada del álbum para visitar su página web oficial. El álbum es una colaboración de músicos franceses y cubanos grabados en ambos lugares. La ingeniería y bragación en Cuba fué ejectucado por Amaury Pérez, el trombonista famoso por su trabajo con Habana D' Primera. Aquí está el video de "Tu y yo", uno de los temas de este nuevo disco.
In related news the new record will be available in hard copy for the first time this Saturday at the upcoming concert in Bayonne. Here's the info:
ANGEL YOS Y LA MECANICA LOCA IN BAYONNE
As part of the first edition of the Cubayonne Festival, we invite you to take a direct flight to Havana with this great concert evening which will take place in the space Saez of the House of Associations of Bayonne! SATURDAY, FEBRARY 18.

Featured: Angel Yos y la Mecanica Loca!
This group is currently recognized as the inescapable figure of the Timba in France, already holder of several danced tubes on all dancefloors timberos: A la Loco Titi, La Moda Cubana, Terrorista ...

As a special bonus his new album VAMO' HACERLO! will be available as a pre-release!
Angel Yos & LML brings us into his world salsero with pieces mixing power and subtlety, rumba and funk, timba and salsa romantica. A musical richness to the height of the 13 musicians of the group. To animate the before and the after, a recognized DJ of the scene Salsa: Axel Cubadicto!
Schedule:
21h: early evening with DJ Axel Cubadicto
22h00: Concert Angel yos are the Mecanica Loca
0:00 to 2:00: Following the lively evening by DJ Axel Cubadicto
Price: 15 € presale, 20 € D-Day in Ticket office
For tix see website: http://www.cubayonne.fr/inscription/
Possibility of fpasses for the salseros who wish to participate in the day classes!
Drinks and snacks services during the evening.
For more Information call 07 60 34 78 61 or email cubayonne@gmail.com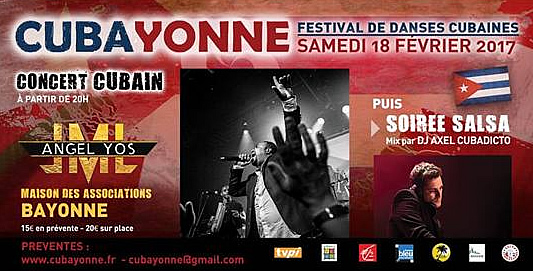 Como parte de la primera edición del Festival de Cubayonne, os invitamos a tomar un vuelo directo a La Habana con esta gran velada de conciertos que tendrá lugar en el espacio Saez de la Casa de Asociaciones de Bayona! SÁBADO, 18 DE FEBRERO.
Destacados: Angel Yos y la Mecanica Loca!
Este grupo es actualmente reconocido como la figura ineludible de la Timba en Francia, ya titular de varios tubos bailados en todas las pistas de baile timberos: A la Loco Titi, La Moda Cubana, Terrorista ...

Como un bono especial su nuevo álbum VAMO 'HACERLO! Estará disponible como pre-lanzamiento!

Angel Yos & LML nos trae a su mundo salsero con piezas mezclando poder y sutileza, rumba y funk, timba y salsa romantica. Una riqueza musical a la altura de los 13 músicos del grupo. Para animar el antes y el después, un reconocido DJ de la escena Salsa: Axel Cubadicto!
Programación
21h: baila con DJ Axel Cubadict
22h00: Concierto Angel Yos y La Mecánica Loca
0:00 a 2:00: baila con DJ Axel Cubadict
Precio: 15 € preventa, 20 € Día en taquill
Para tix ver el sitio web: http://www.cubayonne.fr/inscription
Posibilidad de psses para los salseros que deseen participar en las clases diurnas
Servicios de bebidas y aperitivos durante la noche.
Para más información llame al 07 60 34 78 61 o email cubayonne@gmail.com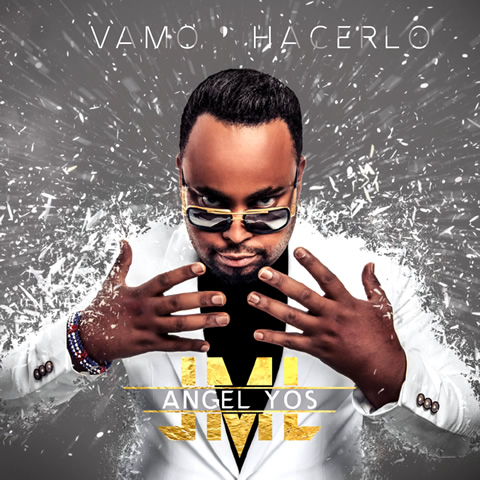 continue reading Pa' Ponerte en Talla