Pa' Ponerte en Talla
¡ Aquí viene el SALSANIMAL !
Reseña por Bill Tilford
CD Review: Salsanimal by Marlow Rosado & La Riqueña (Big Label Records July 2014)
Review by Bill Tilford, All rights reserved
Download the SALSANIMAL Intro (Track #1) here
Descarga gratis del primer tema Intro SALSANIMAL aquí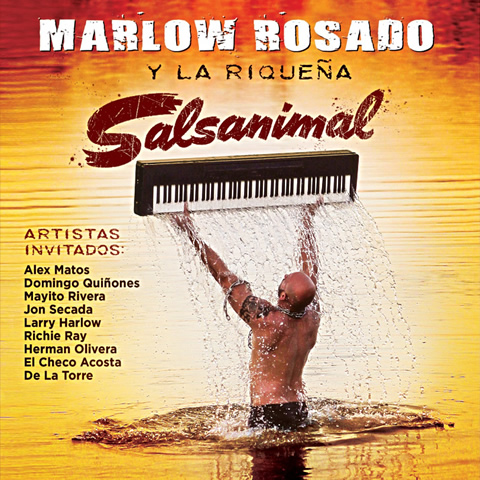 This newest release by Marlow Rosado & La Riqueña, whose last album Retro won the GRAMMY for Best Tropical Latin Album in 2012, is a Salsa Dura album with an interesting blend of Cuban, New York and Puerto Rican Styles. As was the case with Retro, there is an impressive supporting cast of guest artists, and this album branches out a little more stylistically. There are a few touches of Timba piano phrasing and Cuban Descarga in the opening track, Intro Salsanimal. Asi Son brings in Cuban Sonero and Timba legend Mayito Rivera for a turn at Salsa Dura. Quiero Que Me Quieras has a very Puerto Rican (but uptempo) vibe. No Me Interesas has a New York Salsa Dura feel with an unusual (and pretty cool) brass section arrangement. Cataño opens with some street sounds and is an homage to the municipality that is known as "La Antesala de la Capital", San Juan, Puerto Rico. Como Te Extraño Nena is also a hard-driving Salsa Dura piece. Yo Se Que Un Día is a soulful, richly orchestrated bolero/guajira. Puertas Del Jardin, which give a shout-out to Cartagena and Medellin, incorporates some Cumbia passages in one of the more laid-back songs in the album. Todo Se Lo Llevo is one of two Salsa Romantica tracks in the album. 88 Mil Teclas brings in Larry Harlow and Richie Ray for a piano duel. It would be a lot of fun to see this live. The album cools down at the end with the tasty Todo A Tus Pies. The one English-language song in the albumn is Ok, Here Is The Truth, which features Pop / R & B star Jon Secada in a very heartfelt Salsa Romantica number (the lyrics are heavier than you typically hear in this style, but I won't include any spoilers here).
Salsanimal is aimed squarely at dancers - the songs are all dance-floor length, and outside of 88 Mil Teclas, the focus is on section work and vocals rather than instrumental solos. BUT, the arrangements and section work are excellent and at times innovative - Marlow's extensive musical resume is put to very good use here, and this won't bore musicians either. Highly recommended for Salsa fans.
Tracks:

Intro Salsanimal
Quiero Que Me Quieras (vocal: Javier Merino)
No Me Interesas (Vocal: Jose Arroyo)
Asi Son (Featuring Mayito Rivera)
Cataño (Featuring herman Olivera)
Yo Se Que Un Dia (Vocal: Jose Arroyo)
Como Te Extraño Nena (Featuring Alex Matos)
Puertas Del Jardin (Featuring El Checo Acosta)
Todo Se Lo Llevo (Featuring Domingo Quiñones)
OK Here Is The Truth (Featuring John Secada)
88mil Teclas (Ffeaturing Larry Harlow & Richie Ray)
(Bonus Track) Todo A Tus Pies (Featuring De La Torre)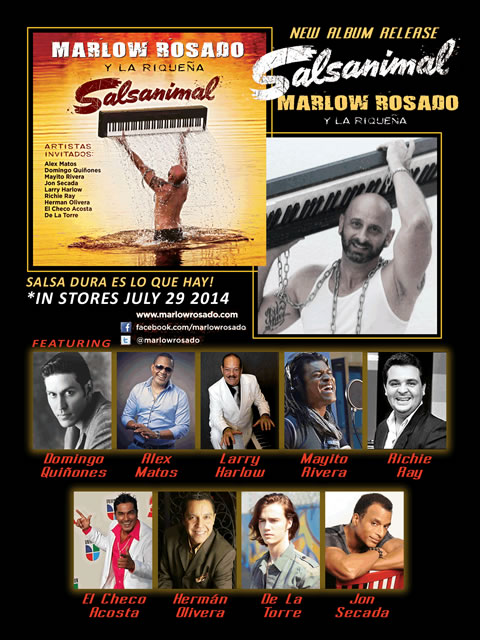 Personnel in Salsanimal
| Role - Instrument | Name |
| --- | --- |
| Piano, Keyboards, Director | Marlow Rosado |
| Lead Vocals & Coros | Jose Arroyo, Javier Merino |
| Trumpets | Julián Cifuentes, ivan Odio, Todrigo "Moña" Escobar, Mario Ortiz |
| Trombones | Somar Poveda, Guillermo Cobiellas |
| Bass | Luis Rodriguez, Jose Velazquez, Michael Lazarus, Ricardo Martinez |
| Timbales/Bongo/Campana, Percussion Director | Gamalier Reyes |
| Bongo/Campana | Luis Reyes |
| Conga | Daniel Peña |
| Additional vocals in Cataño | Arianna Rosado, Bivianna Rosado, Adriana Rivera, Edgar Rivera, Michael Rodrigues, Rayme Marrero, Chris Marrero |
| Guest Artists | Alex Matos, Mayito Rivera, Jon Secada, Larry Harlow, Richie Ray, Herman Olivera, El Checo Acosta, Domingo Quiñones, De La Torre |
| Musical Producer, Recording Engineer | Marlow Rosado |
| Executive Producers | Marlow Rosado, Eddie Mandel |
| Mixing Engineers | Gamalier Reyes, Michael Lazarus |
| Assistant Engineer | Immanuel Ramirez |
| Mastering Engineer | Michael Lázarus |
continue reading Pa' Ponerte en Talla