Indice - Table of contents
New Stuff
[hide]
Photos of the Day
[hide]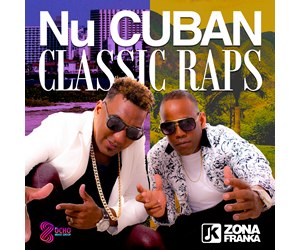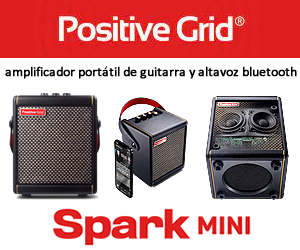 NPM Blog Archive - NPM Apr-Jun 2013
30 June 2013
THIS WEEK:
Festival season is here, and with it, the options increase. Just today, June 30, for example: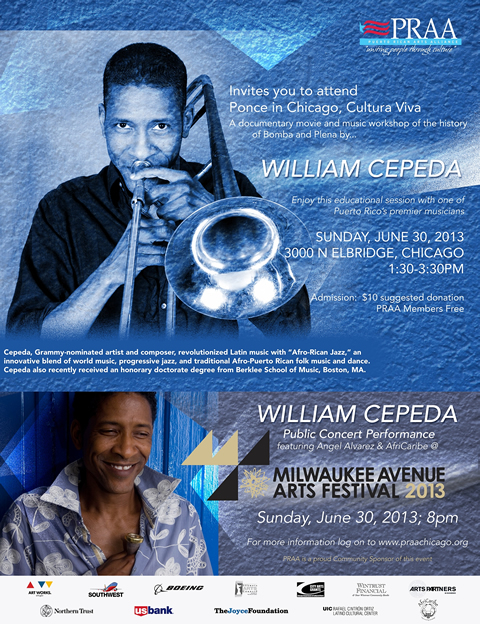 Trombone menace William Cepeda is at the Milwaukee Avenue Arts Festival in concert at 8PM with Angel Alvarez and Africaribe. In addition to his excellent Afro-Rican Jazz projects, Mr. Cepeda was a member of the original Zaperoko, which was playing Songo in Puerto Rico in the 1980s (some key members of that group had studied the music in Cuba back then). For more information, check out www.praachicago.org
OR, John Rodriguez's group Latin Inspiration is closing the Grand Fest at 8pm. John is a fine Chicago-based trombonist. See www.grandfestchicago.com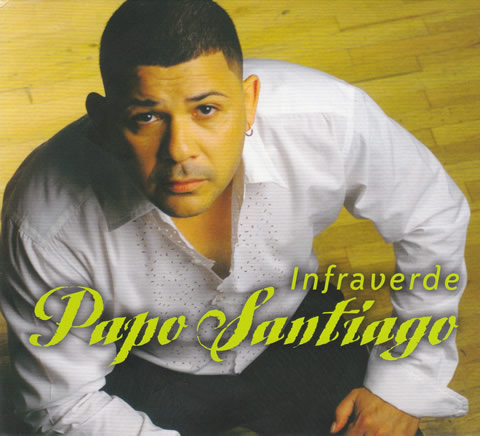 And once that's all done, you can tool on over to the Cubby Bear (Live Salsa Sundays) to check out Papo Santiago and Infraverde at 9pm and 11pm. Papo also has a regular Thursday night gig for his Latin Jazz unit at Lazos Tacos on Western Ave.
---
23 June 2013
THIS WEEK: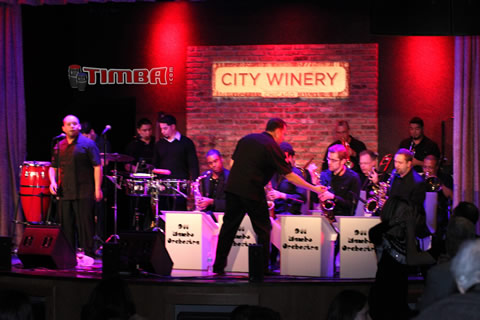 Angel Melendez & the 911 Mambo Orchestra
Wednesday, July 26, 2013, 8:30pm
City Winery, 1200 W. Randolph St., Chicago
The 911 Mambo Orchestra returns to the City Winery for a special tribute to the music of Tito Puente. We saw this group at the same venue in April, and it is an excellent room for the band.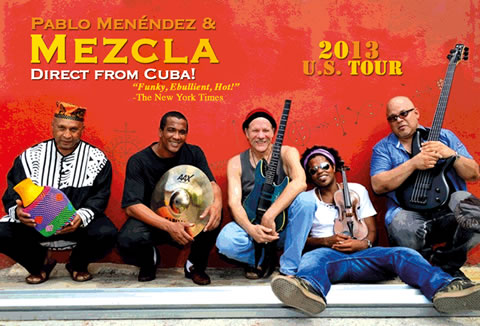 Pablo Menéndez and Mezcla
Old Town School of Folk Music
Saturday, June 29 at 8PM
This is truly a don't-miss event. Direct from Cuba on a limited-engagement US Tour, this edition of the powerhouse band has beefed up its Jazz and folkloric elements for the occasion. Our special Mezcla section includes video clips of the band, and you can read our recent interview with Pablo here.
Also, our own Angel D'Cuba sang with the group while he was in Cuba, and we have reason to believe that he may sit in with the group as well.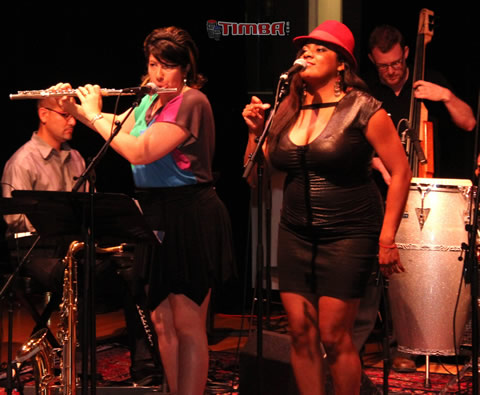 Grupo Cha Cha did a lively dance set for its CD release party at the Old Town School of Folk Music Firday night. We have usually heard them in settings where they were performing combinations of both Latin Jazz and dance music (as is the case with their fine CD This is the Life - you can read our review of that here), but they demonstrated here that they can turn out a solid all-dance performance as well. This group has also had recent radio rotation on a few programs including The Morning Shift on WBEZ in Chicago and the Latin Jazz Quarteron WDNA in Miami.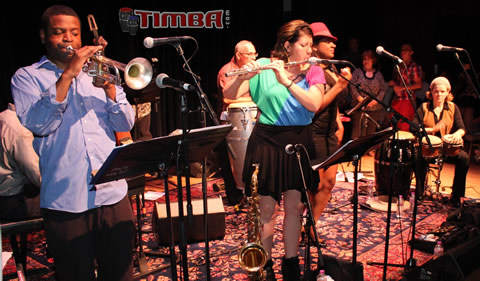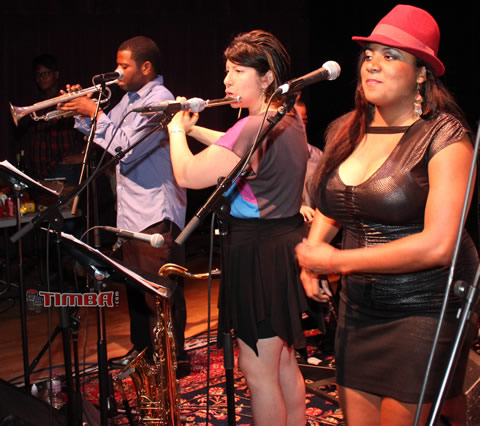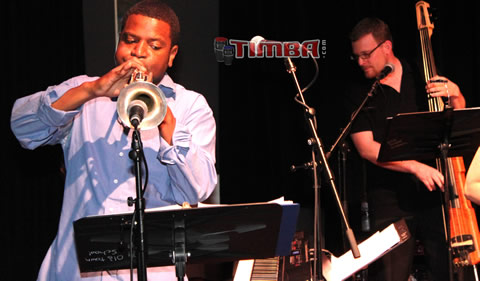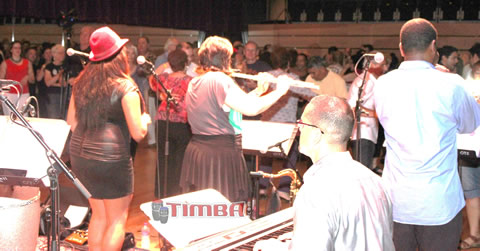 ---
16 June 2013
Now Playing: Fiestas Puertorriqueñas wraps up its final day in Humboldt Park. We hope the the weather will be kinder than it was Friday and Saturday. For the schedule, see
At Cubby Bear tonight, (Live Salsa Sundays), Salsa star Willy Torres holds forth at 9 and 11PM. And of course, Division Street will probably be jumping away from the park as well.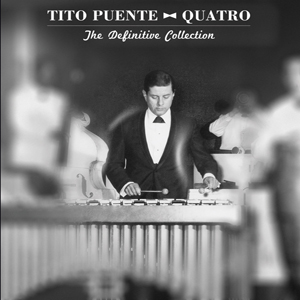 In honor of the Festival, we will post this next item a second time. It has been out for a while, but we just got around to reviewing it.
Quatro: The Definitive Collection
is a box set reissue of 4 key albums by
Tito Puente
plus a fifth bonus disc of extras. This is just beautiful, both in terms of the music and the packaging and liner notes, and
you can read our review here

.
This Week: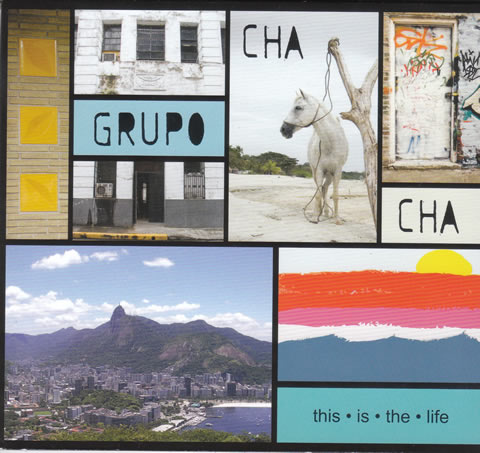 Chicago's own
Grupo Cha Cha
will be celebrating the release of its fine album
This Is The Life
at the
Old Town School of Folk Music
on Friday, June 21 at 8:30pm. Excellent album
(you can read our review here)
, and we expect this to be an excellent show as well. This group does both Latin Jazz and dance material, since it was booked into the Global Dance Party series, we assume that there will be more of a focus on the dance music...
---
9 June 2013
THIS WEEK:
Fiestas Puertorriqueñas is happening in Humboldt Park from Thursday, June 13 to Sunday, June 16. There has almost always been an element of Family Feud connected with the planning and operation of this event, and in typical years that fades into the background at festival time. This year's disagreements became unusually public and openly bitter, and in all honesty, this probably did not help encourage some top acts from other cities to seriously pitch the Festival. (We have no position on any of the issues that were in dispute and have no intention of taking one, we are just letting our Boricua friends know that some of the shouting got loud enough to be noticed outside your community this year.) That being said, the event itself should be a really fun time. We aren't going to publish an official band schedule here because there are sometimes last-minute schedule adjustments at these types of events. We did see that
Plena Libre
is on the program, and that would be our "must see" pick from the traveling acts in the lineup.
Mulenze
is also quite good. At festival time, it is always worth poking your head into the neighborhood bars and restaurants as well, you never know who might have dropped in for a descarga. For the latest from the festival itself, see
http://www.16thirtyone.com/prpcc/tag/casa-puertorriquena/
There is a lot of heavy live Salsa action coming up in June and July, check our
Calendar of Events
for more information.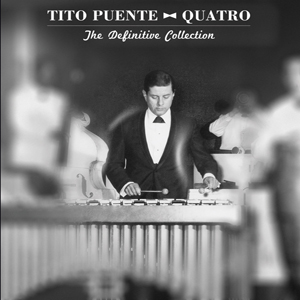 This next item has been out for a while, but we just got around to reviewing it.
Quatro: The Definitive Collection
is a box set reissue of 4 key albums by
Tito Puente
plus a fifth bonus disc of extras. This is just beautiful, both in terms of the music and the packaging and liner notes, and
you can read our review here
.
---
2 June 2013
Editorial: The Summer music season is here, and with it a lot more restaurants, festivals and live music. We will post as much of it as we can within reason in our Event Calendar, but a word to both the venues (restaurants, festivals etc) and the bands in that regard:
One of the loudest and most frequent arguments we witness between presenters and bands is the "Who is responsible for bringing in the crowd?" argument. Some bands think that it is the responsibility of the venue, and all they need to do is show up and play. Some venues think it is the band's responsibility to bring in their following, and all they need to do is provide the performance space. Whose responsibility is it really? BOTH. If you are a restaurant that posts "live music" without naming the band on your site, we aren't going to interrogate you about who you are hosting, we just won't post you unless you tell us who it is. Bands, if you leave it up to the venues, don't blame anyone else if your audience is 15 people. You share in the responsibility, it's called "building a following". We will ask you nicely where and when you are playing, but we aren't going to hunt you down with bloodhounds either. If you don't end up listed with us, it's on you, especially considering that the calendar listing is gratis. Some of you act responsibly, others not, and you can tell the difference in who has reasonably full rooms on band nights and who does not. 'Nuff said.
Right Now:
OK, generally you don't go to the zoo for the purposes of seeing musicians (well, not for most kinds of music, anyway). But if you happen to have the urge to go to the Brookfield Zoo anyway, they have a Fiesta with live bands going on Saturdays and Sundays for the next three weekends. For the full schedule, see their Facebook listing at https://www.facebook.com/events/573943362646158/
Coming Soon: Fiestas Puertorriqueñas, Humboldt Park, Chicago, Thursday June 13- Sunday June 16. You can see the full schedule at http://www.16thirtyone.com/prpcc/tag/casa-puertorriquena/
One band that caught our eye is Plena Libre on Friday the 14th.
---
26 May 2013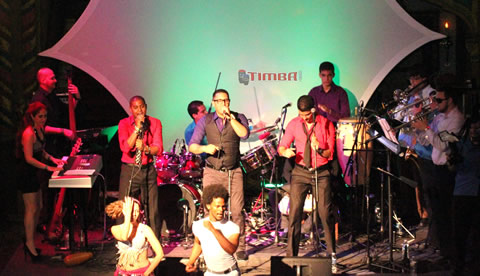 Over the weekend, we went down to Louisville, Kentucky, and while we were there, we caught yet another very good area Salsa band, the 13-piece Kentucky Salsa All Stars at the absolutely stunning Louisville Palace (we wish Chicago had more venues for Salsa acts that look like this). They throw down some excellent Salsa Dura. The group has only been together for about four months, but they have great charts, talented musicians, and if they avoid the various curses that often afflict new bands, they will be a welcome addition to the scene. (Speaking of Louisville, remember that Havana d'Primera is playing there on June 9, and yes, they are already in the country and just played Miami over the weekend, so no, there won't be any visa nonsense.)
Remember, Chuchito Valdes is doing a 4-night stint at the Jazz Showcase this weekend, and as always, See our Calendar of Events section for this week's doings.
---
19 May 2013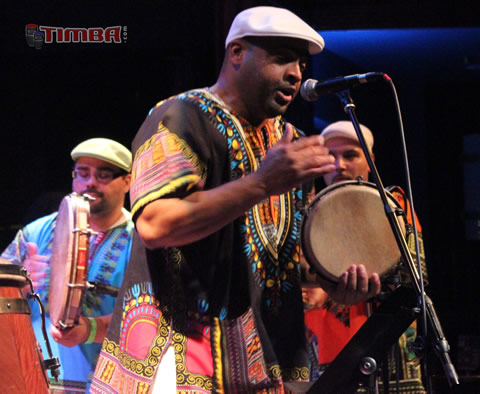 Congratulations to master drummer Jorge Emmanuelli Náter for joining the LP (Latin Percussion) family of recognized artists. Jorge is one of the most prominent living exponents of Bomba and Plena, and in Chicago he also is the director of CAPRE, the Chicago Afro Puerto Rican Ensemble, which we have written about in this pages over the last year. His work has both helped preserve the traditions of the rhythms and push the boundaries of their use in fusion. Hopefully all of this will bring more good things to Jorge, CAPRE and the music. You can visit his page on the LP website, which includes photos and videos, here.
There is some heavy traffic in the clubs this week - see our Calendar of Events page for details.
---
12 May 2013
THIS WEEK: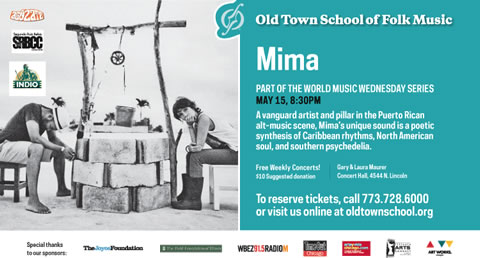 Mima at the Old Town School of Folk Music, Wednesday, May 15, 8:30pm
Mima is one of the new wave of alt-Latino artists in Puerto Rico. Here is a video that gives you a feel for her style:
Sunday, 21 July 2013, 03:53 AM