Indice - Table of contents
Lo Nuevo
[hide]
Fotos Del Día
[hide]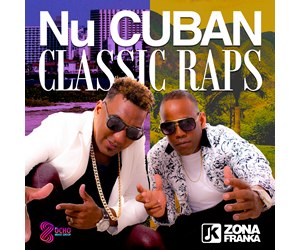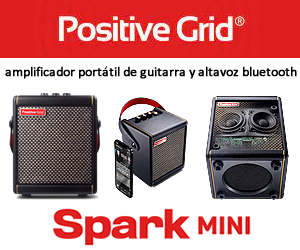 NPM Blog Archive - NPM Jan-Mar 2013
31 March 2013
EVENT ALERT: 911 Mambo Orchestra at City Winery, Wednesday, April 3, doors open 6 PM.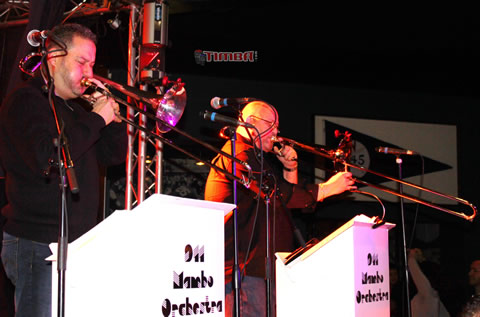 Angel Melendez is out about town with his small combo pretty often doing their Tribute to Lavoe book, but the GRAMMY-nominated big band, which is playing this performance with a much wider range of material, gets out much less frequently and is worth catching when it does. Doors open at 6:00; dance lessons start at 7:30, band starts at 8:30. Highly recommended way to scratch that Mambo/Salsa itch. It's worth noting too that the City Winery is relatively new to the city; kudos to it for booking this type of music.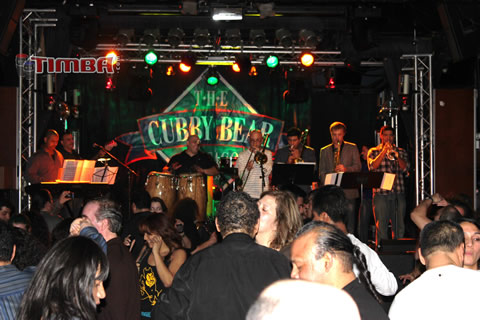 The above is a shot of Afinca'o from the 17th. We are looking forward to their new recording due out sometime later this year.
We are still working on those Ivy Queen and India photos too. Stay tuned.
---
24 March 2013
A trip to Louisville to see the Afro-Cuban All Stars (a great show) and some other obligations have left us a little behind on photo processing this week, but we dropped in on Afinca'o at Live Salsa Sundays at the Cubby Bear on the 17th and the Ivy Queen/India performance last night. Afinca'ois slamming these days, and the Ivy Queen/India concert had something we don't see as often as we'd like in Chicago these days - a VERY large crowd that paid to get in. We'll say more about both (including pictures) next week.
We also went to see La Chiva Gantiva at the Old Town School of Folk Music as a civilian (no camera, no note pad). This group lives in Brussels, Belgium, but the core is Colombians. It puts on a manic (in a good way) show, and in some ways, it's almost a Colombian cousin of Cuba'sInteractivo. Here's a taste.....
See our Calendar of Events for what's on in live entertainment this week.
---
17 March 2013
THIS WEEK: Ivy Queen and India at the Congress Theatre, Saturday, March 23, 8:00pm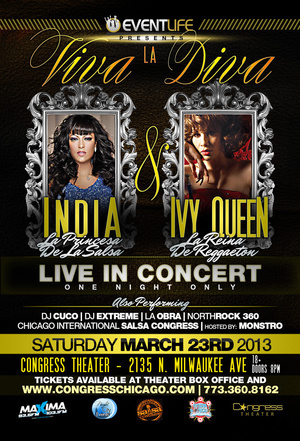 We're told that this is something of a mixed bag with India doing Salsa and Ivy Queen doing Reggaeton. For those of you who love both, this could be Diva Paradise. For those with issues, it's worth remembering that back in the 70s, live Salsa sets frequently saw DJs playing Salsoul or even - gasp - Disco during the break, and somehow we all got along. This writer, who does listen to actual Reggae and Ska, doubts that he will ever personally warm up to Reggaeton, but if this kind of combination helps expose more young people to Salsa in a setting that they are comfortable with, then it's all good in his opinion. Even more important, Chicago could use a few larger venues for Salsa, Latin Jazz, Timba etc. The Congress isn't Carnegie Hall, but if it can do these types of shows successfully, it will be a welcome addition to a scene that needs more large venues servicing the music. For tickets and more information, see the Chicago Theatre's page for the event.
Speaking of getting along, Part 3 of our series about the Chicago International Salsa Congress is now in our Sin Clave No Hay Na' blog, and it also links to a gallery with a lot of pictures of the competition/demonstration dancers AND has some sound clips to help introduce Salseros to more accessible samples of Timba music. Come for the pictures, stay for the audio clips and text.
---
10 March 2013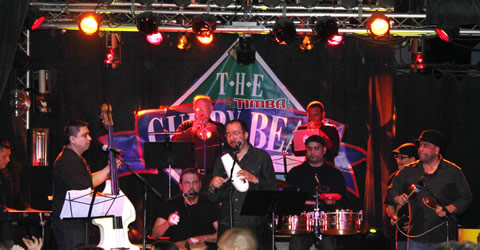 Chicago has a new Salsa Band - La Nueva Corporación. We checked them out a week ago, and you can read about it here.
Check our Calendar of Events page for this week's doings, there are several to choose from.
---
3 March 2013
This is a busy month, and we mean that in a good way. Check out the Events and Reviews section and you'll see what we mean (we aren't even finished filling in the blanks yet either.)
Something of interest tonight (March 3) is the appearance of Jose Porcayo's new band La Nueva Corporacion at the Cubby Bear (Live Salsa Sundays) at 9 and 11 pm. We haven't heard this group yet ourselves, but Jose also plays bass in some other excellent bands, and we're looking forward to seeing what he does under his own flag.
Later this week, on Wednesday, March 6, Poncho Sanchez is performing at SPACE in Evanston at 7:30 PM. Poncho plays a danceable form of Latin Jazz and is a great party band.
Also, check out our Sin Clave blog for the newest chapter of our series about the Chicago International Salsa Congress and some reviews of some recent CD releases.
21 February 2013
We're going to take a little break from our regular feature here until the beginning of March. But check out our Sin Clave No Hay Na blog along with rest of the website.
---
14 February 2013
TODAY;
Happy Valentine's Day! Today also starts the Chicago International Salsa Congress, which you canread more about here...
We will be having some special coverage during the next few days.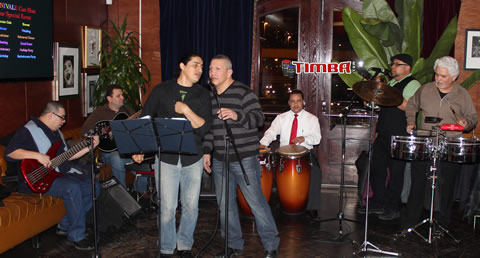 Meanwhile, back at the ranch, we dropped in on Mateo y Los Bachateros on the way home. In addition to the merengue and bachata we expected to hear, they did a pretty nice Vallenato-style Cumbia as well. While we were there, we learned a little about the Salsa scene in Indiana (yes, there are Salsa fans there too), and we'll be writing more about that in the weeks to come.
---
10 February 2013
THIS WEEK: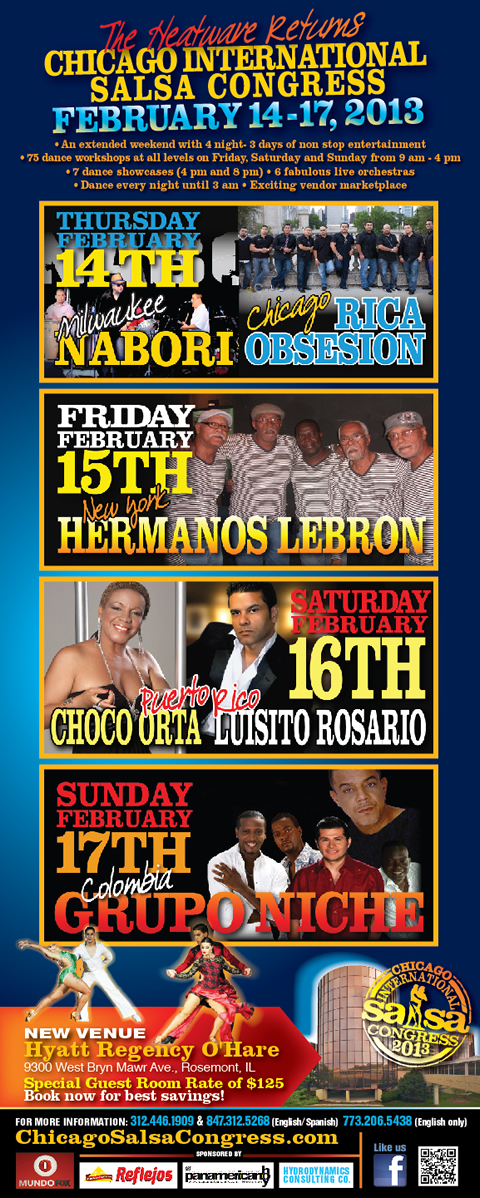 This week is the 12th Annual Chicago International Salsa Congress, an event with multiple days of dance instruction, workshops, demonstrations, competition daneing and social dancing with DJs and live bands including area favorites Nabori & Rica Obsesion, Hermanos Lebron, Choco Orta with Luisito Rosario and Grupo Niche, which closes the Congress. It's worth mentioning that in addition to the Salsa dance workshops that you would normally expect at this type of thing, the schedule also includes modules for Rueda/Casino, Latin Jazz dancing, Chicago House, West African dancing and Brasilian Samba. No Cuban bands this year (and this always seems to fall on the same week as San Francisco's festival every year), but there is some quality Salsa Dura on the bill, especially with the closing act Grupo Niche. The workshops offer a little of something for everyone and are worth a look for that reason alone (maybe this is the year you try Samba or West African dancing for example)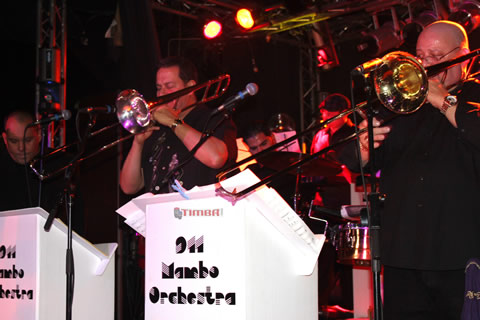 Last Sunday, we dropped in on Angel Melendez at Live Salsa Sundays at the Cubby Bear, where a reasonable crowd turned out in spite of the Super Bowl. Tonight's offering there is Joe Rendon's Salsa con Soul
---
3 February 2013
Papo Santiago Invades, Occupies Mexican Restaurant
Reviewer bites tongue during parts of performance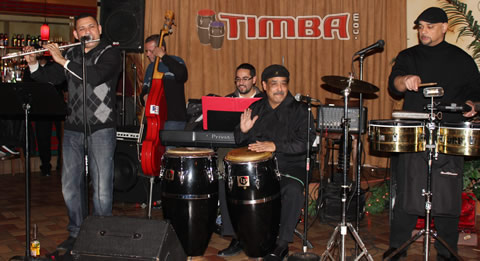 OK, we confess, technically Papo Santiago was invited here; he has started a new Thursday night set with his smaller, more Jazz-oriented (it does play some Salsa as well) combo at Lazo's Tacoson Western Avenue (See our Events and Reviews section for details about the listings), and the reason we were biting our tongue was that we ordered the lengua for dinner. Kudos to Lazo's Tacos for joining the ranks of Chicago restaurants offering this music live, and all the best toPapo and the gang on their new regular Thursday night set.
Part 2 of Jorge Emmanuelli Náter Interview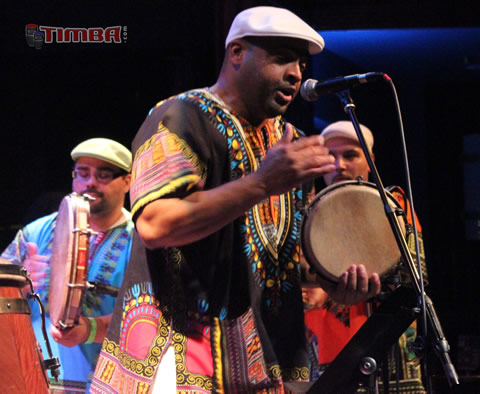 Last week, we posted Part I of our interview with Jorge Emmanuelli Náter; in Part 2, Jorge talks with us about the experimental ensemble CAPRE and his future aspirations for the music and a forthcoming book..
CLICK HERE FOR PART 2 OF AUDIO INTERVIEW (APPROX 13 MINUTES)
Also of Note:
We haven't heard them personally in years, but Willie Gomez con Cache, who have been around for quite a while, are going to perform a set at the Alhambra Palace on Tuesday, February 5 at 10:30pm. AND, see last week's listing about the upcoming Chicago International Salsa Congress, which is coming in a couple of weeks.
---
27 January 2013
If you are wandering about CD/record stores, some clubs, the Old Town School of Folk Music or similar places, keep an eye out for the current edition of World Percussion & Rhythm Magazine, a very nice freebie published twice a year in Chicago. The current edition includes nice articles aboutSepteto Nacional Ignacio Pineiro and Jorge Emmanuelli Nater among other things.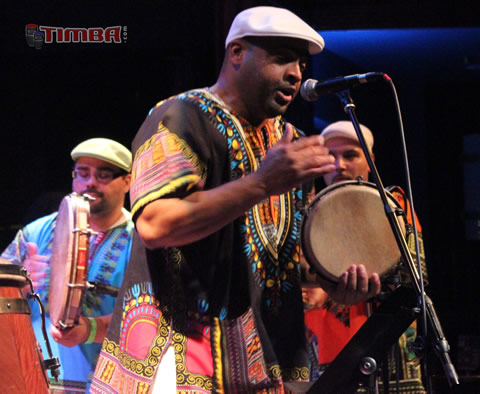 Speaking of Jorge Emmanuelli Náter, he welcomed us into his home late last year, and we had a long recorded conversation about the music of Puerto Rico in general and his current projects in particular. We covered a number of subjects during that discussion, and we think that you will find this interesting.
Click here for Part I of 2012 audio interivew (mp3 format, approx. 26 minutes)
We'll post Part 2, which talks more about CAPRE, next week.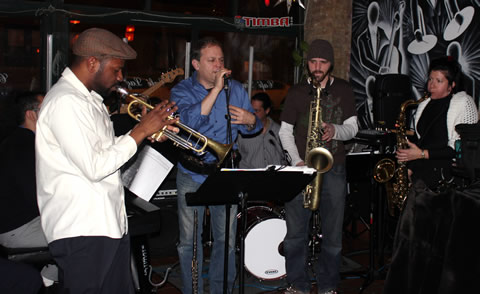 We stopped into Cafe Laguardia last week, where Grupo Cha Cha had a jam session going with Lise & company along with some guest musicians who dropped by. We also did Rob Ryndak's CD release party; if his live band turns up here again soon, it's worth checking out. His CD, A Wonderful Thing, will also be available soon in the usual on-line outlets.
Tonight (Sunday, Jan 27), Afinca'o will be at the Cubby Bear. They are another Chicago band with a CD expected to be released later this year, and they have a video single out as well.....
---
20 January 2013
We haven't written much about this group before, but Crosswind, which usually plays various venues and events on the south side, has some vary talented musicians, plays straight ahead as well as Latin Jazz, and at their best they are quite good. They are about to release a new CD,Forecast, and are having a release party at the ETA Theatre, 7558 S. Chicago Av, on Wednesday, January 23 from 7-10pm. (cover $10 in advance). For more information about the group, see their website at Crosswindjazz.net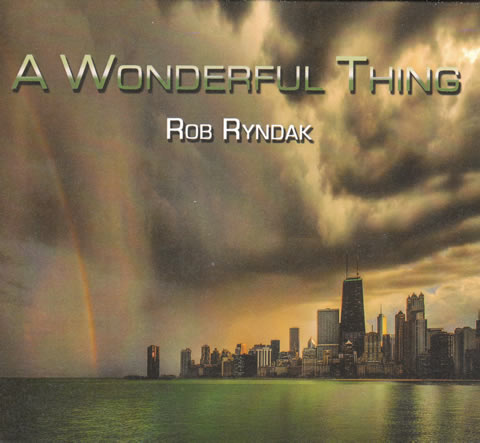 Also, the CD release party for Rob Rydak's A Wonderful Thing, which we reviewed in December, is taking place Saturday, January 26 at 6:30pm at the Pianoforte Salon, 410 S. Michigan Av, Studio 825, Chicago. For more information and to purchase tickets,
see http://www.pianofortefoundation.org/concert/Ryndak
You can read our review of the CD here.
REMINDER: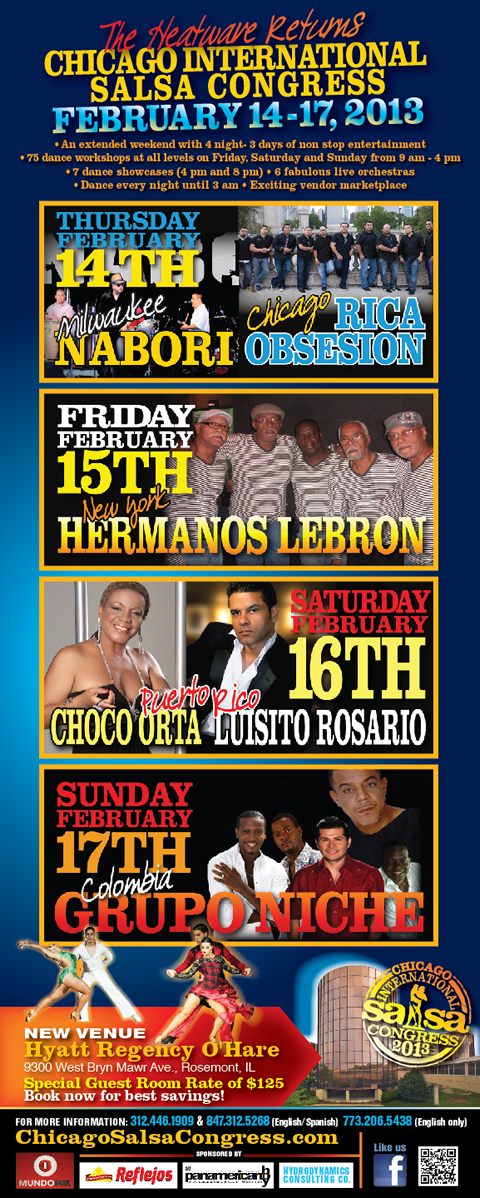 ---
13 January 2013
Check out our Report From Chicago main page for this week's Anissa Gathers (Celia: The Musical) performance at the Alhambra. We dropped in briefly on a couple of bands this last week: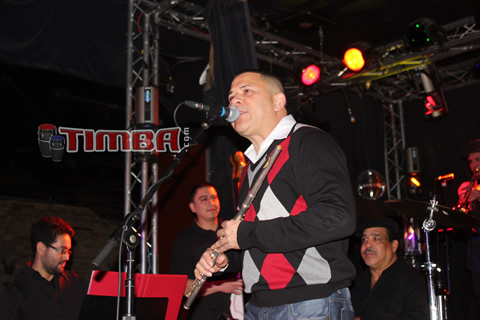 Papo Santiago and Infraverde were at the Cubby Bear (Live Salsa Sundays). Papo has been getting around lately including a segment on Univision TV.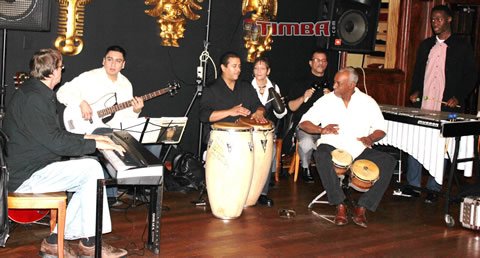 We also dropped in on Checkmate, a vibraphone-based Latin jazz band, at Las Tablas. Sounded good, but the leader, Carlos Garcia, was out with the flu, so writing about it just now might be a little like writing about Check. Stay tuned for a full writeup in the near future after their next gig (hopefully). And get well, Carlos.
Coming in Feburary:



As always, there will be several days of demonstration dancing, lessons, social dancing, and an impressive roster of both local and international bands (including the closer, Grupo Niche.) For more information, see their website at
http://www.chicagosalsacongress.com


---
6 January 2013
Once again, Happy New Year / ¡Feliz Año Nuevo! To start off the new year, we are going to share our first official taste of Angel Melendez's bands with his Tributo Lavoe. You can read all about it here as well as a little about the history here. This band had the crowd hopping. Tonight (Sunday, December 6), Papo Santiago is up at the same place (Cubby Bear). Check out our Calendar page for more about January's events.
---
viernes, 10 mayo 2013, 09:31 am