Indice - Table of contents
New Stuff
[hide]
Photos of the Day
[hide]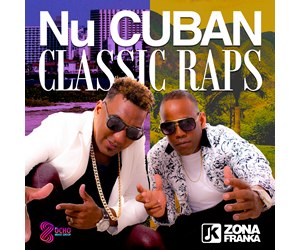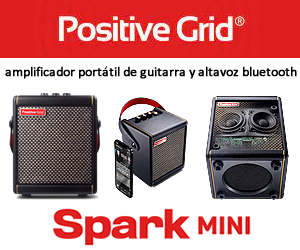 RFC Blog Archive - RFC Jan-Feb 2012
26 February 2012:
Check our Nuestros Primos Musicales page for the successful opening of the new Live Salsa Wednesdays night at The Abbey and our Events and Reviews page for what's happening around town.
This Week: Chico y Rita (See our February 19 entry) is still playing through Thursday, March 1. Seriously, if you haven't seen this yet, you should.
Early Warnings :
1. David Calzado y su Charanga Habanera is returning to the Coconut Beach Nightclub in Louisville KY (see our Calendar of Events and Venue Key) on Friday, March 30th. Louisville is approximately a 5-7 hour drive depending upon your starting point in the Chicago area and traffic. The venue is at a new location. This band has being doing both Reggaeton and Timba in recent times, and hopefully they'll bring enough Timba material to this set to justify the drive for hard-core Timba enthusiasts. The Kentuckians have had a few misfortunes with some other bands in the past, but CH did actually perform there last year. Here's a 2011 video of La Suerte: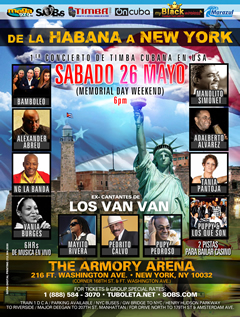 2. De La Habana A New York (Timba Mega Concert) , The Armory Arena, NYC, Saturday, May 26th. Yes, New York is not exactly in the neighborhood, but we would be negligent if we failed to bring this to your attention. Unless somebody finds a way to top it later this year (which we doubt), this will be the climactic Timba event in the US for 2012. Featured groups include Alexander Abreu, Bamboleo, NG La Banda, Pupi y Los Que Son Son and many others. Very highly recommended if you can handle the travel. Timba.com is an official website for the event (see the link above).
Papo Santiago Update: We reviewed Infraverde's debut CD, Infraverde, a few months ago. It has been in the stores for a while but is now also available on CD Baby.
---
19 February 2012:
New Feature : We are pleased to unveil our new expanded, consolidated, interactive Calendar of Events for the Chicago region. You'll find this on our Events and Reviews page. This is where we will now list who is playing where and when, and we will be continuing to expand this coverage in the weeks to come.
This Week: See our new Nuestro Primos Musicales section for new reviews of CALJE, Chevere and Mateo y los Bachateros. Two items of special interest for this week: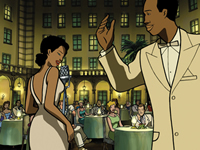 The film Chico y Rita will be playing at the Gene Siskel Film Center starting Friday, February 24 and running through Thursday, March 1. We saw this Oscar-nominated film at the Chicago International Film Festival last year, and it is a must-see. It's an animated period piece about the Afrocuban jazz scenes in Havana and New York in the late 40s as well as a love story between a singer and a pianist. Bebo Valdes , some members of Anacaona and Pedrito Martinez, who contributed to the soundtrack, are just three of the many reasons to go see this film.
Also, 4 Fantastic Events , Angelo Prieto's operation that does combined live/DJ events in the metro area, is opening a new event at The Abbey on Wednesday that will feature live Salsa bands every week. See their website for complete details. The opening night band will be Salsa con Soul.
---
12 February 2012:
A great week to be in Chicago -- there is just a massive number of great events, reviews and Event Alerts this week for both dance music and Latin Jazz. See our new section, Nuestros Primos Musicales , for complete details.
---
5 February 2012:
See our new section, Nuestros Primos Musicales , for an expanded listing of many of the live Salsa and Latin Jazz performances in the area this week as well as some pictures from sets byCarpacho 's and Eliezer 's groups. This evening, February 5, Papo Santiago will have an interview on Ray Rubio 's show, which is broadcast on Cable Channel 25 at 7pm.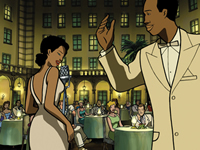 Back in October, we saw (and wrote about) the movieChico y Rita (read the original capsule review here). At the time, we neglected to mention that Cuba's all-female band Anacaona also contributed to the soundtrack. We are now pleased to share the news that this movie was just nominated for a Best Animated Feature Oscar.



Coming Soon:
1. The Chicago International Salsa Congress , February 16-19. A nice international mix of bands including our own area's Nabori , Colombia's Fruko and others. See their website for for details.
2. CALJE big band at McAnich Arts Center, College of DuPage in Glen Ellyn, Friday, February 17th, 8PM Darwin Noguera will be back to join this stellar big band in a tribute to Dizzy Gillespie that includes some new compositions. This is one of the most musically intelligent Latin Jazz big bands today, and its all too rare performances are always worth catching.
---
29 January 2012 This Week: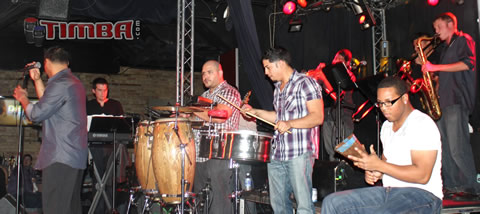 We took in the Afinca'o set at the Cubby Bear last Sunday, and it was well worth going. (For photos, click here. ) This is one of the finest Salsa Dura bands in the area today, its repertoire includes a little Cuban material (they played a Salsa cover of Reyes 73's Baila Que Baila Mi Sonfor example), and they are very close to releasing a new CD which should be worth getting. This Friday, February 3, they are playing at Rumba beginning at 7:30 pm.
For other bands playing this week, see our new page, Nuestros Primos Musicales , which will begin carrying expanded listings of Salsa, Latin Jazz and other items that are worth mentioning but don't quite fit on this page.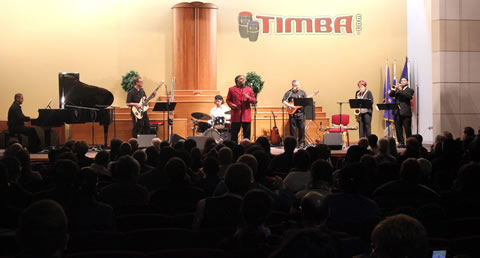 Friday, we took in Angel D'Cuba's group in a special concert at SGI-USA. For some photos of the concert, click here . Angel's full group, which was in action that night, contains some of the top musicians in the area, and although both the trio and quintet units are worth catching as well (after all, Angel, who sang with Mezcla years ago, is one of the best Cuban vocalists in the United States), the full group, which adds Victor Garcia, one of Chicago's top utility infielders for Salsa and Latin Jazz trumpet/flugelhorn, and Gretchen Marsh, an excellent saxophonist/flautist who recently joined the band, helps raise the music to another level. They will be releasing their new CD at a release party at the Old Town School Of Folk Music on March 28. Suggested donation for admission is only $5.00, so mark your calendars now.
---
22 January 2012 This Week:
No Cuban bands this week, but lots of local/area group action. Some of the more notable items are: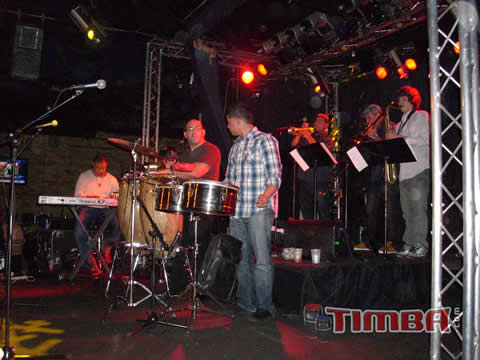 Sunday, 22 January, Afinca'o, which is putting the finishing touches on its debut CD, will be appearing at the Cubby Bear on Addison at 9pm. Afinca'o plays some of the area's best Salsa Dura.
Friday, 27 January, Angel D'Cuba 's group is doing a set from 7-8 pm as part of the Peace Concert Series at SGI-USA, 1455 S. Wabash, Chicago. Free admission. Later that night,Carpacho is playig at Las Tablas Restaurant, 4920 W. Irving Park, Chicago, from 11pm-1am.

Saturday, 28 January, Nabori is playing at the Wherehouse in Milwaukee starting at 8pm. We caught Maraca there last year. It's a nice venue.
Looking Ahead: The Chicago International Salsa Congress , which runs from Feb16-19, 2012, has posted its band list. There are six on the bill for the weekend: the SalsaChicago Mambo All-Stars, Nabori, Fruko from Colombia, Cuco Valoy from the Dominican Republic, Yoko from Japan and Tito Nieves from Puerto Rico.
Early Warning: Rodirigo y Gabriela and C.U.B.A. will be playing at the Chicago Theatre in support of their new CD Area 52 on 12 April. See Mike Lazarus' blog for January 21, Pa' Ponerte en Talla for more about this project.
Finally, a taste of Papo Santiago 's recent CD Infraverde was given a little play on Ray Rubio's show last Saturday on WSBC (1240AM). Ray's shows runs from 2-4pm on Saturday; kudos to him for playing a local artist on the air. Hopefully Papo will continue to get more radio play.
---
15 January 2012 This Week:
Relatively quiet this month in the windy city. Salsa Con Soul, which we recently reviewed, is playing at the Cubby Bear tonight (January 15). On Sunday, January 22, Afinca'o will be playing there. Rumba has Carpacho and his Super Combo on Friday January 20 and Mambo 7 on Saturday, January 21. Also on the 21st, Carpacho is at Las Tablas on Irving Park.
Last week, we caught Angel D'Cuba' s trio for the first time at Cafe Laguardia ; we usually catch his larger groups. The trio was quite good; Angel plays percussion as well as sing (in the larger group, he usually isn't on percussion), and in additional to playing, he used some vocal percussion effects similar to what you might hear with Grupo Vocal Sampling for example. By the way, the larger group is putting their finishing touches on a CD which is scheduled to be released in March.
Sunday, 11 March 2012, 01:14 AM