RFC Blog Archive - RFC May-June 2012
24 June 2012:
EVENT ALERT RICARDO LEMVO & MAKINA LOCA at the Mayne Stage
Friday, 29 June 2012, 9:00 PM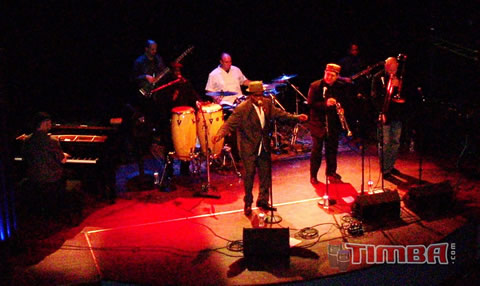 Ricardo at the Mayne Stage in 2011
Ricardo Lemvo and his band tore the roof off the Mayne Stage during their concert here last year (you can read our review of that here) and they are back to do it again. This is one of the best bands for experiencing the musical connections between Cuba and Africa (especially the Congo) and how it comes together as Afro-Cuban music on both sides of the ocean, and this concert is a don't-miss event.
Meanwhile, Chicago has so many DJ-only events during each week that we usually don't give them separate mention (although we do list their directories in our Dance Events and Resourcessection), but this Tuesday at the Alhambra, Angelo Prieto's 4 Fantastic Events group has advertised that they will be adding extra helping of Timba to the mix.
Finally, those of you who are interested in how the NY Mega Timba Concert came out should check out my Sin Clave No Hay Na' blog. I was there, and I'm in the middle of a 4-parter on the subject. Also, Salsa and Latin Jazz fans should check out some items that I have posted in theNuestros Primos Musicales section.
---
18 June 2012:
Well, we're a little late this week because we were in New York for the Mega Timba concert.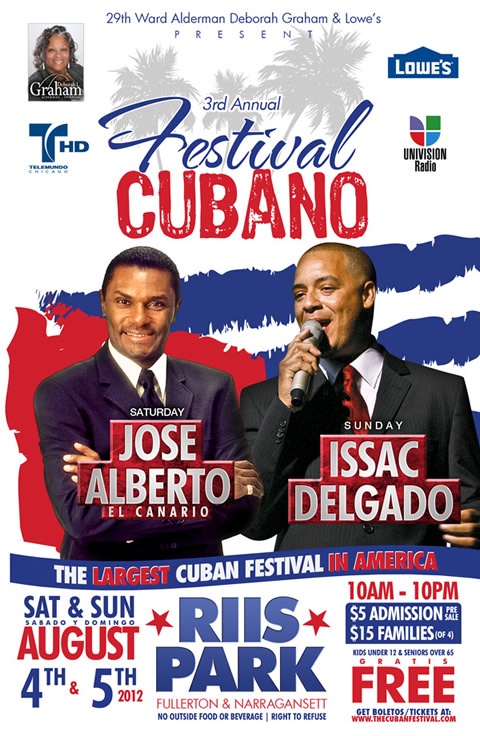 It actually happened - sort of. You'll be able to read the full story in my Sin Clave No Hat Na' blog in a few days, and we already have a photo gallery posted. See our Events and Reviews page for what's on in the area this week, but the really big story is that this year'sFestival Cubano( August 4-5 in Riis Park) released the headliners for its entertainment lineup, and the artists includeIsaac Delgado. Kudos to Festival Cubano for making this move. The rest of the announced lineup looks pretty good too, you can see it on their website here. In these times when even the City of Chicago has bailed out of doing a lot of the world music freebies of the past, the nominal $5.00 admission (for adults - kids under 12 and seniors over 65 are free; there's even a $15 cap for families of four) is an extreme bargain. (If you disagree, do two things: look up the word tacaño in a good Spanish dictionary and then watch Palo!s video Camina con los codos). Another improvement this year is that the local acts participating in the Festival are also given better coverage in the posted entertainment lineup on the website. Keep up the good work, FC - we really look forward to August!
---
10 June 2012:
This week, most of the heavy musical action in town is related to the Fiestas Puertorriquenas; see our Events and Reviews page for details. Some highlights during the next several days arePapo Santiago at the Alhambra on Tuesday, multiple opportunities to catch Nabori in action, and sets by Angel d'Cuba next Sunday and Monday.
---
3 June 2012: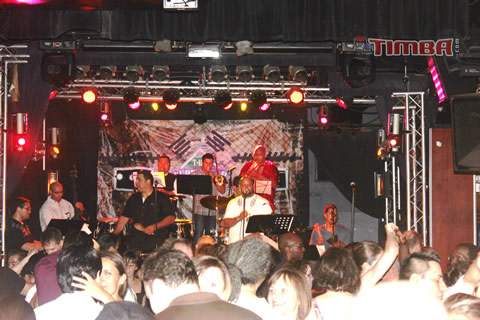 Last Sunday, local Salsa band Rica Obsesionplayed a packed Cubby Bear to celebrate the release of its new CD Llego Mi Turno. The CD release party was a blast, and the CD is a worthwhile buy for Salsa fans. You can read about the CD release party and see photoshere, and you can read our review of the new CD here. The CD is available from Amazon.com or directly from the band; our review has the links to these sites. Chicago is experiencing a cresting wave of new output from several fine area bands, and hopefully all of this activity will help upgrade our musical reputation with the rest of the country.
---
27 May 2012:
See the Calendar of Events in our Events and Reviews section for this week's listings and our Nuestros Primos Musicales section for more items. See also our Nuestros Primos Musicalessection for additional items.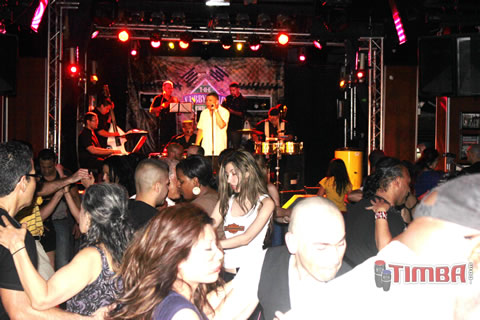 One of our rounds last week included a stop at Cubby Bear to hear Papo Santiago and Infraverde. The band is on a hot streak these days and keeping the dancers moving. If you haven't picked up their CD yet (it's been out for a few months now), you really should for two reasons: (a) it's excellent and (b) we should really try to support our local bands when they put out quality like this.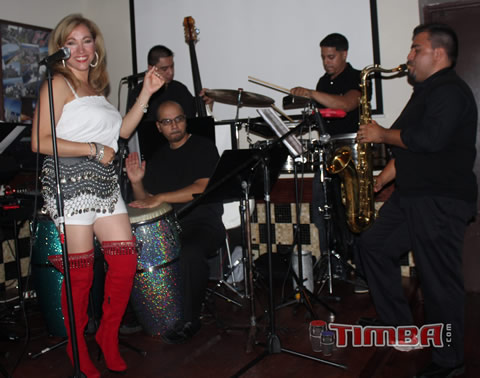 We also dropped into Siboney to check outSureya, who is in the process of wrapping up a CD of her own (including a track with a big band arrangement) that is scheduled to come out later this year. Sureya will also be performing at the Fiestas Puertorriqueñas in June.
And, w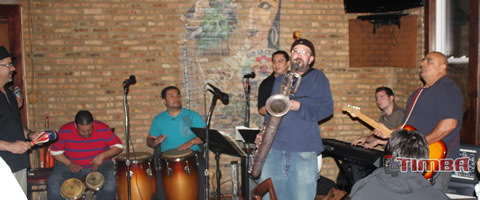 e took in a second helping of Havana at Cafe Bolero. There was a birthday party, and some extra musicians showed up. As we have mentioned before, if you are into Latin Jazz, this is a regular hit at Cafe Bolero (occasionally some interesting guest musicians also drop in) and very highly recommended.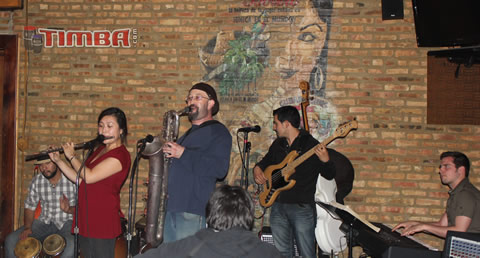 ---
SPECIAL ADVISORY RE NY MEGA TIMBA CONCERT
We received a notice that the date has been changed to June 16: See here for more information.
20 May 2012:
See the Calendar of Events in our Events and Reviews section for this week's items. A few of our best local bands are playing various places.
Our rounds during the last week included dropping in on a set by Angel d'Cuba's quintet unit at Carnivale. An excellent set, and it's worth mentioning that their new CD Heritage has been getting some radio play recently.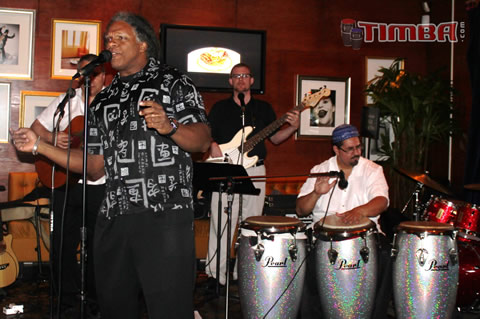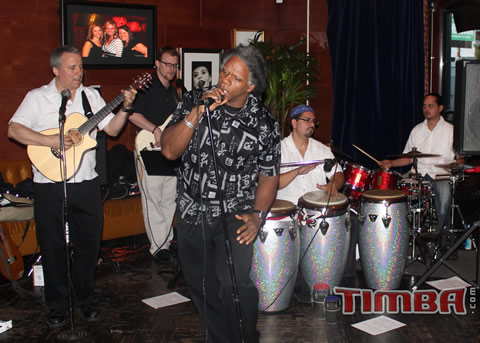 You can find Heritage at Angeldcuba.com.
Public vote on Celia Cruz for Special portrait: See our Sin Clave No Hay Na'
blog for details about a chance to vote on whether the Smithsonian Institution (National Museum of American History) should commission a special biographical portrait of Celia Cruz. Yes, she represents the music's traditions, but without those traditions, there would have been no foundation for what we have today.

---
13 May 2012:
See the Calendar of Events in our Events and Reviews section for this week's items. A few of our best local bands are playing various places.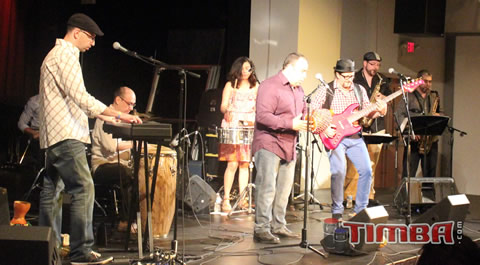 Last week, we checked out a very interesting group from Boston, Mango Blue. You can see our review and photos here.
Event Alerts:

First up is the Mega Timba concert in New York on May 26. All visas have been approved, see our De La Habana A New York page for full details. This is going to be huge.
Next, Cuban music is deeply rooted in Africa, and two of the best bands for experiencing the link are coming to Chicago soon:



1. Ricardo Lemvo & Makina Loca are coming to theMayne Stage on Friday, June 29. Born in Angola but now a Californian, Ricardo's band turns out Congolese Rumba, some smoking Afrocuban numbers and some Kizomba, which has recently been gaining popularity among dancers in Chicago. We've seen him live a few times over the years, and his concerts are a blast.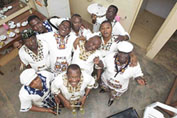 2. In addition to Nigeria and the Congo, one of the most important African roots of Cuban music is the music of Benin (called Dahomey in colonial times), and T.P. Orchestre Poly-Rythmo de Cotonou has arguably been Benin's best band for decades now. It is coming to the Mayne Stage on July 11, and this is a don't-miss. On the one hand, they are every bit as modern and funky as Irakere when they crank up the dance floor. On the other, the rhythmic links between the music of Benin and the music of Cuba will really leap out at you. (The lyrics are usually in Fon or French - Dahomey was colonized by the French - but none of that will let you stand still.)
---
6 May 2012:
This Week: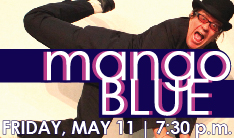 Mango Blue at Latino Arts, Milwaukee, Wisconsin, Friday, May 11 at 7:30 PM. Mango blue is led by composer, arranger, bassist and vocalist Alex Alvear and also features multiinstrumentalist Gonzalo Grau on keyboards and percussion. This group mixes Jazz, R & B and Funk with Afro-Latin music and has been making waves out East.
Sound clips from "Mango"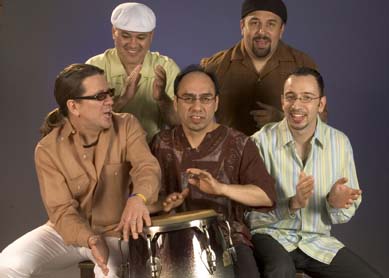 A smaller quintet unit from Mango Blue,Manguito, will be at World Music Wednesdays at the Old Town School of Folk Musicon Wednesday, May 9 at 8:30pm. Gonzalo Grau will be part of this unit, and we recommend taking in both this show (World Music Wednesdays is a $5 suggested donation) andthe Milwaukee show (A little more expensive but features the full 9-piece band).
Other News: Angel d'Cuba's great new CD Heritage is getting some rotation in Chicago-area radio now, and the CD is now available on their website at http://angeldcuba.com/buymusic.cfm Also, we will be reviewing Rica Obsesion's new CD very soon, and local favorite Sureya has been in the studio in Miami.
Yesterday (May 5), we took in the late show for the Poncho Sanchez/Terence Blanchard concert. See our review and photos here.
Finally, the Festival Cubano entertainment lineup for this August is out, and we'll be saying more about that next week. We have been advised that it includes Isaac Delgado as well as Angel d'Cuba. Should be a great festival!
---
domingo, 22 julio 2012, 02:20 am