Indice - Table of contents
New Stuff
[hide]
Photos of the Day
[hide]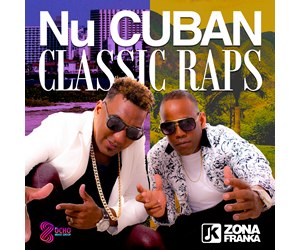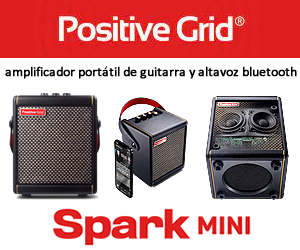 The Music of Ritmo Oriental - La Ritmo's Rhythm Section
La Ritmo's Rhythm Section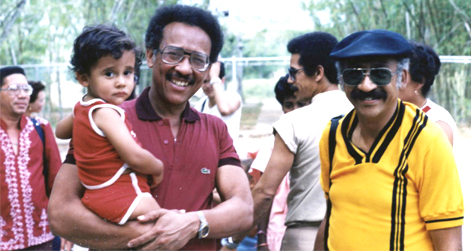 conguero Juan Claro, drummer, Daniel Díaz, güirero Enrique Lazaga
photo: Will Schultz - 1987
American musicians marvel enviously at the ability of timba bandleaders to keep well-rehearsed "monogamistic" groups together for extended periods of time, but the timba scene looks more like a circus of free agent baseball players when compared to the Cuba of the 70s and 80s. There was a bit of musical chairs in the vocal and string sections, but Ritmo Oriental's rhythm section nucleus remained completely intact throughout their phenomenal 18 year run at the top of the charts.

From the 1965 album cover, we can see that the percussion section was already in place at that point with timbalero Daniel Díaz, conguero Juan "Claro" Bravo and leader Enrique Lazaga on güiro. This wonderful trio, which probably began playing together in 1958, would stay together until death did them part with Diaz' tragic passing in the 90s.
Unlike Changuito and Irakere's drummers, Bernardo García and Enrique Pla, Daniel Díaz never used a kick drum. He employed a very unusual percussion setup with a foot pedal playing the largest bell, a snare drum, and a wide assortment of timbales, toms and bells arranged in unorthodox fashion.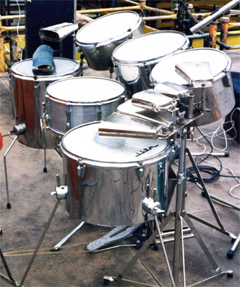 Daniel Díaz' untimely death in the 1990s prevented his playing from being properly documented on video and resulted in him receiving far too little credit for his innovations. To make matters worse his drum parts are woefully undermixed in Ritmo Oriental's studio recordings. Thus, it could be said that Daniel Díaz holds the dubious distinction of being the most tragically underappreciated member of the most tragically underappreciated band of the most tragically underappreciated era of the most tragically underappreciated country in music history. And if I sound tragically overdramatic, just keep following along with this series of articles and you'll see what I mean!

Drumset of Daniel Díaz - photos by Will Schultz - 1987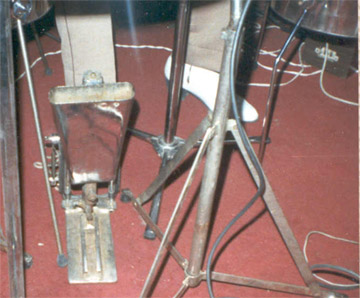 The Famous Footbell - photo by Victor Barrientos - 1986
Fate, and history, have been kinder to bandleader, songwriter and güiro player extraordinaire Enrique Lazaga, who is still healthy and active in 2007, having toured the world with Maraca and Cubanismo and being generally revered as one of the greatest güiro masters of all-time, as well as a being as being a remarkably good bandleader, songwriter, and the father of Eduardo Lazaga, the founding timbalero of Charanga Habanera and one of the most important and innovative timba percussionists. Here's a link to our two-part interview with Enrique Lazaga
Conguero Juan Claro Bravo, discussed in greater detail below, was still with the group in the early 2000 but as of 2005 had been replaced by Enrique Lazaga, Jr.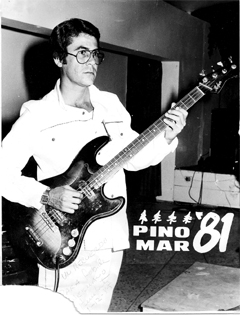 Not yet in the group for the 1965 LP was the fourth key rhythm section member, electric bassist Humberto Perera. Pablo Menéndez recalls playing with Perera in a rock band at la ENA (a top Havana conservatory) in the late 60s, so we're guessing he joined Ritmo Oriental somewhere around 1969 or 1970. Perera was often listed as the musical director and wrote many arrangements. He currently tours with the orquesta that still bears the name of Roberto Faz. We hope to interview him soon, and we're also hot on the trail of lead vocalist Juan Crespo Maza, la Ritmo's most prolific songwriter and arranger.
(photo from Rob Holland)
Tuesday, 22 March 2011, 07:31 PM