Indice - Table of contents
New Stuff
[hide]
Photos of the Day
[hide]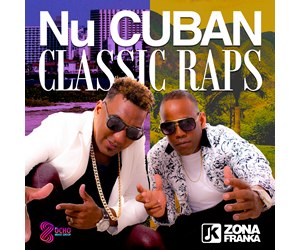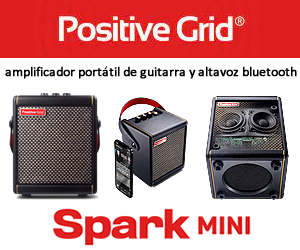 SpanishEnglishConcert reports - Motivos Martianos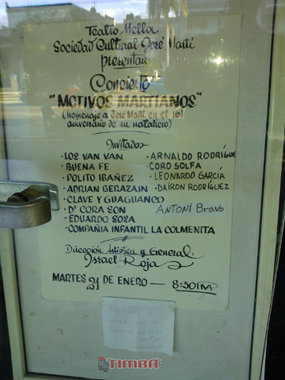 On January 21, 2014 the José Martí Cultural Society under the Artistic and General Direction of Israel Rojas, presented the show "Motivos Martianos" at Teatro Mella. Rojas is also the organizer behind the upcoming Martí tribute album where each number is either inspired by Martí or in some cases the song lyrics are based on Martís poetry.
The event was sold out, and as you can see by the poster above, it featured a cast of stars from various musical genres and even a childrens' acting company. From a timbero's perspective some of the highlights were Clave y Guaguancó and of course Los Van Van, who closed the event with the song "Dicha Grande". Other performances that particularly struck me were the accoustic offerings of trovadores Eduardo Sosa, Leonardo Garcia and Polito Ibañez. Buena Fe guitarrist Dairon Lobaina and singer Javier Milanes performed a beautiful ballad dedicated to mothers and D'CoraSon will have another hit on their hands with the piece they have written for the Martí album.
And I can't end without mentioning Buena Fe. They performed two songs. First the house lights dimmed and on the movie screen at the back of the stage they played a section from a movie about the life of José Martí. As young Martí was dragged from the courtroom crying out "Viva Cuba Libre!", the lights came up and they segued into "Todo el mundo cuenta". I don't know if it was the dramatic effect of the movie or the popularity of the song, most like a combination of the two, but the crowd roared when they heard the music and many people sang along. Buena Fe followed with a new song from the album which they recorded with Cuban-South African singer/songwriter Fi. It is based on the poem "Tengo un huésped", which apparently was written by Martí in both English and Spanish. They sang in both languages and the song is already a favorite of mine.
The day after the concert I had the opportunity to talk with Israel. We looked back at 2013 as well as what is in store for Buena Fe in 2014. The full interview is available in the Buena Fe interviews section. Below are a few of the performances from the "Motivos Martianos" event.

Clave y Guaguancó

Dairon Lobaina & Javier Milanés

Polito Ibañez

D'CoraSon

Buena Fe "Todo el mundo cuenta"
Fi & Buena Fe "Tengo un huésped"

Los Van Van closing the show with "Dicha Grande"
Tuesday, 06 January 2015, 12:42 PM