Timbera Mayor
martes, 28 febrero 2023, 07:49 am
Fiesta del Tambor 2023
Edición XX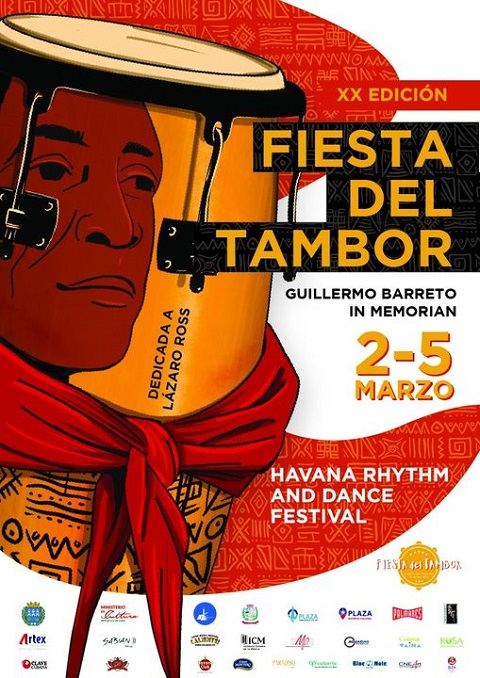 ENGLISH: The XX Edition of the Havana Rhythm and Dance Festival "GuIllermo Barreto in Memorium" is dedicated to Lázaro Ros and will include rumbas in the municipalities of Regla and Habana del Este. The festival begins this morning with master classes in rumba, folklore and casino by Jennyselt Galata and Oddebi Garcia and a master class in drums by Oscar Valdés. Today will also see the dance competion for adults and children in Casino and the qualifier for the drum competition. Tonight Compañía JJ will perform at the Patio La Guantanamera in Centro Habana.
For the full program click here. You can follow the Fiesta del Tambor at the official Facebook page.
ESPAÑOL: La XX Edición del Festival de Ritmos y Danza de La Habana "Guillermo Barreto in Memorium" está dedicada a Lázaro Ros e incluirá rumbas en los municipios de Regla y Habana del Este. El festival comienza esta mañana con clases magistrales de rumba, folklore y casino a cargo de Jennyselt Galata y Oddebi García y una clase magistral de batería de Oscar Valdés. Hoy también se realizará el concurso de baile para adultos y niños en el Casino y la clasificatoria para el concurso de tambores. Esta noche la Compañía JJ actuará en el Patio La Guantanamera de Centro Habana.
Para el programa completo haga clic aquí. Puedes seguir la Fiesta del Tambor en la página oficial de Facebook.