Sin Clave No Hay Na
viernes, 11 enero 2019, 08:28 pm
JAZZ PLAZA 2019 PROGRAM
PROGRAMACIÓN JAZZ PLAZA 2019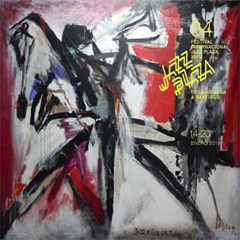 ENGLISH: With thanks to the Instituto Cubano de la Música, here are the schedules for Jazz Plaza 2019, which takes place both in Havana and Santiago this year. In addition to the performances by Gastón Joya and Alejandro Falcón that we mentioned earlier, we also want to bring to your attention the performances of Alberto Lescay and Formas, whose new recording Escape won the Opera Prima (Best New Artist) category in Cubadisco 2018:
January 14, 6PM: Plaza de Marte, Santiago de Cuba
January 15, 11PM: Club Iris, santiago de Cuba
January 18, 6PM: Bertolt Brecht, La Habana, Cuba.

For the complete schedule of Performances, click here
For the complete schedule of the Academic program in Spanish, click here.
ESPAÑOL: Gracias al Instituto Cubano de la Música, aquí está la programación de Jazz Plaza 2019, que tendrá lugar tanto econciertos de Gastón Joya y Alejandro Falcón que mencionamos anteriormente, también queremos dirigir su atención a los conciertos de Alberto Lescay y Formas, cuya nueva grabación Escape ganó la categoría Opera Prima (Mejor Nuevo Artista) en Cubadisco 2018:
14 de enero, 6PM , Plaza de Marte, Santiago de Cuba
15 de enero, 11PM: Iris Jazz Club, Santiago de Cuba
18 de enero, 6PM: Bertolt Brecht, La Habana, Cuba.

Para ver la programación de conciertos, haga clic aquí
Para ver la programación del Coloquio, haga clic aquí