Michelle White - Timbera Archives - 2008
Wednesday January 30 2008 - Orquesta Revé Wins Best CD 2007
The French are way ahead of the rest of us. Our friends at FiestaCubana.net have already had their on-line "Best of 2007" vote. I don't know all of the results, but Elito Revé y Su Charangón have taken home Best CD for Fresquecito. This is a CD which we at Timba.com recommend highly, and I will not be surprised if this is only the first of many awards. The photos below are ©Alain Somvang APSARA Images pour AHINAMA.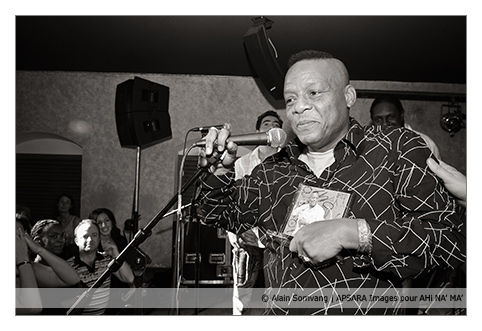 Elito happily receives the award for Best CD 2007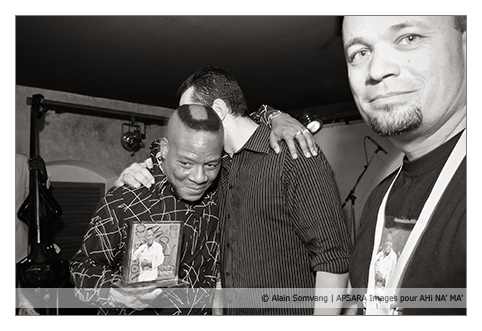 Elito con Timbalero y Jack el Calvo
The complete results of the Best CD Category at Fiesta Cubana
(provided by Jack el Calvo)
1)"FRESQUECITO" ELIO REVE JR
2)"LIVE DESDE LA CASA DE LA MUSICA" MAIKEL BLANCO
3)"EN PRIMERA PLANA" ISSAC DELGADO
4)"EL REPARTERO DE LA HABANA" SAMA
5)"MI VERDAD" BAMBOLEO
6)"EL REY DE LOS CHARANGUEROS" CHARANGA HABANERA
Tuesday January 29 2008 - Interview with Aisar Hernández Segundo
Due to my latest computer problems it is taking an unusually long time to compile the video from the interview with Aisar, which in itself was an unusually long interview. So I've decided to release it in installments. Tonight I am publishing Part 1 which basically covers his childhood, music studies and his musical history up to joining Orquesta Revé and working on the Fresquecito CD. I found his life story to be both interesting and surprising, so click here to get to know the musical director of La Revé.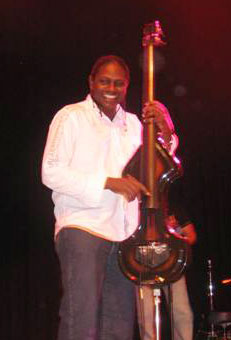 Aisar Hernández Segundo
Stay tuned for the next part which will be a discussion of each song on the new CD.
Saturday January 26 2008 - Manolito y Su Trabuco Update
Without question the biggest news item while I was in Cuba was the departure of El Indio from El Trabuco and the entry of El Noro. I am not going to speculate here as to why El Indio left. Instead I am going to update you on what is happening with the Trabuco at the moment.
Manolito has just signed an contract with Timba y Son S.L. in Spain. Timba y Son is now the exclusive European Manager for the Trabuco. They are organizing a European tour for July-August 2008. When we get the concert dates we will post them.
There is no doubt that 2008 will be a great year for timba CDs. The Trabuco will release their new CD at the end of February or beginning of March. I don't know too much about the new CD. No doubt it will feature Control, Loco por tus besos and Muévete. Manolito also said it will contain a song written by Cucurucho, author of one of my favorite new Los Van Van songs, Me mantengo.
Ok, alright! Quit nagging me! I am not ignoring the question of El Indio's dearture, I really just don't know what prompted it. What I do know is that El Indio will be working with Juan De Marcos and the Afro-Cuban All-Stars, but I'm sure he is fielding more offers than he has time for.
On the other hand, I just happened to be in Las Tunas with Salsa Mayor when Manolito called El Noro, so let me tell you the story from that side, including a report from El Noro's second concert with Manolito at Café Cantante December 27, 2007.
Thursday January 24 2008 - Azúcar Negra Update
Leonel Limonta & Azúcar Negra will be touring again this summer in July and August. They have several new songs that have been released as radio demos in Cuba and are preparing to record a new CD this spring. While I was in Cuba, Limonta gave me a promo containing five songs, including some surprises. Fans are already familiar with the merengue Vitamina C, which was well received during the 2007 tour. In addition, the promo contains a timbaton No vale la pena enamorarse. Musically, this song is an evolution of the style used in Mi única vida but it's got just that je ne sais quoi that makes it a little hotter. I expect it to be popular. The biggest surprise for me was the bachata Pregúntale a ella. This is classic bachata in the spirit of Juan Luis Guerra, not modern pop-bachata in manner of Aventura.
The promo also contains two timbas: El estres, which is getting a lot of radio play in Cuba, and Ya llegué. Ailyn, who has changed her hair color to chestnut, sings lead on El estres. It's about a boyfriend who is stressing her out. Ya llegué is about bringing good music to the fans. I happened to stumble across an Azúcar Negra concert in one of the squares in Havana one night. The fans already knew the lyrics and were singing along with the new songs. The new CD should be released in the fall.
Preliminary Tour Plans
In addition to Azúcar Negra, here are some of the preliminary tour schedules for summer 2008.
| | |
| --- | --- |
| Haila | March 11-30 & July 18 - August 10 |
| Paulo FG | June 3 - July 13 |
| Manolín | June 18 - July 6 |
| Azúcar Negra | June 30 - August 31 |
| Salsa Mayor | July 1 - 31 |
| Leoni Torres | July 1 - 20 |
Wednesday January 23 2008 -Timba in Stockholm
I am fortunate that I won't have to suffer too much from Timba Withdrawal after my trip to Havana. 2008 is off to a very good start here in Europe. We have Orquesta Revé on tour now, Eddy-K and Gente D'Zona are just starting their tour, Bamboleo in February, Los Van Van in February and March and Adalberto Álvarez in April. Of course there is also the Cubamemucho congress in Munich March 7-9 featuring Los Van Van and La Charanga Habanera, which begs the question: when do Charanga Habanera begin their tour?
And here in Stockholm in the next month alone we have:
February 2 Cuban All-Stars
February 22 Calixto Oviedo
February 27 Los Van Van
February 29 Calle Real
Tuesday January 22 2008 - Upcoming Revé Video Clip
When they return from the Winter Tour, Orquesta Revé plans to film the first video from the Fresquesito CD, not counting Fresquesito.com itself, which was released as a video clip with the 50th Anniversary CD, as all Timba Geeks doubtless already know.
Rumor has it that the video will be for El teléfono. Lázaro Maya "El Bello" sings lead on this song, which is a lament about the unexpected problems caused by owning a cell phone. Not only does it cost a fortune to keep it cargado with credit, but the fanaticas are calling at all hours of the day and night and his esposa's bloodpressure is skyrocketing.
Now before anyone gets any ideas, let me say that when I interviewed Aisar Hernández Segundo, bassist and musical director of Orquesta Revé and author of this song, I specifically asked if it was based on real life experiences and he said it was not. Well, not exactly. In fact he wrote it several years ago when he was still with Orquesta Maravilla de Florida, but they never used it. When Lázaro joined the band Aisar dusted it off, and updated it for the Charangón. If you want to hear the rest of the story behind the origins of this song, stay tuned for the full Aisar interview. I expect to have it finished by the weekend.
In the meantime, if you haven't seen it yet, you can check out my own video clip of El teléfono performed live in Copenhagen August 2007. "Y no te me pongas bravita titi".
Monday January 21 2008 - Indochino's Website
This is actually old news, but it happened while I was in Havana so I haven't mentioned it yet. Photographer Indochino has opened his own website by popular request. Right now he has some great picture of Elito Revé y Su Charangón from the tour in February 2007 as well as La Charanga Habanera when Noel was still with them. Click here to check it out.
Sunday January 20 2008 - Entrevista con Elito Revé
I was able to see Orquesta Revé four times during my trip: twice at the Changüí Festival and twice in Havana. Their latest CD, Fresquecito, has received aclaim from all reviewers and is Highly Recommended.
Despite his busy schedule preparing for the Winter Tour, Elito took time to invite Timba.com into his home to talk about the new CD and also to answer some of Kevin's historical questions about the band. Click here to watch the interview in WMV format (in Spanish).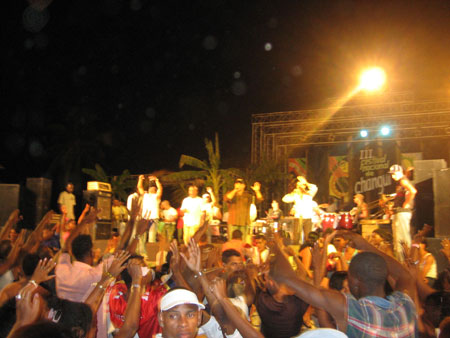 Orquesta Revé en Guantánamo para el Festival Internacional del Changüí
Stay tuned for a long interview with Aisar Hernández, bassist and musical director of Orquesta Revé and author/arranger of most of the songs on the new CD.
Friday January 18 2008 - Salsa Mayor Update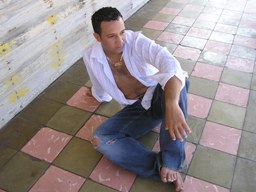 Maykel Blanco cumple 27 años el lunes
On Monday, January 21, Maykel Blanco, director of Salsa Mayor, turns 27. Right about now he and Salsa Mayor are celebrating his birthday at their regular Friday matinee at Casa De La Música Galiano, but today's concert will be anything but "regular". Manolito y su Trabuco will participate and there will also be a descarga with Lazarito Valdés and Tania Pantoja and other guests. I join DJ Melao in wishing Maykel a happy birthday, and for the fans my gift is an update on what is happening with the band these days.
Hmm...afterthought. Should be interesting to have the Trabuco performing with Salsa Mayor since El Noro is now with the Trabuco.
Salsa Mayor Concerts
In addition to their weekly matinee, the band is performing in various cities around the country. Last night they had a concert in Sancti Spiritus and tomorrow they are off to el campo again. The next European tour is already set to start on July 15th through mid-August. And in the meantime there are other tours in the works, but until they are confirmed I will say no more...
The New Mayores
By now you should be aware that none of the three singers who were on the first two European tours is still with the band. The new singers are Pavel "La Figura", Pepetín and unfortunately I still don't have the name of the third singer, but I know he came from la Charanga Forever.
Pavel is not really new to Salsa Mayor. Pavel and El Noro were the two singers on Live, Desde la Casa de la Música. So if you want to know what Pavel sounds like, pull out the CD and listen to Quitandome lo malo, Cambia tu faceta and Control. After Salsa Mayor he was with Chispa y los Complices for a while before rejoining Los Mayores.
I had to leave the day before the first concert with the new singer line-up, but I did see them in rehearsal a couple of times and I like the voices of the new singers. Both Pavel and Pepetín have a lot of fun making up choreography. I heard that their first concert went well, so it sounds like the new singers have settled in.
And last but not least there is also a new trombonista, but I don't know his name either. Sorry. I tried to get him to give me a bunch of information but he never got around to it, so he shall remain nameless for now.
The rest of the group remains the same as during the last tour: Polledo on first trombone, Ahmed and Raydel on trumpet, Orley on bass, Maykel on piano, Richard on keyboard, Osvaldo on güiro, Jaime on congas and Amaury on drums.
The New Salsa Mayor CD - All Killer, No Filler
As all devoted Timba Geeks know by now, Salsa Mayor will begin recording their next studio album in just a few weeks. It will contain 12 tracks. I can list 8 of the songs already: Anda pégate (possibly the title track), Ella dice, Control, La masa, Marisela, Si a la niña le gusta repite and Corre papá. Maykel said that they will also include a traditional number on the album.
Those of you who haven't been in Havana lately have at least heard Control and La masa from the highly recommended Live, Desde la Casa de la Música CD. Fans who attended the concerts in Europe have also seen Anda pégate and Ella dice. If you don't know these songs you'd better check out the Salsa Mayor video page.
I have been fortunate enough to see all of the songs listed above performed live. As for the three newest estrenos, I like them all. The arrangements feature good hooks, catchy mambos that have me whistling and coros that are easy to pick up so you can sing along the first time you hear the songs. And with the addition of a full-time keyboardist, the arrangements have a fuller sound.
As for the lyrics, Marisela is a romantic song with a pop feel and the coro "Yo no pido tanto, solo quiero que me quieras otra vez Marisela". Si a la niña le gusta repite is a song about...cooking...well perhaps there's a double meaning in there somewhere. And Corre papá is about a wayward husband who got caught. The main coro is "corre, corre, corre, corre papá que por allí viene mamá".
Knowing eight of the twelve songs I am ready to recommend the new CD already. En vivo the band sounds bien duro, and I believe that it will be one of those CDs where you never have to fast forward to get past the songs you don't like. Or as the saying goes: all killer, no filler.
Wednesday January 16 2008 - Pupy y Los Que Son Son in the Studio
Last Thursday Pupy y Los Que Son Son entered the studio to begin a month-long recording session for their new CD. In concert they are already performing 2 new numbers: Un poquitico al revés by Pepito, which some of you may also have already heard on demo, and a new song for Mandy that I didn't catch the name of.
The band features a couple of new members, one of whom is a new bassist. No I didn't get any names. The singer line-up is back to William, Mandy and Pepito, since Norberto left after only a couple of weeks with the band.
Tuesday January 15 2008 - Entrevista con Juan Formell
I was fortunate enough to spend more than an hour at the home of Juan Formell asking questions that Kevin had sent me to try to fill in some of the blanks in his "pre-timba" research. I also had a few questions of my own, of a more general nature.
Formell is a down-to-earth, friendly guy. He politely put up with our search for details, although I think that in may ways it's impossible for an artist to analyze his own music in the way that we do from the outside. My impression is that he has always enjoyed experimentation and didn't have any big plan to make sweeping changes in Cuban popular music...it just grew naturally out of his desire to try new things, while maintaining the overall sello of the group. He was also fortunate to have excellent musicians with which to collaborate. To watch the video interview (en español) and form your own opinion click here.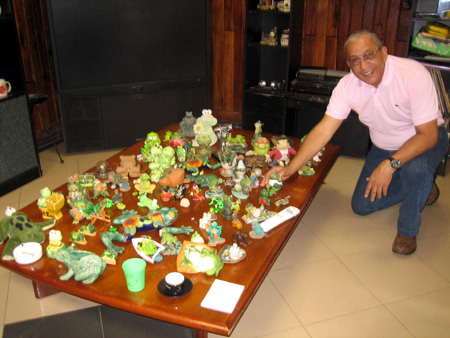 At home with Juan Formell...and his frog collection
Fans will be pleased to hear that 69-year old Formell looks strong and healthy. He is still appearing at the weekly Tuesday peña at Café Cantante in Havana, as well as other concerts in Cuba, but I don't know if he will be doing the upcoming European tour. The band will also be performing soon in Guadalupe and Martinique as well as at carnivals in the Caribbean before leaving for Europe in February.
Saturday January 12 2008 - Back at my desk
Exactly one month since my last post I'm back in Stockholm at my desk downloading about 20 hours of video plus my photos and trying to recover from major jetlag. Coming soon: reports on the upcoming Salsa Mayor CD, report and video from the Changüí Festival 2007 in Guantánamo, plus interviews with Elito Revé, Aisar Hernández, Pascualito Cabrejas, Giraldo Piloto and Juan Formell.
Juan Formell's advice to young band directors - Respect and Good Pay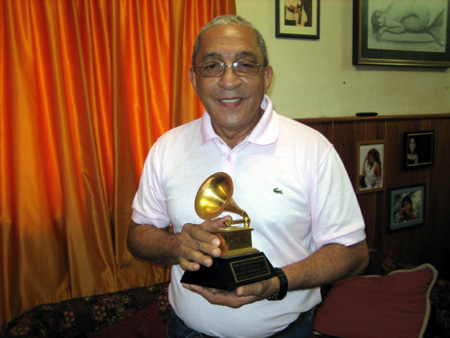 Grammy winner Juan Formell - What's his secret to maintaining a stable band?
After I finished the interview with Juan Formell another question occured to me, spurred by the recent whirlwind of personnel changes in Cuban bands. Of course I figured I'd missed my chance, but lo and behold, the next day standing in "la cola" who comes walking up but El Maestro himself! I must admit that I felt infinitely cool when he walked up to me in front of everyone and gave me the traditional kiss on the cheek and said "Me hiciste tremenda entrevista ayer" (granted most of the questions were Kevin's, but still...). Being the ultimate professional that I am, I told him I'd left out one question, so here is my recollection of his answer. See, this is why I film things because I can't ever remember everything, so this is actually paraphrased despite the quotation marks.
Me: Los Van Van es un grupo que ha sido muy estable durante los años ¿Qué consejo tienes para directores jovenes para que se pueden evitar muchos cambios de integrantes y intrigues en los grupos?
Formell: "Respeto. Todo el mundo tiene que tener respeto para todos. No hay ningún integrante que es más importante que el otro: el güirero es tan importante como el pianista". Y riendo dice "Y paga bien. Para mantener un grupo con buenos músicos hay que pagar o se van a otro grupo. Y tiene que ser claro. No pago igual a todos los músicos pero saben lo que pago, sin misterios."
martes, 22 marzo 2011, 07:32 pm