Michelle White - Timbera Archives May 2008
Wednesday May 7 2008 - 7th Dance Competition of Traditional Cuban Popular Dances and Casino
The competition will be hosted in Santiago de Cuba October 17-18, 2008. The objective of the competition is to promote traditional popular Cuban dances such as Danzón, Son, Cha Cha Cha, Pilón, Mambo, Mozambique, Rumba, as well as Casino and Rueda de Casino. Click here to read all the details in the announcement (en español y formato PDF).
Monday May 5 2008 - Cubakultur in Denmark Announces Dates for Dance/Music Classes
Cubakultur in Copenhagen has announced the dates of their upcoming two-week classes in Cuba: this summer from June 26 - July 9 and in the fall October 12-26. The dance classes include casino, son, rueda de casino, mambo, cha cha cha and rumba. All participants get a Cuban dance partner to train with. Cubakultur can also assist in setting up lessons in congas and Spanish.
For all the details see Cubakultur's homepage.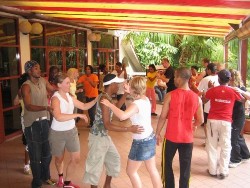 Rueda in Cuba
martes, 22 marzo 2011, 07:32 pm