Michelle White - Timbera Archives March 2008
Thursday March 27 2008 - El Zorro's New CD Released Today!
Thanks to Denmark's DJ Estilo for informing us that El Zorro's new CD, Ay Como me Sube, is now available. Once again he has recorded with Ángel Bonne, Mayito River and Roberto Pulido Gonzales on lead vocals. Click here for MPs samples.
1. Cuarenta Y Seis (timba)
2. El Fenómeno (funkytimba)
3. Cumpleaños (timba)
4. Sabes Que (bolero)
5. El Sapo (merentimba)
6. Mi Tierra (cha cha cha)
7. Ay, Como Me Sube (funkytimba)
8. La Rumba Te Llama (guaguanco/timba)
9. Yo Le Canto A La Amistad (timba)
10. Noche En Blanco (balada)
11. Llegó, Llegó (funkytimba)
12. Ay, Como Me Sube (remix)
Photos of Los Van Van in Copenhagen
DJ Estilo also sent us a link to some great photos of Los Van Van's concert in Copenhagen. Amazing how some people can really capture the feeling of a concert in stills.
Monday March 24 2008 - Los Van Van in Stockholm Concert Report
Yes, I know. The band has just finished their European tour and it's almost been a month since the concert in Stockholm, but better late than never I suppose. Click here to read the report from the Stockholm concert.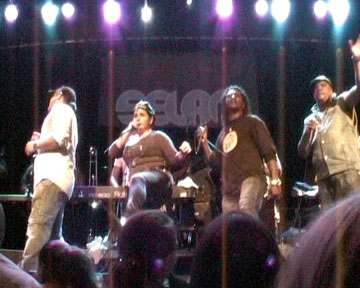 Sunday March 23 2008 - Pupy's New Concert Dates in Canada
Pupy y Los Que Son Son have been rescheduled to perform in Canada at the end of May. Sherbrooke at Vieux Clocher on May 21st, Quebec City at L'Ozone May 22nd and the Toronto concert has been set for May 24th. The venue for Totonto still has to be announced so watch CubaInToronto for details.
Preliminary Tour Dates for Manolito y Su Trabuco
The first dates are coming in for the Trabuco's summer tour of Europe. The tour is still under construction so check back. We will update as more dates are confirmed. In the meantime, the master of the new Trabuco CD is finished and the discos are being pressed so we can expect the release very soon. Rumour has it that we are looking at another potential Cubadisco award for Manolito.
Tuesday March 18 2008 - Pupy's Tour of Canada Delayed
Don't worrry, my North American timberos, Pupy is still planning to come, but the dates are changing. No, it's not due to any problems on Pupy's part, just a question of timing in Canada. We will update the tours section as soon as we know more. In the meantime you can keep an eye on CubaInToronto.
Bamboleo's Tour of Canada
Bamboleo will also be touring Canada this spring. They already have a date set in Toronto for April 18 at Six Degrees Nightclub. See Mister Bryans for more.
Sunday March 16 2008 - Cubamemucho Video at YouTube
Participants in the Munich congress have been busy the past couple of weeks uploading video of some of the classes as well as music and social dancing. This link takes you to a list of all videos found by searching for "Cubamemucho 2008".
The Cubamemucho franchise is taking Cuban dance to locations around the world. It's cool to watch the videos of rueda groups from places as diverse as Indonesia, Mexico, Venezuela, the USA, Italy, Serbia, Hungary and Germany, to name a few. No matter the language barriers, when you put on some Los Van Van and call out "Enchufla!" your communication problems are at an end.
Here are some of the upcoming congresses.
| | |
| --- | --- |
| Krakow, Poland | May 1-4, 2008 |
| Odessa, Ukraine | July 4-7, 2008 |
| Nottingham, England | August 1-3, 2008 |
| Toulouse, France | September 5-7, 2008 |
| Budapest, Hungary | November 7-9, 2008 |
| Munich, Germany | March 20-22, 2009 |
Wednesday March 12 2008 -Pupy y Los Que Son Son - Canada Tour Dates
Sticking with the Pupy y Los Que Son Son theme, I have updated the Tours section with the four concert dates for Pupy's upcoming microtour of Canada. They begin with 3 dates in Quebec: Sherbrooke, Quebec City and Montreal. The final date is in Toronto, Ontario.
DJing in Sherbrooke and Quebec City is our own DJ Melao, just back from Cubamemucho. The Toronto concert will be in conjunction with a Cuba festival including dance workshops. The opening party will be held on Friday May 9, the concert on Saturday and a goodbye party on Sunday the 11th. For more info see CubaInToronto.com
Salsani's Newsletter in English
Salsani sent us a link to her newsletter in English. Here you can read all the information about upcoming CDs by Vitaly y su Timba Habanera, El Zorro, and many more. You can also read her Los Van Van in Copenhagen concert report. Enjoy!
Tuesday March 11 2008 - New Singer with Pupy y Los Que Son Son
Pupy's manager has confirmed that the newest of Los Que Son Son is a woman named Lily. No other details as yet. She also tells us that Pupy's new CD will be released next month! Excellent news!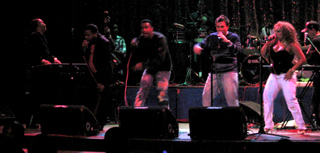 Thanks to Rafa in Zurich for providing our first glimpse of Lily
Sunday March 9 2008 - Ch ch ch changes
Well I'm back at work and just wanted to post a few updates about the current state of the bands in Cuba. As we all know, the more that things change the more they stay the same. So things are the same as ever in Cuba: changes in bandmembers, new CDs and new tour plans. Here are some updates, in no particular order.
La Charanga Habanera
As everyone knows by now, Lázaro Maya "El Bello" has replaced Leoni in La Charanga Habanera. However, he is not on their current tour. I think Dantes may be with them, but we will know very soon when the Cubamemucho reports start coming in. Charanga Habanera will close the Munich congress with a concert tonight. They continue with several more concerts in Germany this month.
Elito Revé y su Charangón
Elito has filled El Bello's place with Alexander "El Narra", and Eric "El Chino" has been replaced by Reyneir "El Galán". Elito tells us that they are both excellent singers. We will get a taste of them soon enough here in Europe when Orquesta Revé returns to Europe on June 26th.
Their latest release, Fresquecito, won the band "Best Album 2007" at Fiestacubana.net and Planet Records has included what may be my favorite song from Fresquecito, A sancochar boniato, on their CD Latino 23.
But not content to rest, Orquesta Revé is already at work on their next album. Elito has sworn me to secrecy as to the contents, so for now we just have to wait until we get the go-ahead to release some of the details. I haven't even told Kevin!
Pupy y Los Que Son Son
Pupy will also be back in Europe this summer from June 20-July 20 and will probably have their new CD with them. We have been listening to Pepito's Un poquitico al reves for a few months now, but the band has had some trouble finishing the new CD due to changes in the bandmembers. Both Lester Ciarreta and Norberto Gómez joined briefly and left abruptly. It looks like Pupy may have decided that the best man for the job is a woman. Recent photos from a concert in Havana show the singer line-up as follows: Mandy, Pepito, William and an unidentified woman. As soon as we know more, you will too.
Manolito y Su Trabuco
No exception to the rule of change, El Trabuco now features singers Amaray, Mayami and El Noro, who joined after the departure of El Indio. The new CD should be out within just a few weeks and may be named after Cucurucho's song La Habana Te Llama. This album contains quite a mix of songs including Control (timbaton), Muevete un poquitico (son), as well as a ballad with Andy Montañez and a Latin jazz number written by Miguelito "Pan con salsa". El Trabuco will bring their rave-reviews show to Europe in July and August, so get ready because as Amaray might say: "tú sabes quien llegará".
Salsa Mayor
Maykel Blanco y Salsa Mayor also have a new singer line-up, none of whom have toured Europe before. But even if you haven't seen him, you've already heard Pavel "La Figura" if you have the CD Live, Desde La Casa De la Música, where La Figura sings lead on Quitándome lo malo, Cambia tu faceta and the estreno Control. Yasser Ramos left Charanga Forever for Salsa Mayor to replace El Noro. And the most recent singer is José Antonio Rodriguez "Pepetín", who has worked with Azúcar Negra and also spent some time working on projects in Spain.
The changes in bandmembers have delayed the upcoming CD, but hopefully they will have time to get into the studio before they leave on July 1st for their summer tour. From what I've heard of the new songs, I think Los Mayores have another hit record on their hands.
Leonel Limonta & Azúcar Negra
The band will go into the studio next week to start recording their latest project. They should have it completed in time to bring with them for the summer tour, which will take place in July and August.
Other new CDs and Tours
Salsani from Salsa-dj.dk has released an newsletter in English with information about new CDs from Vitaly Osmachko and El Zorro, as well as a review of the Los Van Van concert in Copenhagen. My own review from Los Van Van in Stockholm will be up in a few days. Unfortunately I can't find a link to Salsani's letter in English so let me just give you some important details. Maybe we can update with a link to the full article later.
Vitaly y su Timba Habanera will be releasing a follow-up to the 2001 CD Desnudar tu cuerpo. Not only that, but they are planning a major European tour!
El Zorro will also have a release out at the end of March. The new CD is titled Ay Como Sube.
Soneros All-Stars long-awaited new CD La Timba Soy Yo will also be available in about 3 weeks, let's say early April just to be sure. This album features collaboration with Pupy, Pepito, Mandy, Cristina Azcuy and Sinsonte among others. At the turn of the month you will be able to hear all the new songs at http://www.soneros-all-stars.com/.
martes, 22 marzo 2011, 07:32 pm