Michelle White - Timbera Archives December 2008
Friday December 26 2008 - Calle Real 10th Anniversary Concert
On December 19th Calle Real held an anniversary concert in Stockholm. The band was founded 10 yeras ago as a traditional son group. Over the years they have developed into one of the most exciting and original timba bands in Europe with their own sello. The concert was held in conjuntion with SELAM and the band performed many of the new songs that will be on the upcoming CD, due for release next spring. They also looked back to the early days and Magnus and Miladys Ehrenborg joined the band for one number. The audio was excellent and the singers looked slick in their fancy vests. Click here for photos from the anniversay concert.
Tuesday December 23 2008 - Manolito and Maraca at Cubamemucho, Munich 2009
We've known for some time that Manolito would be playing one of the gigs at next year's Cubamemucho in Munich, Germany. Recently Cubamemucho has announced thet Maraca will also perform one of the nights. The 2008 Munich congreso was the first to include first-line timba bands. Tom Bauer sent us a little report and a lot of great photos from Munich 2008, so check this out to get an idea of what you can expect in 2009.
Cubamemucho has been spreading like wildfire. In 2009 this 100% Cuban salsa congreso will be held in cities around the world raging from Nottingham to Cairo to Shanghai to Melbourne.
Friday December 12 2008 - More on Havana D'Primera
The new Havana D'Primera CD will simply be titled Havana D'Primera. The CD, which may be the most anxiously awaited debut CD ever, will contain the following tracks:
Resumen de los 90
Mi música
Ahora q buscas
Después de un beso
Historia verdadera
Niña bonita
Vivencias
Las cosas de un amigo
Confiézale
Cuando el rio suena
Ony ony
Havana D'Primera will perform in Rome in January and then tour Europe during the summer tour season. More details to come...
DJ Melao at SOBs on Friday Dec. 19th
If you hppen to be in New York next week, DJ Melao will be in New York DJing "A Salsa Christmas Party" at SOB's weekly Salsa Groove After Work Fridays. Live music will be provided by Yomo Toro and Zon del Barrio, so it will be a combined New York/Cuba evening. Stop by and be sure to dance to all the timba that Melao spins so SOBs can see that there is an audience for timba in the US.
Thursday December 11 2008 - Yes It's All True - Mandy out of Los Que Son Son
Some of you, in fact I would assume that most timberos, have already heard that Mandy is no longer with Pupy y Los Que Son Son. The info has been out for a week but I had technical problems with my blog and by the time I got it fixed it was "old news", or so I thought. But it has been brought to my attention that not everyone reads Timba Geeks or the various timba blogs on a daily basis, so I will fill you in.
A major shake up has taken place in Pupy's group. Lily, Leo and Mandy are all three out of the band. Lily was with the group for less than a year and has not yet been replaced by another female singer. Leo is a long-time trumpet player with Pupy, in fact I believe he was one of the founding members. Leo has written and arranged songs for Los Que Son Son such as Gato por liebre, A la italiana and my personal favorite off the new album, Nadie puede contra eso. I don't know who Leo's replacement is. Of course Mandy needs no introduction, being one of the favorite young voices among timberos. At this time we don't know if Lily, Leo or Mandy is working with anyone else. Mandy did recently release a solo album so maybe he will try his hand as a solo artist.
The current singer line-up for Los Que Son Son is Michel Pérez, Rusdel Núñez and Norberto Gómez. You already know Michel from his work with la Charanga Forever and Tumbao Habana, and many of you may have seen the YouTube video of Michel singing Se parece a aquel from the new CD by Los Que Son Son. Michel joined the band to replace Pepito Gómez, but he is now the "veteran singer" in the group.

Michel Pérez singing Se parece a aquel with Pupy
Rusdel left Azúcar Negra for Los Que Son Son as far back as November. You are probably familiar with him from the title track of the new Azúcar Negra CD Exceso de equipaje. With Los Que Son Son he is singing Si me quieres conocer.

Rusdel Núñez with Azúcar Negra
And the newest singer is Norberto "Papiloco" Gómez who actually had a very brief stint with the group in January 2008. I happened to be in Havana at the time and caught a performance of the group with Norberto. He has a timbre that is strikingly similar to Pepito Gómez so my guess is that he will be singing a lot of Pepito's numbers. If you are wondering who Norberto is, you know him from Salsa Mayor where he sang the excellent demo Ella dice, that was unfortunately left off the new album, but fortunately captured on YouTube.

Norberto "Papiloco" with Salsa Mayor
There are rumors of Tirso coming back to Los Que Son Son but this is just gossip as far as I know. If any inquiries have been made as to whether he wants to come back, they are being kept under wraps. I think Tirso is probably doing quite well with his reggaeton collaborations...but I'm just speculating.
Cuban Weekend in Montpellier
The 2nd Editon of Cuba Linda begins tomorrow in Montpellier, France. Studio Latino brings you 3 days of dance classes with Cuban instuctors from Italy and France as well as DJ Javier "La Makina" from London. The instructors are Yunaisy Farray and Alexander Carbo, Julio Perez Molina, Chocolate, and Vaïni Monlouis. Classes include Salsa Cubana, Son Cubano, Rumba, Yoruba, Reggaeton, Tropicana, Estillo, Rueda, and Timba.
Festival Timba & Salsa in Lima
Saturday December 13 Dr. Timba presents "la rumba que se puso de moda" Festival Timba & Salsa at Jr. Los Andes 428. The party features three bands: A...Conquistar, Mangú and D'Farándula.
Wednesday December 10 2008 - December 7 Concert Reports and Photos
The Autumn concert season is drawing to a close and we have received reports and photos from the December 7th concerts by Charanga Habanera in Munich and Calle Real in Paris.
La Charanga Habanera in Munich
Tom Bauer attended the Munich concert and said that it went very well despite some organizational issues.
Charanga Habanera rocked! After arriving at 9 p.m. and listening to a lot of salsa, bachata, merengue and 1(!) timba song the guys came around 11 p.m. and started 11.30 p.m. The place was only half filled but with a lot of Cubans. They were in original Havana mood, dancing and photographing a lot, flirting with the musicians. Partytime!
Anyway the boys played like hell and had also a lot of fun. Dantes is still with the band. I like his voice. They played mainly songs from the last two CDs and "Soy cubano soy popular" (long version of "Abusadora"). One estreno. Didn't get the name. After a break with only bachata and merengue :-( they played their second set. Ending at 2.30 in the morning we came home at 4.30 a.m.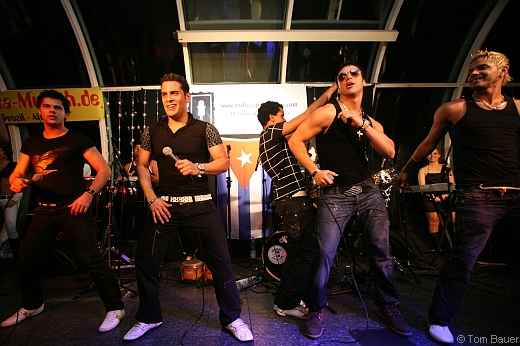 La Charanga Habanera in Munich
photo ©Tom Bauer
Note: The estreno is the new demo that is out called La Carátula.
Calle Real in Paris
Pat Bonnard has a glowing review of the Calle Real concert organized by Odduara at New Morning.
Great great concert Sunday night in Paris for Calle Real! The New Morning was packed, 700 hundred persons for a sold out show. Amazing audience (ya tú sabes!), huge interaction between the band and the audience, new songs from next album (planned to be released next year around May), and everybody was already singing along! The band was so powerful! They nailed it.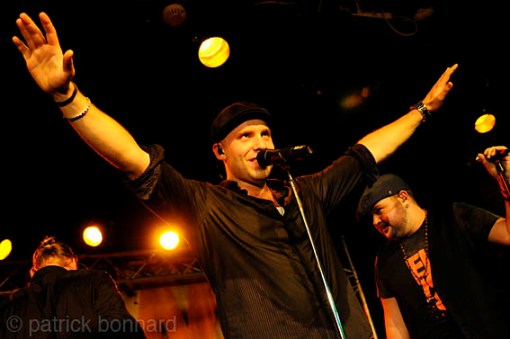 Thomas Eby - lead singer of Calle Real
photo ©Pat Bonnard
Thursday December 4 2008 - La Clave Secreta Nominated for a Grammy!
Representing for Cuban music this year Gonzalo Grau y La Clave Secreta have been nominated for their album Frutero Moderno in Grammy category 61, known to us laypeople as Best Tropical Latin Album. Peter Watrous said the following about the CD in his review: "...a pretty much amazing timba dance record that suggests that timba is going to be the lengua franca of modern Caribbean dance music. It's timba made international..."
The other nominees are: Albita, Rey Ruíz & Donato Poveda for Cuba: Un Viaje Musical — A Musical Journey, DLG for Renacer, José Feliciano for Señor Bachata and the New Swing Sextet for Back On The Streets... Taste Of Spanish Harlem Vol. 2. The awards will be held on February 8th. Timba.com wishes the best of luck to la Clave Secreta.
La Bolá at SOBs Tomorrow
In other Timba in the US news, La Bolá will be performing at SOBs in New York tomorrow night. Check their MySpace site to listen to some Mp3s and watch video including video of their recent performance with Pepito Gómez.
Wednesday December 3 2008 - Calle Real 10th Anniversary
Calle Real will celebrate their 10th Anniversary this December. They are celebrating with a mini-tour: 2 gigs in France this weekend and an anniversary concert in Stockholm on December 10th. This band has gone through a huge transformation, founded in 1998 as a traditional son band, Calle Real is now one of the hardest hitting timba bands in Europe and has a devoted following. Sadly new CD will not be ready for release at the concerts as they had previously hoped, but they will be performing songs from the new CD so you can get a little taste that will leave you wanting more.
More Concert Updates
We are beginning to get a few more tour dates for 2009 for groups such as Manolito y Su Trabuco, Los Van Van and Pupy y Los Que Son Son. Manolín "El médico de la salsa" will be performing at La Jiribilla in Milan on December 19th, but that is the only date we've found so far. If you have any information about other concert dates for Manolín or for any other timba artists, please send us an e-mail.
Tuesday December 2 2008 - Havana D'Primera CD Finished in December - ¡No lo pierdas!
The biggest news to hit the timba scene in 2008 was Alexander Abreu and Havana D'Primera. With an all-star roster the group took Havana by storm and their shows at Galiano and Salon Rojo were the weekly gigs where you could be assured to find a wide selection of musicians in attendance from Charangueros to soneros such as Sixto Llorente "El Indio".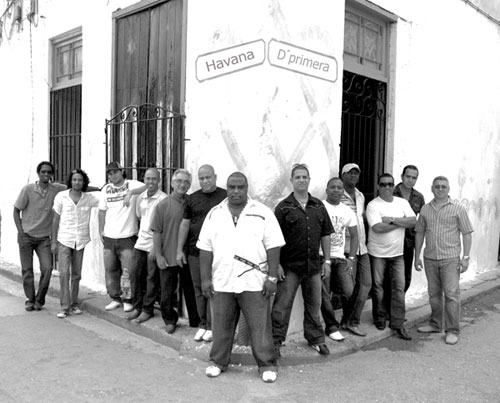 photo property of Havana D' Primera used by permission
Outside of Cuba we have been limited to a concert bootleg and a few videos at YouTube, but finally the highly anticipated debute CD is about to be finished. Produced by Juan Manuel Ceruto and Alexander Abreu, the CD will be finished this month. As soon as we have more information, we will post it here. The band will also visit Europe for a tour in July and August 2009. In the meantime you can check out their Havana D'Primera MySpace site where you can enjoy their hits, Resumen de los 90, Cuando el rio suena, Confiesale and Historia verdadera. Havana D'Primera is the real thing, don't miss out!

Havana D'Primera perform Confiesale
at their premier concert in Havana January 2008
Monday December 1 2008 - Remaining Concert Dates for La Charanga Habanera
Thanks to the Timba geeks for helping me out with some remaining European concerts dates for La Charanga Habanera. I strongly recommend that you contact the venues yourself before making plans to go to any of these concerts just in case any of the information turns out to be incorrect or any dates have been changed/canceled.
2 December
Rimini, Italy
http://www.meetinglatino.it
3 December
Rome, Italy
Caruso Cafè de Oriente
Via di Monte Testaccio
http://www.meetinglatino.it
http://www.mambo.it/
5 December:
Zurich, Switzerland
Chollerhalle
6 December:
Teramo, Italy
MAMBO CAFE
Tortoreto Lido
Source: Planet Timba
7 December
Munich, Germany
Skyline
11 December
Reggio Emilia, Italy
Drive Inn, Via Balla 5
Corte Tegge / Villacella Reggio Emilia
http://www.ballilatini.it
12 December
Livorno, Italy
Villa del Colle SAS
Via Milano, 31 - Collesalvetti
http://www.villadelcolle.it/
martes, 22 marzo 2011, 07:32 pm