Indice - Table of contents
Lo Nuevo
[hide]
Fotos Del Día
[hide]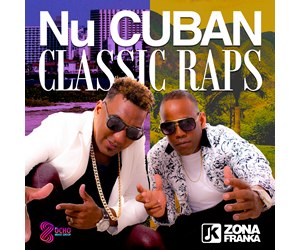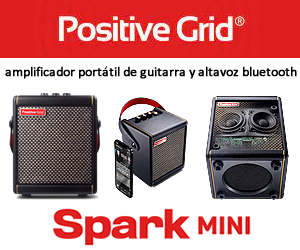 Michelle White - Timbera Archives August 2008
Monday August 25 2008 - Calle Real Update
During the summer Calle Real recorded 12 songs. The CD promises to be even more hardcore timba then Con Fuerza. It still hasn't been decided if all 12 songs will be on the new CD. The guys are even considering making some songs available only as digital downloads. The CD still has no name or release date, but you can look at some behind the scenes video of the recording sessions at the Calle Real blog and at the Calle Real Facebook site. You have to be logged in to Facebook to view the site. You can also watch their MySpace site for updates.
In the meantime why not catch them with the new songs live at one of their concerts this fall? They play this Saturday August 30th at Nosturi in Finland. They play in Bordeaux, France on December 6th and at a still secret venue in Paris on December 7th. If everything goes smoothly, the Paris concert may also turn out to be the release concert, followed by a Swedish release party by SELAM at Debaser on December 12th.
Wednesday August 20 2008 - Maykel Blanco y Salsa Mayor's Anda y Pégate Released!
Finally it's happening! All the CDs we've been waiting so anxiously for are being released at once! Pupy's new CD Tranquilo que yo controlo should be out any day now, and Maykel Blanco's Anda y Pégate is now available on-line. I just bought myself a copy. Also coming soon are Los Van Van's Arrasando and Azúcar Negra's new CD. 2008 is going to be a great year for timba releases!


Anda y Pégate on sale now!
Anda y Pégate Video Wall
In honor of the new release here is an ultra-cool video wall from the recent Salsa Mayor tour with live versions of four of the new songs. To watch the video, click on the image.
Vocal Sampling Akapelleando Tour
Yes I know they are not timba, but I like them. Vocal Sampling has a new album, Akapelleando, released in January on SKIP Records. This Latin Grammy winning group will be touring Europe, mostly Germany, from October 2 through November 2, 2008. The tour includes dates in Austria, Finland, Hungary and Luxembourg as well. Click here for the full tour schedule.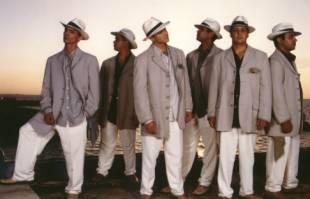 Monday August 18 2008 - Salsa Mayor at Zomer Carnaval
I have uploaded the report from Zomer Carnaval, the final concert of the Salsa Mayor Summer 2008 tour. Believe me when I say that Los Mayores had a really hard schedule this tour with very little time for sleep, but as you will see in the videos, they always gave 100%.
In the last report I included videos of two of the songs from the new CD. Today I include two more: the full version of El destino, sung by Pavel La Figura, and Llévala, sung by Yasser. I have also uploaded clips of their two biggest hits: Recoge y vete and Esto está so you can see them with the new lead singers. Click here to read the report.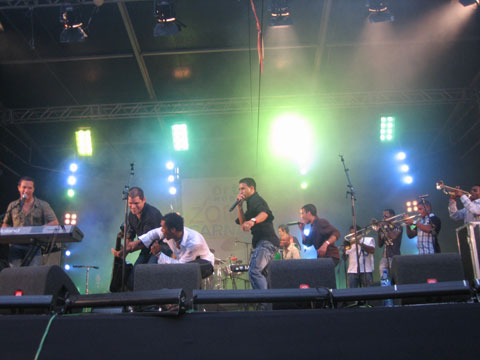 Maykel Blanco y Salsa Mayor in Rotterdam
Those of you who have been paying attention now know at least six of the twelve songs that will be on the new CD: Anda pégate, Si le gusta repite, El destino, Marisela, Llévala and La balacera. Some of you may also have seen them perform Vengo volao. It was Gabriel's favorite new Salsa Mayor song when she was in Havana, but they didn't perform it at any of the concerts I saw. So far I like everything I've heard and I believe the new CD will be another success for Maykel and Los Mayores. Hopefully it will be released soon.
Maykel was interviewed on Piso 6 last week and had a few things to say about the tour and the CD and also introduced the new singers. Check out muchoswing.com from August 13th to download and watch the episode of Piso 6. It also has the new video for Manolito's La Habana me llama at the end of the show!
Sunday August 17 2008 - Maraca Video Wall
Maraca will begin his US tour with the New Collective in just 10 days. To get yourself ready for the concerts, check out 14 live clips in the ultra-cool new Maraca video wall. These short previews of the kind of performance you can expect will leave your mouth watering and your feet moving.
The video wall is a new thing I'm trying out from Daily Motion. Place the mouse cursor over an image to get the name and to hear a short preview. To watch a full video, click the image.

Para mirar el nombre del video y oír un breve avance pon el mouse sobre un imagen. Para ver el video entero, haz cliq en un imagen.
Friday August 15 2008
Manolito y Su Trabuco Finish Tour Tomorrow
Tomorrow El Trabuco will play at the Chedigny Blues Festival in France. It is the final concert for this summer, but what a summer it has been. Tom Bauer has shared 45 amazing pictures from the concert at Schloss Kapfenburg Festival in Germany on July 26th. You almost feel like you were there. Click here to check out the picture gallery.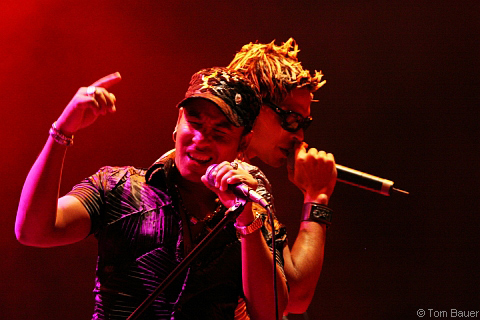 Ricardo Amaray & El Noro
©Tom Bauer used by permission
Monday August 11 2008 - Manolito y Su Trabuco on the Air and Unplugged
El Trabuco still has a week of touring left to do before returning to Cuba. They have recently performed at festivals in Rome, Belgium and Toulouse. In addition the Trubuco performed an accoustic number live at the radio station Cadena SER in Madrid. They were also interviewed. This is the most prestigious national radio channel in Spain and brought the band a lot of new exposure. Let's hope this opens up more doors for timba in Spain. And no, I don't know what song they sang but it would be nice to get a copy of it!
Click on the picture below for more photos from the Trabuco Tour 2008, including shots from Rome, Belgium and Toulouse.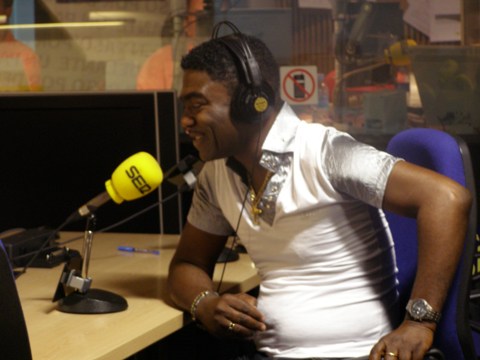 Manolito interviewed on the radio station Cadena SER in Madrid
Photo courtesy of Enclave Musical
Sunday August 10 2008 - Maraca CD Cover
The CD cover for Maraca's new CD Lo que quiere es F¡ESTA! is ready. Maraca is finishing up his summer tour of Europe and will begin his tour of the US with the New Collective on August 27th at Yoshi's in San Fransico. I think it's safe to say that Kevin will be there.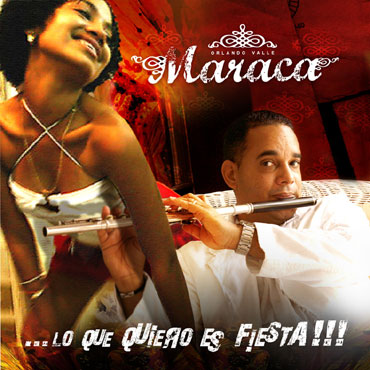 The new CD will be out shortly so get ready!
Maraca always puts on a high class, high energy show and both he and other musicians will dazzle you with amazing instrumental solos. I am currently looking for a smart way to make available a number of live clips that have been provided to us. Check back soon to see what you can look forward to at a Maraca concert.
Thursday August 7 2008 - "Qué Buena Está La Máquina"
Salsa Mayor at Festival Cubain de La Seyne Sur Mer
OK my report is up. The Festival Cubain is a great annual event held in La Seyne Sur Mer, France. I can't recommend it highly enough. The venue is a beautiful old fort on a pine covered hill high above the city. The concerts are held in the open air of the courtyard. The audio quality is amazing, the atmosphere is great and the music is always excellent.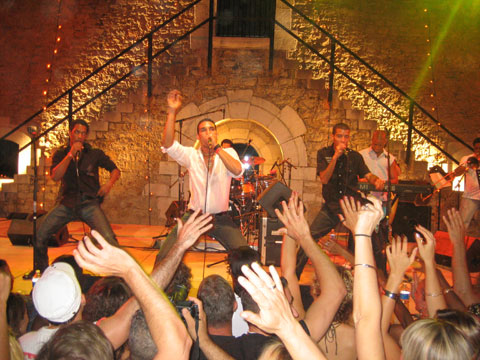 La Nueva Máquina de Cuba en La Seyne Sur Mer
This was my first look at Salsa Mayor with the new singer line-up of Pavel "La Figura", Pepítin and Yasser. They were very well received by the fans in Seyne Sur Mer and in fact some people felt that this was the best Salsa Mayor concert they had seen.
Click here to read the report which also includes video from two of the new songs: La balacera and Marisela (no pido tanto).
Sunday August 3 2008 - Noel Díaz with Klímax
Gabriel of Yemayá's Verse informs us that Noel Díaz - el hombre plástico, the ex-charanguero known for his ability to do pelvic thrusts while doing the splits, is working with Klímax for a while. Juan Carlos is heading to Poland for a project and Noel will be filling his place. That means that Klímax now has 2 ex-charangueros singing: Leo and Noel.
The band has recently released an excellent new CD that has everybody raving. So go look for the CD on-line or at well sorted Latin record stores and hope that they will soon be playing at a venue near you.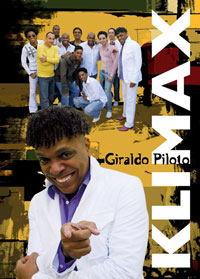 Here is a nostalgic video of Noel and Aned's dance antics with La Charanga Habanera. Leo is also in this video montage.
Saturday August 2 2008 - Pepe Espinoza and the Euro-Cuban All Stars
Only a couple of days before my vacation, I attended a dance congress of sorts where Pepe Espinoza's band played. The event was aimed at the US salsa styles and the DJ for the evening was the famous DJ Knowles from New York. It was very much and "in-line" salsa evening. The band played two sets, the first being entirely traditional songs and latin jazz. During the second set they moved a little more towards timba although they kept it toned down to suit the audience and they ended the show with a cover of La candela.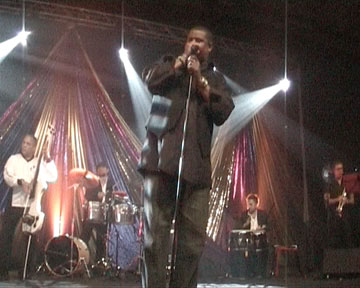 Click here to watch a short clip from La candela
The Euro Cuban All Stars sound great, but for the time being it seems they are focusing on a more traditional charanga sound rather than timba. I would really like to see what they could do if they decided to play serious timba for a casino audience. The band includes:
Pepe Espinoza (Bamboleo, Azúcar Negra, Klímax) -timbal
Linus Swanberg - congas
Carlos del Puerto (Irakere) - Bass
Carlos Pérez (Pupy y los que son son, Grupo Danson) - trombone, coro
Petter Linde (Calle Real) - trumpet
Oldrich (Charanga Forever) - piano
Emilio Estrada - violin
Charlie Ibañez - flute
Ramón Rodríguez (Tumbao Habana) - tres, coro
Gilito Piñero ( Salsa de la esquina) - Lead vocals
Between sets I spoke for a moment with Pepe about the band.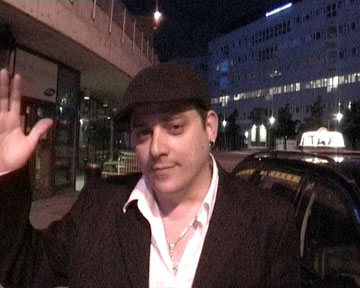 Pepe talks about his Euro Cuban All Stars project
And one of the great Cuban bassist of all time, Carlos del Puerto, had some kind words to say about Timba.com.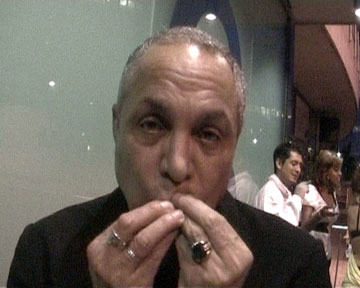 Carlos del Puerto with a kiss for Timba.com
Friday August 1 2008 - Concerts Today
NG La Banda kick off their European tour tonight at Don Chiosciotte in Galliera, Italy. I don't know if Tirso will join them for the tour or not.
In La Habana, Pupy y Los Que Son Son will open the carnival with a concert at la Piragua. I expect that Michel Pérez will now be appearing with the group. He has taken over the songs Se parece aquel and Olvídala que el viento se la llevó, while Lily is singing Dicen que dicen and Un poquito al revés.
If EGREM's site is correct then Havana D'Primera will be appearing tonight in Galiano, but they also list NG La Banda as playing tonight, so who knows?
martes, 22 marzo 2011, 07:32 pm