Michelle White - Timbera Archives November 2008
Sunday November 30 2008 - Article About Music in Cuba in Time Magazine
Nathan Thornburgh from Time Magazine contacted me last spring. He told me that he was going to be writing a story about the current situation for musicians in Cuba. The article is finally out and it is nice to see an article about Cuba written by someone who has really lived there and spent time working as a musician himself. The article will be the cover story for the European version of Time that is coming out this week and will also be in the US version (although not the cover story). Click here to read the on-line version.
Monday November 24 2008 - Azúcar Negra Exceso de equipaje
Azúcar Negra's new CD, Exceso de equipaje is finally available for purchase on-line. Bandleader Leonel Limonta expects the Cuban release to come later, possibly not until January. The CD also comes with a DVD with six of the songs from the CD as well as a photo gallery.
Track list
1. Exceso de equipaje
2. Con un canto en el pecho
3. Identidad
4. Estres
5. Y dale Juana
6. Mi Barrio
7. Qué pasa con las mujeres
8. Preguntale a ella (bachata estilo clásico)
9. Cola loka
10. Se desperto el leon
11. No vale la pena (timbaton)
12. Vitamina C (merengue)
13. Vive el verano
Some of the songs have been released as demos and played at clubs for over a year now such as the merengue Vitamina C. Others are new, Y dale Juana and Se despertó el león. And yet other are remakes of timba classics written by Limonta for other bands and now reinterpreted by Azúcar Negra, such as Cola loka and Con un canto en el pecho. I'm still waiting for my copy to arrive but from what I have already heard this should be a great party CD. While you wait for your copy to arrive you can enjoy some of the songs courtesy of YouTube.

The title track Exceso de equipaje

El estres

The classic Con un canto en el pecho interpreted by Ailyn
Tuesday November 18 2008 - Lazarito Valdés, Feliciano Arango & Tania
As many of you know, Bamboleo was recently on tour in Japan. With them was the Best Timba Bassist Feliciano Arango, known for his work with NG La Banda and today for his group Hermanos Arango that does serious Afro-Cuban jazz with the emphasis on Afro-Cuban. You can imagine how great it must have sounded to hear Bamboleo with Arango on bass! During the trip to Japan Lazarito, Arango and Tania recorded a CD. I don't know anything about it but I'm guessing it will be a jazz CD. Time will tell.
In related news, the new bassist for Bamboleo is Hanselt Pérez, formerly of Azúcar Negra.
Bamboleo in Canada Cancelled
In another related story, the upcoming Bamboleo concerts in Canada were cancelled due to a death in the family of Lázaro Valdés. Timba.com send our condolences to Lázaro and his family. The Canada engagements may eventually be rescheduled for a later date. Keep an eye on Billy Bryans' blog for all the latest new about Timba in Canada.
Azúcar Negra News
A new bassist has been hired to replace Hanselt but I don't know his name yet. At the same time Rusdel has gone to Pupy y Los Que Son Son while Dayan from La Charanga Forever has moved to Azúcar Negra. On November 24th Azúcar Negra will open the concert program together with Adalberto Álvarez y Su Son at the Encuentro para Bailadores in Havana. Below is the video for Así Somos, the hurricane relief song written by Leonoel Limonta and sung by a collection of the most popular young singers in Cuba today that Limonta is calling Nueva Generación. At YouTube you can watch the video in high resolution.

Así somos - Leonel Limonta y Nueva Generación Hurricane relief song
Monday November 17 2008 - The French Loves Them Some Charangón!
If you wonder why I keep saying that France is great for timba concerts because of the fans, check out this video from the Aquí Cuba concert in Rennes on November 8. The French go wild for the charangón! It is also available in high resolution at YouTube. Avísale a los cubanos que ya llegué, empezó la fiesta, ahora es cuando es!

Los franceses se ponen locos por el charangón
Sunday November 16 2008 - Concert report - Orquesta Revé in Paris
As always the fans in Paris were wonderful and the concert was a party. However, I was filming more percussion for Kevin so I don't have much in the way of concert video. So in the report I have linked to videos at YouTube from the concert on November 8 at Rennes, France. The links in the report are to songs that were also performed in Paris. Click here to read the report from Paris, including some short greetings from Elito, El Galan, El Chino and Aisar.
But at Rennes they also did a few other songs which you might enjoy seeing as well. So here are some bonus videos from Aquí Cuba in Rennes by Kiriku31 at YouTube.

Gente Chevere from the album Suave, Suave
Notice that the French all the charangón's repertoire

La Ruñidera with some nice son dancing by Mario and Madeline
and a great trombone solo by Eulises
Saturday November 8 2008 - orquestareve.net
Yesterday I took a quick trip down to Paris to see Elito Revé y Su Charangón. My French Connections at Fiestacubana.net had mentioned there would be a surprise at this party so I decided Timba.com had better be there to report on it. About 30 minutes into the concert they paused to announce that Orquesta Revé finally has an official website: www.orquestareve.net.
The site is the brain child of well-known French DJ Jack el Calvo and Claudio Marucci. It is an italo-franco joint venture with text and discography provided by the very knowledgeable Claudio Marucci, web design by Giuseppe Beghelli and collaboration with Fiestacubana.net including photos by Indochino and Patrick Bonnard. Lionel Rogier also did an excellent interview with Elito that will appear there soon, but it is already available as MP3 at Fiestacubana.net. The site is very professional and a major undertaking, and you can choose between Spanish, English, French and Italian.
Below is video of the announcement during the concert (mostly in French) and a post-concert interview where Elito, Jack El Calvo and Claudio talk about the new site (in Spanish). Check back tomorrow for the full concert report including short interviews with singers Rey El Galan and Alex El Chino and a greeting for Kevin from Aisar.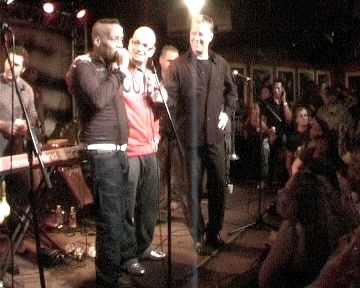 Elito, Jack El Calvo & Claudio announce the website (in French)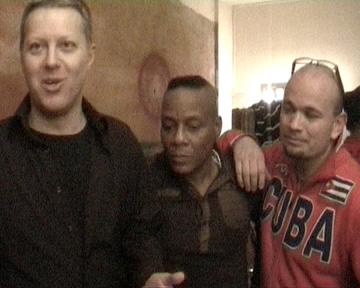 Hablando del sitio en el camarino (en español)
martes, 22 marzo 2011, 07:32 pm