Michelle White - Timbera Archives February 2009
Thursday February 26 2009 - Nos Vemos en París!
This year has been pretty weak for concerts in Stockholm, and during this dry spell I have developed the habit of going to Paris to get my Timba Fix. Odduara has been very active in bringing Cuban artists to Paris. Tomorrow I will go to see Pupy y Los Que Son Son, and on April 5th it will be Manolito y Su Trabuco.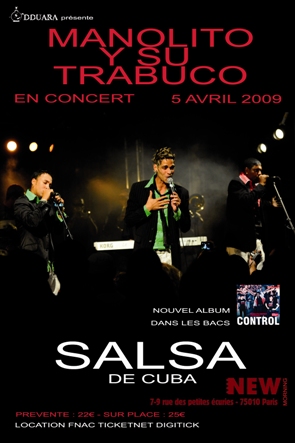 Manolito will be back in Paris April 5 at New Morning
Tickets available on-line at FNAC TICKENET and DIGITICK
The Trabuco will begin an extensive European tour starting March 12 in Zug, Switzerland and ending April 5 at New Morning in Paris. The band sounds great. They have more energy than ever, a solid gold repertoire and three charismatic singers up front that know how to get the audience on their feet and keep them there. Don't miss this tour! I'll see you in Paris!
NOTE! The Pupy y Los Que Son Son concert in Paris is sold out! If you plan to see Manolito in Paris I recommend you buy your tickets on-line. If you live in another country you can even have them sent to you via SMS (that's text message to you Yumas) using digitick.com.
Wednesday February 25 2009 - Photos of Pupy y Los Que Son Son in Munich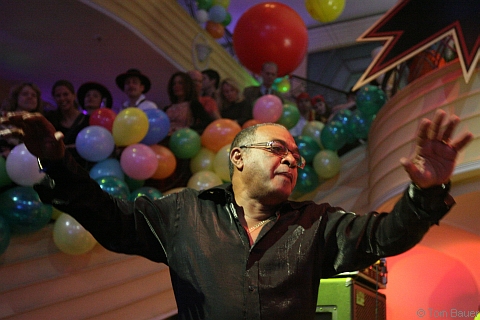 Pupy bailando en Bayerischer Hof - Munich, Alemania
photo ©Tom Bauer
Pupy y Los Que Son Son have been touring for a week now and they are getting rave reviews everywhere they go. Tom Bauer sent us a short concert report and many great pictures from the concert at Bayerischer Hof in Munich last Sunday. I will be seeing the band in Paris myself on Friday and will get my first look at how the band is functioning with the new singers. All the reports thus far say the same thing: the new singers sound fantastic. But what do you expect? After all, Pupy controla. Click here to check out the pictures. Click here to find a concert near you.
Thursday February 19 2009 - ¡Tranquilo Que Pupy Llegó!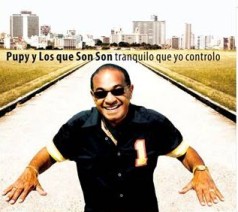 My Choice for Best CD 2008 is
Tranquilo Que Yo Controlo
When Tranquilo Que Yo Controlo came out in 2008, it was a great day for timba fans. Pupy kept us waiting 3 years but the final result was a superb CD that exemplifies all the best qualities of timba from excellent lyrics to hot dance numbers and even a tip of the hat to the building blocks of contemporary modern Cuban dance music, such as traditional son and danzón. For me it was the best CD of the year, and that is saying a lot because 2008 was one of the best years for timba releases in recent memory.
Since the the CD came out, the band has undergone some major changes including a complete change in the singer line-up. Mandy, Pepito and Lily are gone and we now have Michel Pérez, Norberto Gómez and Rusdel Nuñez.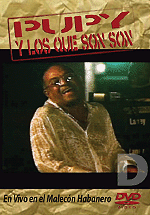 But Wait, That's Not All!
The band kicks off their Winter 2009 European Tour today with a concert at Mambooo Kings in Rome. This will be the first chance that an audience outside Havana gets to look at the band en vivo. I will be going to catch them at the concert at New Morning in Paris later this month and am very much looking forward to hearing the new songs as interpreted by the new singers. Click here for the full tour schedule and look for a venue near you.
For those of you who just won't be able to make a concert, don't despair. A new DVD has just been released called Pupy y Los Que Son Son en vivo en el Malecón Habanero. It is available at Descarga and Prodland.
For a sneak preview of what the band sounds like check out Norberto singing Un poquito al revés. When the new coro hits (suelta y deja la controladera) you get a very good idea of the current sound. Norberto has the perfect timbre to take over Pepito's songs. Nos vemos en el concierto!

Rusdel, Norberto & Michel
the new voices of Los Que Son Son
Masters Class on Timbal with Calixto Oviedo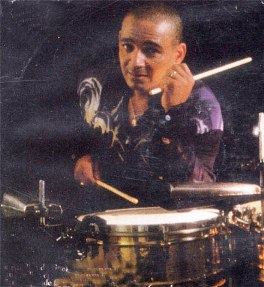 Calixto Oviedo on timbal
The Afro-Cuban All Stars US Tour 2009 is now underway, and one of the great fringe benefits of the tour is that the musicians are offering Masters classes in various cities. This Saturday, February 21st, Calixto Oviedo will hold a Masters Class in timbales at Portland State University in the Smith Memorial Student Union. The cost is only $10 so if you play timbales, don't miss this opportunity. For more information click here. And for a nice article about the band at jazzpolice.com, click here.
Thursday February 5 2009 - Afro-Cuban All Stars US Tour Site
The Afro-Cuban All Stars begin their US tour in just 12 days. The band will visit 38 cities over a 2 month period. They have an excellent web site for the tour including multimedia and a photo gallery. If you live in the US or Canada, this is a tour you don't want to miss. Click here to find a concert in a city near you.
Wednesday February 4 2009 - Changes to Salsa Mayor Tour Schedule
Maykel Blanco y Salsa Mayor have been in Europe for about a week now. If you have been planning to attend one of the concerts check their Tour Schedule because there have been some last minute subtractions and additions.
A Note from Maykel to the Fans in Milan
Maykel would like to apologize to the fans in Milan. He feels that the band was not able to give them the concert they deserved but also says that it was due to serious problems with the audio system that were beyond their control. I wasn't at the concert myself so I don't know what kind of problems they had. Hopefully next time around they will be able to give the fans of Milan an extra special show to thank them for their patience and understanding.
Fortunately the other concerts have gone well. A fan reports from the Verona concert: "it was a great concert, the venue was full and the band had a lot of energy. The problem with the concerts is that 2 hours pass too quickly".
I understand her and sympathize completely. I think 3-4 hours is a good length for a concert, now we just have to convince the guys to play for that long.
Tuesday, 22 March 2011, 07:32 PM